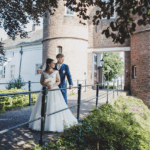 Dutch Church wedding venues are divine temples for couples to proclaim their love and marry. Whether religious or non-religious you can celebrate your union and have your marriage blessed. As Dutch soberness and tolerance goes, traditional churches and modern parishes are heavenly places providing you with a place to say, 'YES'. So, how do you host your nuptials with or without God's blessing?
Do Godly ceremonies appeal to your partner who isn't sure? Well, church white weddings are on the decline. Sadly, they don't impress many non-practicing couples. In fact, planning a ceremony service at a certified place of worship can be a daunting venture. However, sacred signs, marriage vows, sweet hymns, meaningful prayers, readings and ceremonial music represent a romantic ambiance. So, it shouldn't be a barrier, right?
So, whether you are believe in God, or are a non-believing Christian. Explore some holy places spanning the Netherlands, from North to South and East to West. See, if any of these landmark Dutch Church wedding venues strike a chord. Begging to be discovered seek a church that adds a spiritual framework to your marriage vows. Find a stately location that symbolises your love, gladness and core beliefs. Continue reading…
Regardless of what you or your partner believe, there are legal rights regarding Church of Holland weddings. The major key steps to planning your landmark wedding is to "get civilled".  Obtain a civil partnership or registrars marriage certificate from a municipality office designated by your local council. Sort out your paperwork. Carry this ceremony out before booking the preacher and church premises.
So, if you've arranged a registrars marriage certificate, you can book the Posthoornkerk. It's a super-functional wedding venue for an informal celebration. Imagine the deliverer of your matrimony service in this converted church. Don't worry about your religious preference, religion doesn't play a big part in NL. Known as a Calvinistic country, many Dutch nationals are atheists. So, Christians: Protestant or Catholics, whatever your faith priests are free to marry you on their premises.
Joined in marriage at De Duif Church is many couples dream wedding day. Imagine a captivating sermon and your ceremony delivered here. Your congregation can witness and testify to love. The divine place is located in the coolest district in Amsterdam. It's an impressive listed building with an inspiring grand façade. And the ecclesiastical setting poses as the perfect backdrop for mixed-religion or non-traditional marriage ceremonies.
Designed and restored to its former glory, this eye-catching and graceful church is a unique spot for a Dutch wedding ceremony service. The Zaandijkkerk is a majestic place for a personal marriage celebration. Moreover, the beautiful village in the heart of Zaandijk mirrors a lovely backdrop for your story. Create an atmosphere which is conducive to everyone's enjoyment. www.stadsherstel.nl
Fancy being surrounded by historical Dutch charm? Well, Schokland Church is an UNESCO world heritage museum. Dating back to 1834 your marriage service is held on a landmark site. Schokland welcomes brides and grooms with different spiritual backgrounds and is ideal for religious ceremonies. You can have a priest preach a rousing sermon at your marriage service. A Christian place of worship which includes a traditional blessing.  www.museumschokland.nl.
Fourthly, the English Reformed Church, offers Christian marriage services. It's a central venue to seal your vows. The exquisite building situated in a secluded courtyard garden is a precious hidden gem. It's opposite the Houten Huys an English-speaking congregation affiliated to the Church of Scotland. Moreover, the vicar's words speak of Christian beliefs. It's an unrivalled location!  www.ercadam.nl
And what about getting married in Schellingwouderkerk? This distinctive venue, off-the-beaten-track was built in the 14th century and has held many weddings. The church rests on a dyke in Amsterdam North. So, imagine the rural village setting for your celebrations. On top of that, the organist can play your signature tune as you walk down the aisle.
Additionally, enjoy an alternative marriage blessing at the Grote Kerk of Schermerhorn. It's a mere stones throw away from bustling Amsterdam [20 miles]. Oozing authenticity your non-denominational ceremony will be truly unique. With comfortable, multi-functional and immaculate surroundings. It's  a wonderful start to your new married life. So, experience the joyful Dutch wedding traditions and become part of history.
What about travelling further afield? Another classic church to admire is Broekerkerk – church, it's the ideal stage to conduct your marriage ceremony in Holland. Located in the village of "Broek in Waterland" it's a blissful rural waterside setting. And encircled by a timeless Dutch landscape, it has a divine look and feel. In truth, happy newlyweds are guaranteed sublime wedding pictures. www.broekerkerk.nl.
Additionally, whatever your values, morals or personal ethics are celebrate at the Noorderkerk. It's located in the heart and soul of the Jordaan. And just around the corner you'll find the famous Noordermarkt [farmers & flea market]. Not to mention that, it's ideal for non-Dutch speakers. English speaking couples can discuss the requirements for marriage with the consult.
Perhaps you fancy saying your vows here? Montfoort Castle has an adjacent chapel, it oozes exclusivity. Situated in a quaint Dutch village, the grand castle has an authentic ambiance. And the historical complex boasts a modern interior and the Commanderije of Sint-Jan chapel is an enchanting place to hold your ceremony. www.kasteel-montfoort.nl
Experience real Dutch culture at a top notch venue – Koepelkerk. The 17th century domed church situated in the prettiest part of the Jordaan has outstanding architecture underpinned by character and heritage. Hosting luxurious weddings for high-profile couples this is a magnificent place for your swanky nuptials. In fact, the captivating 5-star monument is sheer splendour with an alluring Dutch style.
This shabby chic wedding location is perfect for Eco-concious couples. The Metaal Kathedraal is an ambient Neo-gothic church steeped in history. The contrast of old and new has an appealing backdrop for your special day. However, there is no priest available, so hold your own celebrant-led ceremony. Actually, this quirky industrial venue in the heart of Holland will kickstart the momentous wedding occasion.
Another option for you is Vondel Church. dates back to 1872. The gothic landmark dates back to 1872. And standing among stately homes, it faces the famous Vondelpark. It's a happy marriage of classic charm and contemporary style. With its rich history, striking vaulted ceiling and facilities the sought-after venue is the ideal spot for you and your congregation. Vondelkerk – Stadsherstel.
The Anthony Hotel is a modern urban venue set in an old monastery. Combining the Holy spirit with a contemporary feel, you'll enjoy the perfect wedding experience. Aside from the chapel you can host a reception dinner here too. Thereafter as a happily married couple dream away in the royal suite or cosy rooms. It fits your ceremony  of love and the memory will last beyond the wedding day.
Dutch church wedding venues can be found outside of Amsterdam. Imagine getting married in this cosy little Dutch church 't Brakenkerkje. It is off-the-beaten-track in Obdam near Hoorn and Alkmaar.Whether you desire a celebrant-led wedding or civil marriage ceremony 't Brakenkerkje gives you opportunity to create something uniquely yours. Even more exciting, enjoy a wedding toast with a glass champagne at your reception party!
Would I recommend this church? Yes, I've performed here. The Amstelkerk is a small idyllic church located just outside Amsterdam. And the imposing architecture and décor is the perfect backdrop for a special wedding. You'll have an unforgettable heavenly day. What's more, the Amstelkerk has an adjacent venue for your evening celebrations.
Could you picture yourselves here? Petruskerk is a Protestant church built around the 15th century. Situated on the banks of the spaarndammerdijk it's a stunning place. And steps away from Westerpark, this venue is ideal for any wedding. Housed in the "village" Oud-Sloterdijk, this renowned place hosted the marriage of the grandparents of Vincent van Gogh.
But, are you looking for something more sophisticated? Dedicated to Saint Martin of Tours, this Gothic church is majestic. Namely, it's a Domkerk, and provides an idyllic backdrop for your marriage service. Another point of interest is, the ancient and ornate cathedral is in the heart of Utrecht. And it's a gloriously regal setting for your colourful confetti exit. www.domkerk.nl.
Capture heartwarming magic moments during a special marriage celebration at Kerk van Ransdorp. Located in North Amsterdam it is a stunning place that oozes pure tranquility for your wedding photo shoot. Moreover, you can continue the fun celebrations and have your opening dance on site. stadsherstel.nl/ransdorp
One of the best Dutch church wedding venues outside Amsterdam is Walburgiskerk. And located in Zutphen, Gelderland, it oozes a truly magnificent ambiance. Imagine your church nuptials surrounded by family and friends. Moreover, hosting a civil marriage ceremony [Dutch nationals only] is possible here.  www.oudegeldersekerken.nl
Finally, Westerkerk is a protestant church and a commanding presence in the Jordaan, Amsterdam. It's an official wedding location of the municipality. With its beautiful facade, it forms a unique backdrop for an unforgettable day. Celebrate your church and civil ceremony here. You can ask for God's blessing on your future marriage during a church service. Make an appointment with the pastor, today.
While you're here…
Please leave your thoughts in the comment box below.