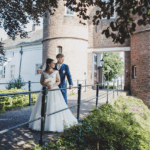 Dutch Church wedding venues are divine temples and heavenly places to celebrate your love. Are you religious or a non-believing Christian? Do you like the sound of Godly marriage ceremonies but your partner isn't sure? Would you host your nuptials without God's blessings?

Whereas, sacred signs, vows, sweet hymns, meaningful prayers, readings and ceremonial music represent a romantic ambiance. Sadly, it doesn't appeal to many couples. In fact, planning a marriage service at a certified place of worship can be a daunting venture. However, it shouldn't be a barrier.
So, explore some holy places spanning the Netherlands, from North to South and East to West. See, if any of these landmark Dutch Church wedding venues strike a chord. There begging to be discovered. Seek a church that adds a spiritual framework to your vows and symbolises your love, happiness and core beliefs. Continue reading…
Dutch Church Wedding Venues
Dutch church weddings required paperwork

Firstly, regardless of what you believe, there are legal rights regarding Church of Holland weddings. The major key steps to planning your landmark wedding is to "get civilled".  Obtain a civil partnership or registrars marriage certificate from a municipality office designated by your local council. Carry this ceremony out before booking the church premises.
Dutch church – Christians: Protestant, Catholic or Atheist
So, have you arranged a registrars marriage certificate? Then, lets move onto the deliverer of your matrimony service. What's your religious preference? Well, religion doesn't play a big part in the Netherlands. Known as a Calvinistic country, many Dutch nationals are atheists. So, Christians: Protestant or Catholics, whatever your faith priests are free to marry you on their premises.
Dutch church weddings by De Duif | Amsterdam
And what about this? Imagine your ceremony delivered here and your congregation witnessing you saying YES. De Duif Church located in the coolest district in Amsterdam is a divine location. It's an impressive listed building with an inspiring grand façade. And the ecclesiastical setting poses as the perfect backdrop for a mixed-religion or non-traditional marriage ceremonies.
Dutch church weddings by Zaandijkerk, Zaandijk 
Thirdly, restored to its former glory, this eye-catching church is a unique spot for a Dutch marriage ceremony service. It's a majestic place for a personal celebration. Moreover, the beautiful village in the heart of Zaandijk mirrors a lovely backdrop for your story. Create an atmosphere which is conducive to everyone's enjoyment. www.stadsherstel.nl
Dutch church weddings by Schokland kerk, Schokland
Fancy being surrounded by historical Dutch charm? Well, Schokland Church welcomes brides and grooms with different spiritual views, religious ceremonies. The Christian place of worship is an UNESCO world heritage museum. Dating back to 1834 your marriage service is held on a landmark site. This includes a traditional blessing. Source: www.museumschokland.nl.
Dutch church weddings by Engelse Kerk, Greater Amsterdam
Fourthly, the English Reformed Church, offers Christian marriage services. The exquisite building situated in a secluded courtyard garden is a precious hidden gem. It's opposite the Houten Huys an English-speaking congregation affiliated to the Church of Scotland. Moreover, the vicar's words speak of Christian beliefs. It's a unrivalled venue to seal your vows. www.ercadam.nl
Broekerkerk Church, Broek in Waterland 
What about travelling further afield? Another church to admire is Broekerkerk – church, it's the ideal stage to conduct your marriage ceremony in Holland. Located in the village of "Broek in Waterland" it's a blissful rural waterside setting. And encircled by a classic Dutch landscape, it has a divine look and feel. In truth, happy newlyweds are guaranteed sublime wedding pictures. www.broekerkerk.nl.
Noorderkerk, Jordaan Amsterdam
Additionally, whatever your values, morals or personal ethics are celebrate at the Noorderkerk. It's located in the heart and soul of the Jordaan. And just around the corner you'll find the famous Noordermarkt [farmers & flea market]. Not to mention that, it's ideal for non-Dutch speakers. English speaking couples can discuss the requirements for marriage with the consult.
Montfoort Castle and wedding chapel, Utrecht
Perhaps you fancy saying your vows here? Montfoort Castle has an adjacent chapel, it oozes exclusivity. Situated in a quaint Dutch village, the grand castle has an authentic ambiance. And the historical complex boasts a modern interior and the Commanderije of Sint-Jan chapel is an enchanting place to hold your ceremony. www.kasteel-montfoort.nl
De Koepelkerk, Greater Amsterdam
Planning a luxury wedding? Experience real Dutch culture at the swanky Koepelkerk. The 17th century domed church is situated on the Prinsengracht. And the outstanding architecture underpinned by character and heritage, is a magnificent place for your wedding. In fact, the captivating 5-star monument is sheer splendour and has an alluring style. The unrivaled blank canvas is yours to create a personal expression of your love.
The Metaal Kathedraal, Utrecht
And there's more..what about getting married in a metal church? The Metaal Kathedraal has no priest but does ensure you marry in contemporary style. Actually, this modern industrial venue suits a romantic fairy-like wedding. The ambient neo gothic cathedral steeped in history is in the heart of South Holland. Here your wedding lasts beyond the day.
The Anthony Hotel, Greater Utrecht
The Anthony Hotel is a modern urban venue set in an old monastery. Combining the Holy spirit with a contemporary feel, you'll enjoy the perfect wedding experience. Aside from the chapel you can host a reception dinner here too. Thereafter as a happily married couple dream away in the royal suite or cosy rooms. It fits your chic ceremony.
Amstelkerk, Ouderkerk aan de Amstel 
Would I recommend this church? Yes, I've performed here. The Amstelkerk is a small idyllic church located just outside Amsterdam. And the imposing architecture and décor is the perfect backdrop for a special wedding. You'll have an unforgettable heavenly day. What's more, the Amstelkerk has an adjacent venue for your evening celebrations.
Stichting Behoud Petruskerk, West Amsterdam
Could you picture yourselves here? Petruskerk is a Protestant church built around the 15th century. Situated on the banks of the spaarndammerdijk it's a stunning place. And steps away from Westerpark, this venue is ideal for any wedding. In fact, it's an historical site. Housed in the "village" Oud-Sloterdijk, this renowned place hosted the marriage of the grandparents of Vincent van Gogh.
 St. Martin's Cathedral – Dom Church, Utrecht
But, are you looking for something more sophisticated? Dedicated to Saint Martin of Tours, this Gothic church is majestic. Namely, it's a Domkerk, and provides an idyllic backdrop for your marriage service. Another point of interest is, the ancient and ornate cathedral is in the heart of Utrecht. And it's a gloriously regal setting for your colourful confetti exit. www.domkerk.nl.
Dutch church wedding venues by Walburgiskerk – Zutphen
Finally, one of the best Dutch church wedding venues outside Amsterdam is Walburgiskerk. And located in Zutphen, Gelderland, it oozes a truly magnificent ambiance. Furthermore, hosting a civil marriage ceremony [Dutch nationals only] is possible here.  www.oudegeldersekerken.nl
While you're here…
Please leave your thoughts in the comment box below.