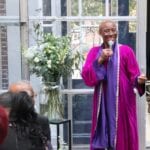 Have you been typecast to lead a friends' gay-friendly wedding ceremony service? Perhaps as a first-time celebrant / officiant you're at wits end looking for a non-religious wedding script sample for your own gender-neutral wedding. Performing someones marriage ceremony gives those with an own individual style the opportunity to create the perfect day whereby their folks feel welcomed, involved and comfortable. However, not everyone is a writer who can perform, conduct and deliver a remarkable speech.
What's more, the art of storytelling in a inclusive language (without binary wording – man/woman) doesn't come easy either. Did you know Adele, Carssen Kressley and Whoopi Goldberg got officially ordained to officiate a ceremony? Maybe they managed to acquire sample non-religious wedding scripts. Look pronouns matter. So, what gender-neutral wedding terms did these celebrity event hosts use? Should the presenter craft a customised trans-friendly wedding speech? Must you be qualified, trained or ordained? Can you carry out a secular ceremony properly, even though you are not a performer, public figure or speaker?
Look, in all fairness, the person appointed needs to create a welcoming environment while conveying the love and commitment the couple feel for one another. From the personal vows, to exchanging rings, and the first kiss. The speech needs to flow naturally and effortlessly in a language that appeals to everyone. So, whether you, the parents' in-law, grandparents, siblings, or a designated person is assigned to officiate the wedding. Stop racking your brains and don't start from scratch. Use my master-of-ceremonies simple, short & sweet sample speech. Kick start the non-religious wedding celebration with this gender-neutral script. Here we go…
From a non-traditional standpoint, a public speaking expert reads the room when officiating a wedding. So, whether you're a reluctant compere, strong public speaker or a rock star. The purpose of a modern non-religious scripted wedding cerenony speech is to help you, form the correct pronouns and gender-inclusive wording. Tweak it to suit your voice. Thus, here it is for your celebrants and officiants eyes only. Hereinafter referred to as a master of ceremonies. See below an example of what to say.

Attendants/greeters/ushers seat the guests . Music can be played to make them feel weldomed.
[optional – plugged or unplugged wedding]
Your master of ceremonies gives your guests instructions prior to the ceremony starting. Perhaps the wedding couple want an unplugged wedding, what' that? From turning mobile phones off, to no picture taking, social media timeout, group photos and audience participation. And the MC highlights other information that might be venue related. Your MC does this discreetly, tactfully, politely and should not offend anyone.
'Smile – As the happy couple tie the knot, please be our guest the photographer here will do the rest. These moments go fast as I'm sure you well know, so put your phones and camera's down, as the happy couple have hired a pro. – www.yourperfectweddingphotographer.co.uk.
Welcoming and introduction
We warmly welcome you all to 'location name'. The music we heard was…. (remember to thank the musicians). This splendid venue steeped in history is the ideal backdrop for a beautiful couple or nearlywed. Hence, it's the perfect setting to get married.
My name is ……. I am the master-of-ceremonies, who has the pleasure of conducting this marriage ceremony, which has great significance for us all.
But, first, we want you to be fully present with us during the ceremony. So, I'd kindly like to ask you to put your mobile phones on silent mode (no pictures are allowed). And don't worry, we've got photography covered. Our photographer is…………….
We promise we'll share all the professional photos with you later.
Secondly, I'd like to check that I have the right wedding couple before me. And that our witnesses are here.  
Partner 1:
Partner 2:
1st Witness:
2nd Witness:
Acknowledge all of the wedding couple's family and friends. Let them know how important their presence is. Honour deceased family members and remember absent loved ones (optional).
Hello family and friends,
We have gathered today to unite the couple in marriage. And to celebrate one of life's greatest moments. We are here to acknowledge a powerful bond that already exists between them.
The wedding couple wish to confirm their union of love publicly. They desire to share this treasured moment with the ones they cherish and love the most.
This happy and memorable occasion is possible because of the presence of all of you.
 (To the family and friends)
 So, let's start with another warm welcome to the witnesses…….
Partner 1 choose….because
Partner 2 choose…because.
Next, we have …..through every milestone they have been there and now on the biggest day of their lives.
The happy couple are delighted to have both their Parents, Guardian or Caregiver [names] here today, celebrating with them their love and joy. You have given them so much without asking for anything in return.
On behalf of the happy couple, our witnesses are ready to sign the marriage certificate and say; "yes they do!"
They are so happy to have their family here with them today, particularly grandad and grandma who mean the world to them both. We also wish to commemorate the memory of those who are not able to be with us today. You are in our hearts today and always.
Family and friends, you are the fabric of their lives. Stitched together with hope, love and faith, each one of you plays a significant role in this celebration. Surrounded by the warmth of all of you, we can celebrate their happiness. We are a major part of their patchwork.
Today, we embark on the new chapter of their married life. Without your gift of love and support, this wedding would be meaningless. We greatly appreciate the time and effort you put in to join us. Thank you all very much for coming.
Dear couple,
Love is magical, unique and beautiful. Marriage is an exciting adventure, which is ever-changing. But, it's not all about risk taking. At the heart of it is an exclusive closeness and the most important of all earthly relationships. To get married means you have full understanding of its nature. It requires a deep commitment, good communication and lots of compassion. Marriage is two hearts entwined into one. It embodies the strength of your love, heritage, traditions, and respect for your cultural values, background and belief in one another.
(The perfect time to slot in a beautiful, fun, non-religious passage, reading or quote about love.)
Love poem taken from the movie 'Meet Joe Black'
"Love is passion, obsession, someone you can't live without. I say, fall head over heels. Find someone you
can love like crazy and who will love you the same way back. How do you find him? Well, you forget your
head, and you listen to your heart…Cause the truth is, honey, there's no sense living your life without
this. To make the journey and not fall deeply in love, well, you haven't lived a life at all. But you have to
try, cause if you haven't tried, you haven't lived.
A personalised speech adds an extra spark to the spirit of the occasion and highlights the gender-inclusive wedding. Mention the date on which the couple met, the proposal, engagement and what makes their relationship tick.

(To the family and friends)
A lot of us have been taught that falling in love is like fireworks, we feel warmth, a spark yet peace in our heart. And this interesting mix of characters reflect this feeling. This inseparable team have a real connection. Soulmates since………….,
Now the lovebirds want to set things in motion to build a solid home foundation. They want to take their relationship to the next level, tie the knot and join the two families. Together they want to create a safe place for their children (optional) by extending the family tree.
The truth is they are on the same wavelength, steering each other in the right direction and determined to make one another happy. Both enjoy separate experiences without feeling ashamed and guilty. They respect each other's space as much as they love their quality together time. They inspire, support, adore and trust each other. Basically, they are true companions, kindred spirits and the perfect match made in heaven.
[to the couple]: Are you ready to live happily ever-after by starting the new stage of your lives together?

Before the official vows the couple can speak their personal vows and promises of love to one another.
Partner 1: please share your personal vows with your partner
Partner 2: please share you personal vows with your partner
(To the couple)
Now hold hands and answer the following, to each other.
Today, before your adoring family and friends you declare to cherish, love, and care for one another for the rest of your lives.
Partner 1 ….
Do you take xxxx to be your spouse / wedded partner for life? To have and to hold from this day forward. For better for worse, for richer or poorer. In sickness and in health. To love, cherish and to shelter them for as long as you both shall live?
What is your answer? Yes, I do 
Partner 2 do you take xxxx to be your spouse / wedded partner for life. To have and to hold from this day forward. For better for worse, for richer or poorer, in sickness and in health. To love, cherish and to shelter them for as long as you both shall live?
What is your answer? Yes, I do
I (celebrant/officiant) now pronounce you 'partners in love' or  'married.
Or
I now pronounce you Mx. & Mx.
THE KISS (OPTION 2)
Partner 1, you may know kiss partner 2.
or

You may now celebrate your love. 
 (To the couple)
With the love you feel in your hearts, you want to seal your vows by exchanging wedding rings. These precious rings are an ancient symbol of eternal devotion, a sign of oneness, and the unbroken circle of love.
RING BEARER

[please come forward]
Partner 1 please take the ring from ring bearer and, place the ring on partner 2 left hand and repeat after me (master-of-ceremonies). 
Partner 1 choose you partner 2, above all others, to be my partner for life. I give you this ring as a token of my love and join my life to yours forever.
Partner 2 please take the ring from ring bearer and, place the ring partner 1 left hand and repeat after me (master-of-ceremonies).
Partner 2 choose you partner 1, above all others, to be my partner for life. I give you this ring as a token of my love and join my life to yours forever.
With these rings you have pledged yourselves to a lifetime of helping, sharing and caring for one another. May these rings be a treasured reminder these glad promises you have made today.
SIGNING OF THE MARRIAGE CERTIFICATE [OPTIONAL]

(To the couple and witnesses)
Happy couple please step forward and sign the symbolic marriage certificate.
I would like to invite the witnesses', ……. to come forward.
[the couple witnesses, and celebrant all sign the symbolic marriage certificate.]
[The signature moment is quite, so make it memorable with a song]
PRONOUNCEMENT OF MARRIAGE
 (To the couple, family and friends)
Today on ……DATE…., we wish the happy couple…NAME…, a good start to their new journey. The road is full of bumps, twist and bends. Give them the strength, courage and love to face the challenges.
GUEST AFFIRMATION [OPTIONAL]
The happy couple now ask you all to affirm that you will help them build bridges of hope and faith. Let's them fall in love, time and time again with each other.
Family and friends,
Will you do whatever you can to always remind them of these three things?
1] The excitement they felt at their first encounter.
2] That love is as timeless and everlasting,
3] And to remain a shining light of joy, happiness and respect.
Please respond by saying "YES, WE DO"!
Thank you.
With this final act, the couples' marriage becomes morally binding in the eyes of us all.
CONGRATULATIONS
 (To the family and friends)
With great joy and happiness, I declare that the newlyweds on one voyage. And are committed to their marriage, long-term companionship and a beautiful shared life together.
Let me present to you the happy newlyweds ………
END OF CEREMONY (non-religious wedding script sample)
Did you find this non-religious wedding script sample useful? Leave a comment or suggestion below.