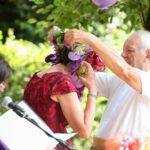 Wedding ceremony rituals are symbolic acts of love, commitment and trust chosen by couples as part of their marriage celebrations. These treasure troves of traditions can add emotion to a deeply personalised wedding ceremony. You tell your love story, in a way that is personal to you and create moments to express your loyalty to one another. These customs are a beautiful way to feel close and connected with your partner. But, which rituals and practices suit your couple's personality?
Do they reflect your belief system and bring promises of eternal wedded bliss? Do ancient customs and acts represent your powerful union (kindred spirits)? Should you have a legal marriage before you practice a wedding ritual? Perhaps you are worried the ritual of sacred marriage is not formally recognized by law. Well, symbols of unity can ensure you have a happily ever after. Why not, stick to old-fashioned family values and beliefs. Or you might like something contemporary to incorporate and weave into your special day.
But don't let these concerns stop you from proclaiming and promising your love, being imaginative and thinking outside of the ring box. If you cherish your lover and best friend, make your relationship stronger and plan an officiated blessed ceremony. A sentimental symbolic marriage act portrays your unique bond. It becomes an extra special occasion. So, celebrate by weaving one or two wedding rituals into your ceremony. I've bundled together some meaningful actions for you and your partner to consider. Here's to a happily ever after.
Firstly, to express your love through actions is a powerful way to reaffirm your deepest feelings and thoughts for one another. Actions of love and commitment enrich contemporary wedding ceremonies. In fact, meaningful and memorable unity customs are full of symbolism. Rituals can soften the coldest heart and warm your love to the highest heights.
Today happily partnered people can ditch outdated marriage traditions and celebrate wedding rituals. Wedding rituals are not legally binding, they are morally binding. Are you practicing a religion, a Buddhist, spiritualist, atheist or a secular person? Well, whatever your faith or belief a wedding ritual ceremony has a contemporary relevance. Symbolising everlasting love, commitment, togetherness, respect and loyalty, there's a ritual that suits every couples need.
Thoughtful and symbolic gestures connect you to your partner. Perhaps you are searching for ways to incorporate your ancestors into the marriage celebration? Hannah Nowack's  says,"For many Black and African-American couples, the libation ceremony is one such ritual that they choose to weave into the ceremony. A libation is the pouring of a liquid or a grain as a sacrifice to a deity or to ancestors to esteem, remember, and/or memorialize," Source: www.theknot.com

Why do most married couples kiss at the end of the ceremony? Well, this gesture of love kissing dates back to ancient Rome, when the average roman citizen couldn't read or write. 'Therefore, kisses served to seal an agreement; thus the expression "to seal with a kiss" and "seal the deal," writes Neel Burton, MD.' Read more wedding kiss history at www.marthastewart.com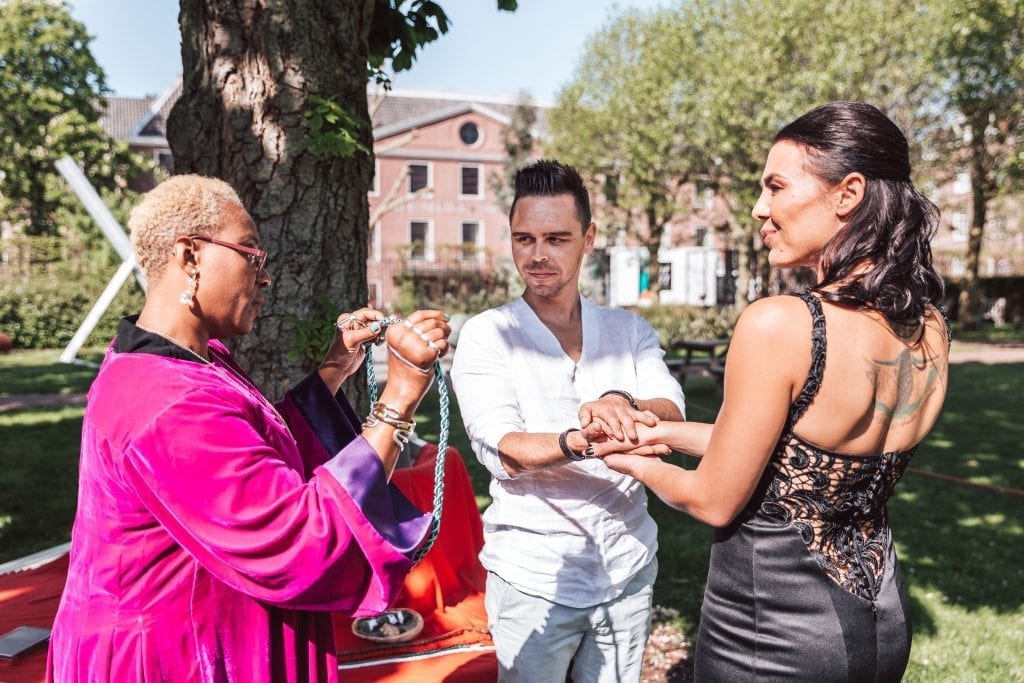 Secondly, the sole mechanism of a symbolic ritual gives soulmates absolute flexibility to add an extra dose of magic to their wedding. But you value your family and friends' opinion. Perhaps you don't want to disrespect their need for the presence of God at your nuptials? So, bend the rules a little. Allow them to utter the Lord's Prayer during the service.
6. Love lock ceremony
With the increasing popularity of couples placing a padlock on a landmark to signify their love. Why not, include the ancient ritual of love locks as part of your wedding ceremony. How? Create a love lock tree, add your locks, and throw away the keys. This symbolises an everlasting and unbreakable bond. Invite friends and family attending your wedding to attach their own lock, too.
7. Sand wedding ceremony rituals
The authentic sand wedding ceremony ritual expresses the coming together of two families into one new family. It is a very simple ritual but extremely powerful. Sometimes just the couple participates, but you can include your children. Or you can ask your parents to join in with their coloured sand. This adds to the layers of colours, and unites the entire family. " Sand ceremony symbolises togetherness, love and unity"
Jumping the broom can be part of your non-boring wedding ceremony rituals. It is a time-honoured wedding tradition in which you both, the bride and groom jump over a broom during the unity ceremony. The ritualistic act symbolises a new beginning, sweeps away  the past, and gets the newlyweds off on the right foot. Moreover, it signifies the joining of two families. In fact, it offers a respectful nod to family ancestors.
9. Smudging unity ritual
A smudging ceremony is a purification unity ritual. Tied to many indigenous cultures it has found its way into modern day wedding ceremonies. A smouldering bundle of sage/herb is used to cleanse the air around you, to purge negative energy. And the ritualistic action allows the couple to start a new phase in their relationship. This action symbolises the union of  unconditional love.
10. Oathing stone wedding ceremony rituals

Non-boring wedding ceremony rituals such as the oathing stone is an ancient wedding ceremony unity ritual from Celtic Britain. It is one's promise and belief that a vow/oath made over a stone permeates the stone. And this helps soul mates integrate the wisdom of the past into the start of their new married life. This is a great alternative to exchanging rings. It represents an eternal, unconditional and unbreakable love.
11. Handfasting wedding ceremony rituals

Handfasting otherwise known as "tying the knot" is a beautiful, symbolic act to conclude your ceremonial wedding celebrations. The unity ceremony ritual is the action of binding and shaking someone's hand to agree on something. A coloured ribbon, cord or other form of material is bound around the couples hands. This forms an infinity symbol the figure 8, representing the symbol of eternity.
12. Anchor wedding rings
A wedding ring connects each couple's past, present and future. And if infused with an anchor shows your partner that you are anchored forever to their love. Exchanging wedding rings is deeply rooted in ancient Egyptian, Greek and Roman times. It's a very old marriage tradition that conveys promises of fidelity. In our modern 'western' times, it is seen as the circle of endless love, loyalty, and trust. Read more at www.berganza.com
13. Ring warming ceremonies
Ring warming ceremonies are perfect for a deeply personalised wedding ceremony. A ring warming unity ritual is when you give your loved ones the opportunity to hold the couple's wedding bands with a wish, blessing or prayer for your marriage. By the time your rings make it on to the fingers of the couple they will be saturated with the love of their friends and family. Source: www.argyll-bute.gov.uk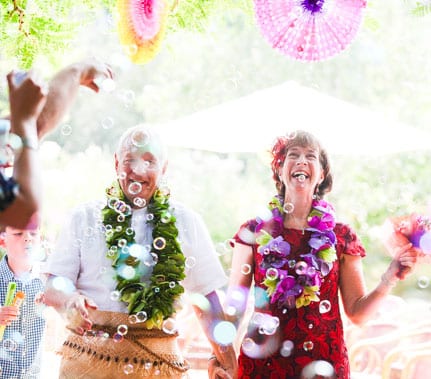 14. Pagan wedding ceremony rituals

Pagan wedding ceremonies are perfect for kindred-souls. For instance handfasting can be woven into a tailor-made celebration. These ritual marks the coming together of two people in a formal, loving and equal sexual partnership. As a couple you take the swearing of oaths very seriously indeed. In fact, it's an important part of your ethical beliefs system. Source: www.bbc.co.uk
15. Wine box unity ritual

And then there's the wine box wedding ceremony unity ritual symbolised enduring love. What is it? Well, you seal heartfelt letters in a wine box. The two sealed letters and bottle of wine are tightly sealed away for the future. When do you open it? You can open it, when you need to have a serious but necessary life changing conversation. Good luck with all your  big day plans.
16. Cutting of the cake
Finally, the first task you will do as a couple after the ceremony is to cut the cake. This is a deeply personalised wedding ceremony ritual. In fact, couples feed each other during the reception. The cake eating unity ritual symbolizes your love, affirms your vows and commitment for one another. This gesture highlight the serving and sharing of the cake as an important part of your wedding celebration.
Over to you…
Please leave your thoughts in the comment box below. And like and share my Facebook page!