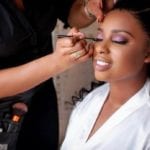 If your getting hitched in the Netherlands, perhaps you're struggling to find the right wedding day hair stylist, natural hair expert and wedding make-up artist for your special day. Albeit, flawless wedding nails and hair places your budget under intense pressure, it is a vital part of your marriage celebrations. Planning your wedding style is exciting, it can be overwhelmingly pricey. The right hair stylist and MUA should suit your mood. So, how much does it cost?
And let's face it, where do you begin your search for MUA's shear genius ideas to flatter your beauty without looking like a shop model on your big day? We would all love the celebrity effect, a beauty routine or aesthetic treatment that makes us feel awesome and look our ultimate best, right? Imagine you've got the most breathtaking wedding venue, fitted the shoes and sized up the rings. And you need an absolutely flawless look to complete it all. You want to gaze in the mirror and see the best you ever on the biggest day of your life.
But there's a problem, you need make a few tweaks ahead of the wedding and get help to emphasize your good looks with a natural hair expert and make-up artist. Show off your "golden" locks on your special day in Holland. Should you enhance your identity, lash out and treat yourself? Well, Dutch wedding day hair and make-up artist can make you shine like a million dollars. Go on "let down your hair" and comb through this selection of wedding hair and MUA experts. These affordable professionals work their magic, so that you make lasting memories. Here we go…
How do you determine and achieve a special wedding look with pinpoint accuracy? Well, your hair and face needs a specific pre-wedding tweakment before the main event. So, spruce up with Lisanne Kooij at www.jouwmoment.com. Another thing, this all-round professional makeup artist and hair stylist is also a photographer, and has a wealth of knowledge about your best features. What does she cost with travel fees? Contact Lisanne and find out!
Are you the bride-to-be who wants to apply flawless melanin wedding make-up and skincare advice? Perhaps, you're keen to style your own unique hair on the big day? Well, Viola Sarkodee provides you with cutting edge tips and tricks on how to look amazing, have luscious locks and feel youthful. In fact, there's no limit to what you can achieve with her shear genius, natural beauty products and generic makeup tips.
Beauty by Sayrona.nl takes wedding make-up ideas to the next level. She is your best ally for long-lasting comfort and a flawless smile all day long. What's your skin type and the shape of your face? Well, this professional will pamper you to the max. Furthermore, with a good care plan and the right guidance, you'll feel amazing on your wedding day. Think-out-of-the-box, try alternatives because the right make-up adds a sparkle to the occasion. Check out her wedding day hair stylist & MUA rates, now!
Get your teeth into this if you are on the lookout for special MUA, skincare options, tweakments and a shining smile. Samantha provides ready to wear wedding hair and make-up look. So, whatever the weather www.samanthapretto.org  can create something timeless for you. In fact, embrace your good looks, the texture of your hair and trust this professional beautician with the most important day of your life. With exquisite hair and spotless make-up, you'll look absolutely great on your dream day.
5. MJAmsterdam | wedding day hair stylist & MUA from €365,-
Are you a person of colour? Do you have silky smooth skin? Well, MJAmsterdam has the right cosmetics specialist and natural hair expert to help you create a stunning wedding look. And with this team of experts and their expertise advice you'll achieve the perfect make-up for your special day. MJAmsterdam have a passion to transform you into a glamorous person, so you glow and shine on the big day. The finishing touches will transform your mood. Prices for wedding hair and MUA excluding travel, accommodation and parking costs. 
Look radiant on your big day without overdone full makeup. Marina Ancher – MUA can be a calming influence on the morning of the wedding day. Give your good looks the preferential treatment needed. Dress your hair with her ideas. From the right hairstyle to make-up Marina's  tips will flatter the shape of your face and luscious locks. Achieving the right wedding look should not be stressful. So, make life easier and let  www.marinaancher.com create something that suits you. Does she need to travel to your wedding venue, find out if she's available today!
Lakwerk.com provides you with flawless polish, gel polish, lak level 1, 2, 3 and the ultimate next level 1 gel polisch.  This nail bar leaves your finger tips feeling comfortable throughout your wedding day, without needing to retouch on the go. Lakwerk is dedicated to it's clients needs. You'll have flawless and stunningly spotless nail look without extra expense. Polished nails enhances your hands for when your partner puts the ring on it. So, contact about your wedding nails today!
Planning your nuptials in the heart of Amsterdam isn't easy. And finding a good stylist and make-up artist that matches your personality costs time and energy. Put Jitty's preening, pampering and prepping on your wedding to-do list too. Achieve the most astonishing wedding day hair ever with her help. Get busy with your rings, venue, a dress, ceremony music. Don't forget the invitations, RSVPs. Thereafter, treat yourself to a wedding hair & make-up specialist. Make an appointment today!
Sjardeekirioma wedding day hair stylist has long-standing experience with weddings on and off location. Do you want to ooze fabulous and have cascading locks, tight hairlines and glowing skin? Yes, well prioritise it and finalize your wedding day hair style and bridal make-up with www.sjardekirioma.nl. Do a test run. And ask about using accessories, hair slides, tiara and/or veil to upgrade the look. Let Sjardekirioma take the pressure off you. Does she need to travel? Give her a call, today!
Anita from Studio Enya provides bridal make-up and hair for European, African, Arabian, Asian and American brides to be. This make-up artist has specialised in beautiful black kohl wedding looks and the perfect black eyeliner look. From minimal to OTT bridal makeup and hair, Anita has nailed everything. Let Studio Enya apply her special touch to give you that flawless look, to make a big statement on your big day! www.studioenya.nl
Whatever the shape of your nails, this nail salon wants your hands to look as pretty as you are. Amsterdam Nail Art Studio have hand treatments that make every bride or groom feel extra special. With their unique art, artificial and acrylic nail designs. I'm sure you will find something spectacular and stunningly beautiful to complement your wedding outfit too. Get ready to stand out from the crowd on your wedding day. amsterdamnail.nl
Last but not least, every person, whatever their style wants to look beautiful and deserves to feel good on their special day. Wies makeupartist Blerick is a wedding make-up artist. She has make-up tips & hair styling tricks for the young at heart people.  This wedding day hair stylist can help make young and mature peoples' skin look healthier, brighter and more sexy on their wedding day. You can count on optimal service. Most importantly, she'll give you on the spot advice on make-up that suits your unique skin and facial type.
Who is your perfect wedding day hair stylist? Share with me and other readers your ideas, questions or comments below.