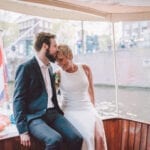 Getting married aboard a boat in Amsterdam or anywhere else in Holland is a rare treat. With wedding season (always) looming. Many couples are keen to have a Dutch or Amsterdam boat experience. They want to make it the most significant part of their wedding day or anniversary event. It's a romantic way to show and celebrate your love for one another. The boat wedding experience is exhilarating. However, there's a whole raft of things to consider because prices can be eye-watering.
After the pandemic, there's been a tidal wave of weddings on a boat in Holland. So, what does it cost? How much should you splash out, so that you don't sink your budget? Where can you find the best Amsterdam wedding boats, prices and package deals? Well, planning an original location full of fun, happiness and joy is daunting. Perhaps looking for a safe haven to swap your vows has left you in a limbo. And with nautical tourism making big waves in NL, leisurely cruising the waterways, is every lover of boats dream.
So, for a truly immersive Amsterdam boat experience imagine casually stepping onboard, saying, "I DO" (again) and sailing off into wedded bliss. And the captain rings the bell [if you ask nicely] to confirm your union. But there's a problem. Tourists, visitors & non-residents can only hold an officiated celebrant-led wedding without legalities. Do you fancy that? Well, get planning now for the perfect wedding day or marry again on one of these beautiful sailing vessels. Stop trawling the internet and plunge into the best picks. Here are the boat costs…
First things first, devise a plan and save valuable time before your port of call. Obtain a civil license from an (appointed register office) municipality of the country where you reside. Thereafter, bring the marriage documents [if necessary] to Holland. So, now get wedding planning, here are canal boating options.

Dreaming about a romantic canal boat wedding? Well, Rent A Boat Amsterdam has officially appointed venues. In fact, this boating company offers you plenty of options. Picture this sailing along enjoying the surroundings with family and friends. From the Ondine, HRH, Anna Maria to the Bota Fogo you are spoilt for choice. Get married aboard a Dutch boat. It's a unique wedding experience, that stays in your mind's eye forever.
Imagine slipping on your convertible two in one fairy tale wedding dress and heading off to Amsterdam by boat. Amsterdambyboat has pick-up and drop off points for ferrying you and your guests to and fro. With many options and upgrades, you can request that a celebrant officiates your ceremony on board. Even better, it's the perfect boat wedding reception. Costly yet worth it. Check the prices.
Push out the boat with Trouwschip, if your ideas are springing up and spilling over about a wedding reception on the water. Albeit, from the walk down the aisle to sitting at the altar every key step is restricted. As the happy couple you can steer away from all the traditional marriage rules, when you step onboard. Whether you are getting married for the first time round or you want to marry again. Make your special day unique and memorable.
With great empathy fall in love with all the bells and whistles this certified boat wedding rental company has to offer. Celebrating your big moment aboard a party ship with a retractable roof means you'll open the floodgates of joyful tears. Loved ones shall be keen to share your happiness. Travel along the canal and enjoy the outstanding Dutch landscape.
Rederij Stiphout is Maastricht's pride and joy on the water. If you want an in-port, shore side ship wedding or floating marriage celebration this boat rental company leaves you spoilt for choice. So, imagine drinking a cocktail on this passenger vessel. The striking furnishings add to fairy-tale weddings. Celebrate, admire the sights, explore the canals. It will be an unforgettable wedding experience. www.stiphout.nl
Come hell or high water you can have a Spido boat wedding. There distinctive weddings on a boat in Holland offer a unique sailing experience. Docked at Rotterdam harbour, this prestigious boat rental company has cozy, new and up-to-date vessels. Most importantly, you'll have sheer enjoyment and the best ambiance for your big day event. Bruiloft.nl/rederij-spido
In addition, getting married aboard De Majesteit is a dream come true. Literally translated, it means the Majesty. This cruise ship is one of the largest and most luxurious paddle steamers in Europe. Refurbished and in pristine condition for your wedding event it's the perfect boat rental. In short, a royal treatment awaits you in nostalgic Dutch style and atmosphere.
If you are flying high with visions of wedded bliss on the canals. Bootnodig.nl can fulfill your dreams and help with planning your wedding aboard a Dutch boat. First off, after you've registered your marriage at the town hall, hire a boat rental in Amsterdam. Technically speaking, a wedding cruise on a marriage vessel in Holland is more relaxed than a casual venue on land. However, if you're non-Dutch the law requires that you obtain your official paperwork before boarding.
Imagine you Amsterdam boat experience on Blue Boat. The tide has turned on marriage ceremonies and this boating company can help create an amazing big day. They know that your celebrations should reflect your lifestyle, aspirations and love for one another. So, soak up the breathtaking and enigmatic views of the Dutch coastline aboard the Blue Boat. By stemming the tide of a traditional ceremony, you are guaranteed a coastal wedding reception [± 80 persons] of a lifetime.
Alternatively, if your interested in an electric boat for a catered event, Flagship's elegant salon boat can service your needs. Guaranteed a memorable moment aboard, from the ceremony, reception to the evening celebrations, you'll enjoy the journey. Amaze your guests with such awe-inspiring panoramic floating wedding location.
Furthermore, navigate the beautiful canals with your partner and begin a good start to your marriage. Actually, capture fleeting moments on a retractable roof boat, your nautical theme wedding ideas will  not sink.
Your Amsterdam boat experience can begin on classic boat tours Amsterdam. Picture expressing your true genuine emotions by marrying on one of Classic boat tours salon-boats. Marry in style and host a classy intimate wedding (6 – 30 guests) upon a private boat. Specialized in small wedding groups, these skipper's navigate you through the rough waters, so you lay a solid foundation for the future journey ahead.
Another option is getting married aboard De Muider Compagnie, located on the outskirts of Amsterdam. Hundreds of couples have enjoyed their hospitality and flawless services. It is one of the most popular gliding wedding venues in the Netherlands. These sovereign boats designed with your comfort in mind provide catering, too. So, charter www.muidercompagnie.nl.
Naupar.nl. provides you with the ultimate titanic moment. Charter a boat and experience a nautical styled wedding, on a majestic sailing ship. Otherwise, choose a historic tjalk (classic yacht). Docked all over the harbors of Holland, these timeless vessels are awaiting your presence. So, call now to book your voyage. Rent a boat at www.naupar.nl.
Fancy a midweek, weekend or a whole week long boat wedding with family and friends in Friesland? Well, Frisian-sailing.com can accommodate you. So, set your timetable for the perfect floating Dutch wedding ceremony. There ships offer you the ideal backdrop for your wedding photos. How does that sound?
The Willem Jacob sailing ship offers you a priceless experience, you can enjoy your dream wedding day onboard. What's more, the staff knows the ropes and will create a wedding of your dreams. From the Waddenzee,  Lauwersmeer, Schiermonnikoog, Ameland en Groningen it will be a memorable voyage of love.
A term for several types of traditional flat-bottomed shoal-fraught sailing barge, originally used for carrying cargo in the Zuyder Zee and on the rivers of Netherlands. Also called a schuyt. Source: en.wikipedia.org.
Lastly, imagine stepping onboard a love ship ("stap in het huwelijksbootje").  Thereafter you go weaving through the Dutch canals, river and sea. Albeit, it there are relaxations on Covid-19, boat rental companies such as www.boaty.nl have implemented strict guidelines. So, you keep your wedding party safe and dry.
Please leave your thoughts in the comment box below.