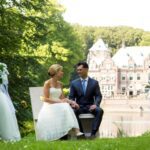 Struggling as a future bride to find one of the quintessential Dutch castle wedding venues? Or do you want to marry in an inspired by Alice in Wonderland, Cinderella, or Disney themed wedding location? Although Holland isn't Disneyland, you can fulfill your childhood dream of kissing Prince Charming in a real castle. Let me pull back the veil and explain.
Holland is in a unique geographic position for you to blaze the trail with your own epic wedding. So, how do you put on the Ritz and mark history? You've said, "YES", your engaged and the next logical step is marriage. Now the fun begins, with the ease and excitement of the big day in sight. Perhaps an enchanted woodland wedding hidden in a beautiful forest appeals to you. Or you're keen on a timeless feel at the chapel set in striking grounds?
Well, stop biting your nails and agonising after castle with an awe-inspiring facade. You've got the bridal dress, right? Well, I've shortlisted some spell-bounding Dutch castle venues fit for a stunning princess and charming prince. So, here are graded listed buildings, the finest wedding venues and impressive locations in Holland begging to be visited.
Kasteel Stapelen is home to countless weddings. So, before you play lady and lord of the manor at castle Stapelen and put on the Ritz at your grand church marriage service, you must sort out the formalities.  Begin your quest by geting the official paperwork in your country of residence. Afterwards, send out your A-list wedding invitations, book one of the most desired Dutch castle wedding venues and fully enjoy the fun parts of planning. 

Kasteel Montfoort is a castle where you can commemorate the past and usher in the future with your family and loved ones. It is an affordable and accessible wedding location. Castle Montfoort are happy to facilitate your fairy-tale marriage celebration. So, let them assist you with any language barrier issues. More importantly, help you create a style that represents your couple's personality.
Kasteel Helmond, the castle is off-the-beaten-track and for brides who want a splendid medieval castle. It has an old- fashioned ambiance combined with a historical touch and finesse. Situated in the city centre it's set between the finest garden, breathtaking lakeside and surroundings. Offering you an idyllic reception, for an inexpensive affair. It's the perfect picturesque backdrop for a dream wedding day. www.museumhelmond.nl.
Kasteel Keukehof is one of the best Dutch wedding castle venues. So, imagine a pre-wedding photo shoot amongst the colourful tulips and unblemished gardens. And there's no doubt, your fantasy becomes reality at the well-maintained Kasteel Keukenhof! Situated a stone through away from the impeccable gardens, it's a romantic marriage ceremony hotspot for your nuptials. Get ready to say 'I Do' at this enchanting castle. Make it your dream come true. Good luck with the planning!
Getting married at a castle is something of a renaissance – romance, a classic style, and a feeling of grandeur awaits you. Don't worry about speaking in your native tongue, I'm sure the castle staff can help you. Opt for crème de la crème of outstanding Dutch castles. Kasteel de Haar chapel is an enchanting location with pure opulence surrounded by a glorious garden. Swoon over this fairy tale spot that hosts weddings before or after civil marriage ceremonies. Moreover, it's well-maintained adjoining koesthuis kamer is a desired venue and doubles up as a chic evening banquet hall.
Although Duin & Kruidberg splendid Country Estate is not a castle, it can be compared to one. "Jacob Cremer loved his London born wife to the moon and back. However, she was homesick for her city. So, he built a pond in the garden reminiscent of the river Thames." Not only is Langoed Duin & Kruidberg family-focused, you can enjoy a romantic celebration set in the heart of quintessential Dutch countryside.
video courtesy of www.orangerie-elswout.nl
And fancy swooning over this "Dutch castle"? Well, The Orangery on Elswout Estate is a highly sought-after wedding venue, it's an ornate greenhouse. It's in the realms of glamorous weddings and fulfills all little girls dream. So, experience the hospitality and their meticulous attention to detail. Orangerie Elswout guarantee you a memorable day amid the gorgeous Dutch countryside.
In addition, Kasteel Ruurlo has everything you need for your wedding day and honeymoon breakfast all under one roof. Situated in a quaint Dutch province called "Gelderland and surrounded by a luscious park. The castles manicured gardens ooze exclusivity and makes every bride and groom feel extra special. In fact, the stately home boasts a superior interior, perfect for a wedding ceremony and backdrop. Put on the Ritz, at this unforgettable spot!  museummore-kasteelruurlo.nl
Alternatively, Huis Bergh castle located in 's-Heerenberg, Gelderland owes its name to the impressive moat surrounding the premises and the 18th century original fixtures. This majestic spot is perfect to host a Queens and Kings wedding celebrations. And the towering building gives you and your guests a royal welcome with flags flying high. www.huisbergh.nl
Landgoed Huis de Voorst [House of Voorst] is a timeless and classic wedding venue. This former royal estate provides you with the ultimate Cinderella and Prince Charming feel and look. From the gilded gates, moat, bridge, the 70 acres of land and 17th century English & French interior. It's an enchanting wedding scene no couple can resist. www.huisdevoorst.nl
Leave your ideas, questions or comments below.