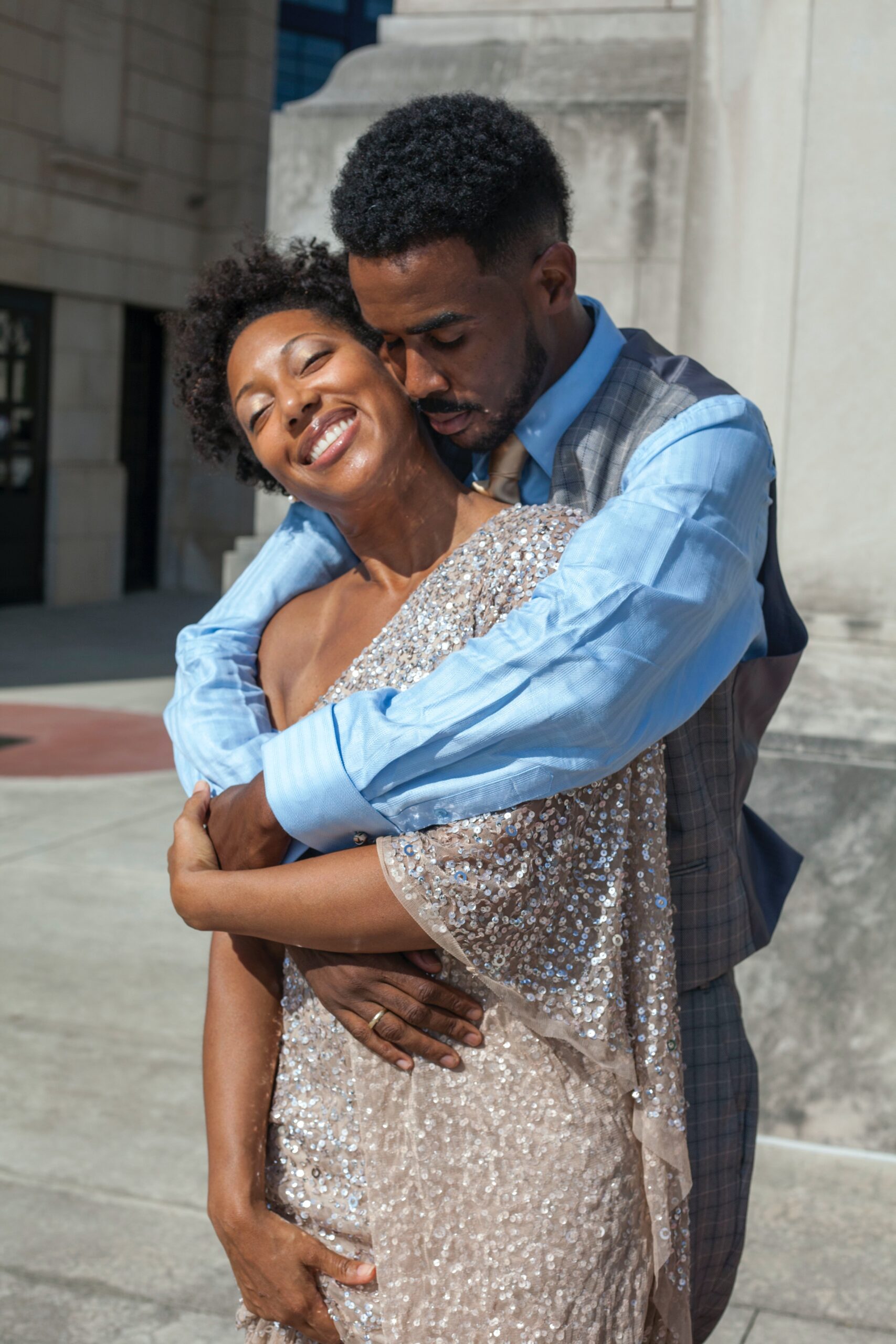 Hello beautiful, your relationship is serious, you're engaged and would love to get married, but you're having doubts. Pre-wedding interview questions from my best friend, June will help answer your hesitation. June said "that an abundance of tolerance is the key to a happy marriage". So, if that's case, why do you feel somewhat doubtful about the future?
Look marriage is a big commitment, I know because I'm still single. But, June said, "if you've been an item for 1 year, 5 years, 10 years or more, you could be having second thoughts. And these feelings can be a really unpleasant experience. Might make you unhappy and feel anxious about taking the next step.
But, it's not about what June and I think, it is about you. And it's perfectly normal to feel the way you do.  Getting cold feet before the big day, and embarking on a whole new life change is scary. So, take our word for it, start by answering openhearted questions about your serious relationship. Find out if it will blossom or wilt. Dare you continue?
PRE-WEDDING INTERVIEW QUESTIONS
1. WHO IS YOUR PARTNER?

So, let's break it down to the nitty-gritty. Tell me, are you a beautiful miraculous lady who loves to giggle a lot st his hilarious jokes? This might make you laugh. Is he a fun loving guy who puts manscaping and hygiene first? Where did you meet your other half at work, at a bar, at a friend's party or on a dating site? Look you've said, YES and are excited, happily engaged and starting to plan your wedding. Or something feels off. Perhaps, he doesn't share your sense of humor.
2. ARE YOU CODEPENDENT ?
June said, a strong woman is a powerful woman who has clear boundaries. Does your spouse fulfill your emotional needs and get lovey-dovey? Do you seek validation? When was the first time you said "I love you"? Did you feel weird, moody and weird about it?  Or did your partner have to guess it?
Whether you remember the exact moment or not. If you feel that the person is your best soulmate then that's all-what matters, right? Why have a romp with your ex or a secret fling?
3. DO YOU EMBRACE THE PET PEEVES?
Men are from Mars and women are from Venues. Do you have an open relationship and live together? Perhaps you feel annoyed with your partners behaviour? Does he spend more time with his mates than you?
And do you feel lonely in the relationship? Does he truly listen? Can you cope with the pet peeves? Don't struggle with this feeling make a Pro & Cons list to find out if he ticks all your boxes.
4. IS HE MR. RIGHT OR WRONG?
Look beautiful, would you confess all your naughty ideas to your work colleague, neighbour or to the handsome guy across the street? Do you feel like your man is Mr. Right or Mr. Wrong? Well, June says, "sit down with a good friend, make a list of positives and negatives and discuss it. Don't tell your parents, reveal it or post  on Instagram/Facebook. Talk to your future fiancé too, about it what you really want!
 PRE-WEDDING INTERVIEW QUESTIONS – II
5. RED FLAGS & REGULAR CONFLICTS?

And talking about the man you love, do you struggle with cultural conflicts? Has covid-19 had a negative effect on your love? Is your relationship challenging? Is it a strain trying to understand where you're partner is coming from? Well, your a pretty intelligent woman, don't be afraid to feel like this, many couples identity with you. Seek therapy for pre-marital issues It should be addressed and dealt with appropriately.
6. DO YOU HAVE COMFY COZY CHATS?
June and I want to know if you avoid the comfy cozy chat on the couch? Do you have insecurity issues with trust? Well beautiful, both of these things can cause anxiety. But, the right words can strengthen your love. Plan regular date nights on the comfy cozy couch with a bottle of wine. So, dare to discuss your different ways of looking at things. And listen to your likes and dislikes about the loving partnership.
7. DO YOU HAVE PRE-WEDDING JITTERS?

Hey beautiful, can you relate to this? Envision your life as it is now, where do you see yourself a few years from now? And will your partner fulfill your needs? Is your spouse loyal? Well, June says, "don't feel awful or stupid about taking the next step". But, be truthful, you wont know him until you've spent ample time together and meet his friends and family. Namely, you can disagree but value his opinion.
PRE-WEDDING FANTASY – III
8. ARE YOU A JEALOUS SPOUSE?

Being a beautiful looking lady, do you like compliments? Do you feel jealous of your partners profession? What do you envy the most about your spouse's life? Or is your partner envious of your friends and family? Well, if your other half feels like this, then the relationship might not thrive. Pre-marital strife is a No Go Area. Share these important observations. It's better out than in!
9. DOES YOUR PARTNER SHOW TOXIC BEHAVIOUR?

As a pretty awesome woman, is loyalty important to you? Does your partner have a gaming addiction? Or are you smothered with guilt? Does your partner exhibit toxic behaviour? Or does your partner deliberately sabotage your nights out with your mates? Jealously, the green eyed monster is a sign of insecurity, low self esteem and self worth. Source: www.marriage.com.
10. DO YOU WANT ROMANCE WITHOUT FINANCE?

And this is what June says about your spouses' true intention. Is the person financially savvy? What about your private goals, and confidential stuff – money matters. Come on girl – "No romance without finance is a nuisance". Money can be the number one cause of divorce. So, don't be blinded by love, difficult wedding planning and budgeting decisions. Find your bank statements and get stuck into it!
11. DO YOU SEEK FOR SUPPORT & SECURITY?

Let's face it beautiful, having a fling could suck. However, we ladies don't want a man who is unable to support himself. Is he stable like a table? Can he get it together through good and bad times? So, he is gorgeous, does he have great charisma and is good in bed. But what about his financial ties? He could still be financially attached to his ex-wife. This means you are out of the picture.
12. DO YOU LOVE INTIMACY & SEX?

Another thing June and I want to share with you. The most common issue couples fight about is sex, money and spending quality time together. Nevertheless, does your relationship feel like it's hit rock bottom? Are you no longer satisfied in the bedroom? Are there things you really can't stand anymore? Don't let your gut feelings slip your mind. No one is immune, talk about it however painful it feels.
13. WHAT ARE YOUR MORALS & ETHICS?

You are a smart lady, how do you deal with family dynamics? Do you have a problem communicating what is good and bad within your relationship? Do you avoid things by having the best sex ever? Have you ever questioned the moral code or the ethical values upon which your relationship is based? Are you able to say these simple words, "I'm sorry babe. I agree with you my honey. You are or were right."?
 PRE-WEDDING INTERVIEW QUESTIONS – IV
14. DO YOU HAVE CONFIDENCE?

June and I believe that there's a language of love between you and your partner. Otherwise, you wouldn't be here. Albeit this is true, how do you sustain it when you speak different languages? Are you really confident about your relationship and feel committed to it? Whether your love is sweet, slow and steady. Or fiery, fast and furious you can make your relationship work, if that's what you really want. www.medium.com.
15. ARE FAMILY VALUES IMPORTANT?

Your a savvy lady, so ask yourself, are you in full charge or does your partner rule? Whereas waving goodbye to old arguments strengthens your relationship, so can starting a family. And the shared joy, and happiness of being together could feel like you've hit the jackpot.  Becoming parents with a bunch of kids can be nerve-racking. Be realistic, it's a big job. So, be clear about it.
16. HAS YOUR PARTNER HAD A HEALTH CHECK?

And beautiful lady, what about asking your man to get a background health check? Namely, it could be a red flag. Hidden concerns about extending your family tree could be a red alarm. But if you've both had a background health check this is a sign of a true connection. Have you been to the clinic? Well, nip any problems in the bud and get him checked out now!
17.  DO YOU LOVE SHARING & CARING?

Sadly, lots of beautiful savvy women like you, June and I know letting go of troubles and realising the honeymoon phase is over can be devastating. Of course, the lovey-dovey time passes by and reality kicks in. Perhaps these new emotions worry you? Do you feel troubled about what the future holds? Are you tough on yourself? Communicate your feelings, wishes and desires. Spend quality time together!
 PRE-WEDDING INTERVIEW QUESTIONS – V
18. ARE YOU RELIGIOUS OR A NON-BELIEVER?
Whether you are spiritualist, religious or non-religious woman, face your troubles and work on the issues that you are most concerned about. More importantly, enjoy the engagement. And look forward to hearing those wedding bells ring. Rekindle the love fire before the big day. In addition, stamp out a new sense of value!
19. DO YOU WANT CHILDREN?
Like many women planning marriage you may want children. Although, now you feel like a couple bubble and the only two people in the world, kids could enrich your lives. So lovely lady, open your eyes, mirror the respect and commitment you have for one another. Understanding each others needs to be parents and to have children in the future might create a deeper, richer and healthier partnership.
20. WHAT ARE YOUR WEDDING ASPIRATIONS?

Another thing, June and I want to know are you bickering and arguing more than usual? Do you feel the  pressure is on to plan the perfect wedding? Are there major confrontation, anxiety and anger issues? How do you avoid all of this? Well,  here's the truth fighting before marriage is normal. www.awarenesscentre.com.
21. ARE THERE FAMILY FEUDS?

Hey beautiful, do you bounce ideas off one another about how to cope with family feuds? In fact, do your family and friends like him? Getting on famously with each other's relatives is really important. In fact, engaging with loved ones on a regularly basis shows you support each others need for family and friends. And enjoy a little moral support, it goes a long way.
22. WHAT ARE YOUR PARNTER'S FLAWS & IMPERFECTIONS?
How long have you been a couple? Do you embrace each others flaws – imperfections? Do you compromise? Is there miscommunication? Are you walking on eggshells? Well, this isn't healthy. Gain excellent maneuver tactics and become expert matrimonial mediators. From poles apart, two halves make a whole. But, is it worth it, is he who you think he is?
23. HAVE YOU HAD PAST AFFAIRS?

And this is another touchy subject, many women and men are confronted with. A wedding can trigger things from the past. Albeit the next chapter of your life feels exciting is very scary. Do you have a loving, healthy relationship? Are you wishing for an exceptional celebration? In all honesty, you've both got heavy baggage to carry from the past. So, avoid the no nonsense chat.
24. DO YOU USE DRUGS & ALCOHOL?
June says, our partners can influence us, in good and bad ways. Are you drugged up and dizzy in love? Perhaps your addicted to their viewpoint? How much booze do you drink? Being influenced by your partner doesn't mean you've lost your independence. But you don't have to partake in drugs, alcohol or other mind altering stuff to get respect.
25. WHAT IS YOUR BRIDES WEDDING FANTASY?
And what about this one beautiful lady, is it sinful to lust over your ex-partner? Well, other brides-to-be fantasize about having one last romantic experience before the ring. Albeit, you like the idea of being engaged  or married – you're not quite ready to commit. Are you truly in love with your intended, and long to walk down the wedding aisle?
26. WHAT'S YOUR BIGGEST RELATIONSHIP REGRET?
So, beautiful have you contemplated a 'last night fling' before your wedding day? Look, when you were single, you desired to be married. Now, your partner has popped the question and you said, YES. Entering into a full-time relationship, with one person for the rest of your life, is a big step to take. What's wrong with being faithful?
27. DO YOU HAVE AN OBSESSIVE PARTNER?
Remember beautiful, when you are affectionate toward your partner, it lets them know how  important they are to you. So, take control of your life and feelings. Big romantic risks, bring great rewards. And, if red flags are waving, alarm bells are sounding off, or you have big knots in your gut. You must address it. www.joinonelove.org
SUMMARY
June and I encourage you savvy beautiful lady, to face the fear of a pre-wedding fantasy. Your partner might feel like a failure but ready to talk about insecurities. Sort this out before the big day! In every relationship there is a better half and a stronger half. Which one are you? Rank and rate your relationship with the help of Cafe Astrology.com.
Pre-wedding interview questions related posts
Do you know anyone who's cheated on their significant other? Has the thought of a "final fling" ever cross your mind? Leave your comments below.