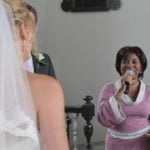 It's a cold hard fact that the right wedding songs at your marriage ceremony will enrich the special occasion. Long and repetitive melodies can create a solemn atmosphere. So, here are six uplifting gospel & soul wedding love songs to brighten up your wedding day soundtrack.
Are you daydreaming about a flawless entrance and exit to the venue or church? Let these tunes help you seal the moment. You'll even highlight the kiss, exchanging of your vows and the rings. Essentially, cool wedding songs can be used for your steamy opening dance at the reception party.
You know it's only befitting that you sashay down the aisle to a heartrending wedding love song on one of the most thrilling days of your life. What's more it should be a significant time to remember.
Why 6 wedding songs about love?
Extraordinarily, the number six is ruled by the planet Venus. Venus is named after the Roman goddess of love and beauty. It is a number indicative of truth, harmony, sincerity, balance and love. All these characteristics sustain a good relationship, friendship and marriage. Source: www.love-numerology.com.
Undeniably songs embody the joy of your wedding day. Also, it gets you and your guests in the mood. Not only that, they arouse and entertain your family and friends. This ensures a wonderful start to the rest of your wedding event. Are you excited to start planning your music? Then, continue reading and listening. Afterwards you can search for your own irresistible wedding songs.
Chances are you have a spring in your step and feel lucky in love because the bells are going to ring? Whatever the case, At Last is an alluring soul and blues classic. It is excellent for your bridal march down the aisle with your dad. On top of that it is an extremely amorous and sensual vocal. This wedding song gives you the opportunity to let your partner know how much they are adored. He will beam with pride. Add an extra special twist to your picture perfect and unforgettable big day with this heartfelt and mind-blowing, ceremony song.
An evocative song  played before, after or during your wedding ceremony is ideal. Alternatively, play a soul ballad throughout the reading of your wedding vows or exchanging of rings. Going to the Chapel is a fun loving, enjoyable and lively Motown song. The wedding guests will not be able to contain themselves sit still or stop themselves from clapping. In other words, they will cheer, bop and sing along to this famous wedding love song. If ever there was a song that best compliments and amplifies a marriage ceremony this is the one.
Have you spent a lot of time hunting for the ideal meaningful song for your marriage ceremony? Do you have a cheerful and bubbly disposition? Well, here is "Love You I Do"; it's a jaw-dropping and fun signature tune. It is a modern take on a bride confessing her undying love and yearning for her love. She is also thanking her intended husband to be. It's a true heartwarming Motown wonder hit. This upbeat love song is taken from the fantastic Hollywood blockbuster, Dream Girls – The Musical and captures true love.
Unchained Melody is a classic soul song that goes straight to the heart of every bride, groom and wedding couple. This is a beautiful melodic tune that promises unconditional love, eternal commitment and lifelong companionship.  Have you seen Ghost, the American romantic fantasy film? The main scene is a wonderful talking point. It's a real tearjerker that tugs at the heartstrings.  In essence, it will never be forgotten, but played time after time. Absolutely beautiful!
Romantic music works on your families and friends emotions.  It's good for making your guests feel comfortable during your wedding. Thinking Out Loud is the most popular wedding love song followed by At Last by Etta James. This hit entertains everyone. It is a pop, folk song about the desire to grow older together and having an everlasting love, whatever life may bring. Express your affectionate, longing and devotion to your spouse with this one. They will feel cherished and desired.
Last but not least, this Cinderella like song is especially for you, if you're sentimental by nature or a hopeless romantic. Then again, maybe you can't resist lovey dovey lyrics. Are you nodding yes? Then this hit "A Whole New World" is defiantly meant for you. It's an amazing Walt Disney Ballad; composed for the classic cartoon Aladdin. If you and your soul mate dream of a storybook wedding song, then this tune guarantees a happy ending. The ideal show-stopper before or after you speak your vows.
Cool weddings are the new vintage weddings and the more personal and unique, the better. Source: www.marieclaire.co.uk
Over to you….
Please share this with your family and friends. And remember to leave below your ideas, thanks!