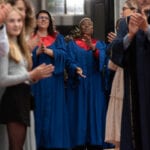 Incorporating the best wedding love songs such as gospel, soul & Motown worldwide hits (live or recorded) becomes the beating heart of a marriage service.  So, what songs complete the perfect your bridal soundtrack? Which upbeat black gospel, slow jam songs, R & B hits and sweet soul are ideal?
Whether you settle for a non-religious marriage service or religious one in the church. Music expresses your truest feelings for one another. These moving pieces transport everyone to a memorable moment and a special place. But, which perfectly timed new and old classics enrich your celebrations?
Perhaps after hours of listening and looking through your vintage record collection it brought you to my site. Streaming songs on Spotify or YouTube could be your guilty pleasure.
One thing for certain, music evokes and stirs up powerful emotions, it brings harmony. And like me you are hooked on rare groove music, great artists and gorgeous love tunes. So, have a safe bet and spare yourself the agony of finding marvelous hits. Here's my comprehensive playlist to inspire dramatic gestures of love. Including these classic gospel, soul & Motown wedding love songs sets the right mood. Read on…
The Best Wedding love songs 
Bridal processional
Music plays an integral part of weddings. From uplifting gospel songs and soul classics unite family and friends by marking the wonderful start to the rest of your married life. At Last blues lyrics will surely help you do that, Build romantic suspense with these lyrics. "At last, My love has come along, My lonely days are over and life is like a song".
First Dance
Planning your wedding soundtrack is the best time in your life. Chances are the spring in your step make you feel lucky in love because the bells are going to ring. Whatever the case, It Takes Two Motown lyrics are is an alluring soul jam sound for a first dance. "One can have a dream, baby Two can make that dream so real"
Welcome music
Secondly, be inspired by this irresistible wedding love song for your playlist. It's a personalised tune for your H2B and an excellent bridal march up the aisle with your dad. "Higher than the highest mountain and deeper than the deepest sea. That's how I will love you, oh, darling, endlessly".
Welcome music
In fact, Natural Woman the extremely amorous and sensual vocals from Aretha Franklin engage guests and your H2B. So, if you want a unique welcome song at your marriage celebration. Book a professional singer to sing: "You make me feel like a natural woman".
Welcome music
In addition, before the marriage celebrant officiates the ceremony, build up even more anticipation for your grand entrance. "Going to the Chapel" lyrics of love is a fun loving, enjoyable and lively Motown song. Imagine this sung live at your ceremony? "And I'm gonna get married"!
First Dance

The charismatic velvet voice of a live singer or choir entice the guests to sing and clap along to during your first dance. In fact, this song connects and hits H2B's right spot. "Nothing you can say can tear me away from my guy, Nothing you could do, 'cause I'm stuck like glue to my guy".
The Best Wedding love songs II
Bridal recessional 
Officiated wedding ceremonies and symbolic marriage services are complete with recessional love songs. Endless Love an evocative slow jam can be played as you, the newlywed couple descend down the aisle followed by your guests.
Before reading of wedding vows
Alternatively, play a medium uptempo gospel ballad or instrumental throughout the reading of your wedding vows or exchanging of rings.  "Love You I Do"; is a jaw-dropping and fun signature tune. It is a modern take on a bride confessing and yearning for undying love. It is a crowd-pleaser.
Bridal processional

Happy is the perfect soulful song for your officiant to introduce at the tail end of your wedding ceremony. It's a fun, funky and modern gospel sounding song. The lyrics of love go straight to the heart of your  entourage and congregation. The last wedding love song should be triumphant. Seen the video?
Bridal processional
What if you wanted the celebrant/officiant entertain your guests? Well, follow in the footsteps of Harry and Meghan Markle who got married in St George's Chapel – Windsor Castle. Stand By Me, originally performed by the Kingdom Choir, the romantic melody works wonders on the guest's emotions. An old-school slow jam.
The Best Wedding love songs III
Signing of marriage certificate
And there's more… Are you free-spirited and a hopeless romantic? Well, pick this and enjoy a pre-recorded version of an upbeat wedding love song. The lovey dovey Motown lyrics written by Burt Bacharach and Hal David for Dionne Warwick will have everyone grabbing their tissues.
12• Signed sealed and delivered – Stevie Wonder

Signing the wedding certificate
Signing the wedding certificate is the bit that actually makes your celebrant-led wedding "official". Together with your witnesses you will stay at the front and sign a symbolic marriage contract. And photos will be taken, too. During this time, it's important to have music going on. Play "Signed, sealed and delivered" so your guests aren't sitting in silence.
First Dance

Additionally, crying before and after the special event can be a worrying thought. However, feeling nervous on your wedding day is normal. Although, these sensations may be true, your top wedding day priority is to be like a princess and ooze pure romance. This classic slow jam and R & B hit will enhance your mood during the first dance.

Wedding aisle

This powerful love song taken from the film Romeo and Juliet adds a touch of elegance to your wedding. A classical singer or jazzy voice echos your walk down the aisle or elevates the words of your guests' wedding reading. Absolutely fantastic!
Time for reflection
Additionally you can walk leisurely down the aisle to this famous soulful slow jam song taken from the film Misty. It creates a cosy atmosphere and invites guests to sit up straight in their seats and listen intently. It's light and airy, no-one will be able contain themselves, guests will need weepy wipes.

Before the ring exchange
This beautiful medium-tempo number promises a positive life. As newlyweds you deserve to have a good time. Validate your love to one another and share your happiness, hopes and new lives together with this special love song. Hire a gospel choir to add the perfect finish to the end of your wedding ceremony.
Lighting of the candles or collect
Another thing during the ceremony you may have thoughts swirling around your head. And at the lighting of the candles or collect you may enjoy this spiritual and uplifting song. It will reflect the mood of your religious wedding ceremony more.
Exchanging of personal vows
Although, your guests are joyous at the prospect of your wedding, how do you create a romantic ambiance? Good spiritual music keeps you both featured as the main attraction: the focal point. It's like clinking champagne glasses to solidify your love and friendship.
Lighting of the candles or collect
After you've forged a strong bond of love by saying YES, I'm sure you will be really excited and happy to continue the celebrations. Sung by an classic singer you have a wonderful ceremony.
Bridal processional
It is common to have a classical soprano singer, choir, harpist or string quartet perform live at a church wedding. But what sort of songs appeal to you? In truth, guests will be in awe of your chosen songs and give you positive reactions.
The Best Wedding love songs  IV
Lighting of the candles or collect
Additionally, this amazing song from Adele creates an overall feeling of authenticity and inspires enthusiasm in your guests. So, if you get a suddenly rush of overwhelming sentiment. Just remember, this is awesome song that unites both families and friends. Everyone will feel valued.
22. Your All I Need To Get By – Marvin Gaye
First Dance

This is a memorable song to celebrate your first dance. With this romantic hit sparks will fly between you and your new hubby. You'll be in 7th heaven and dash across the dance floor. What's more, you'll look like movie stars for guests to admire and adore. Make your big day perfect with this perfect hit!
23. My Special Prayer church wedding song- Percy Sledge
Signing of marriage certificate
In addition, this very unique number can be performed by a male singer. Accompanied with a gospel choir you'll be serenade with a personalised  rendition of a very special prayer.
24. When A Man Loves A Woman – Percy Sledge
Welcome music
This classic soul song tells of your grooms love for you. You can hire a jazz singer to perform this beautiful ballad. And make sure to keep the suspense going until you leave the church.
The Best Wedding love songs V
image credit stadsherstel Amsterdam
25. How Deep Is Your Love – PJ. Morton
Welcome music
And there's more.. real love feels pure and authentic and this gospel rendition of the Bee Gee's hit How Deep Is Your Love is a great choice for a spiritual wedding. In truth the  sounds fulfill your soul, soothe and entertain you. Guests get excited and will not sit still.
26. If I Ain't Got You – Alicia Keys

Signing of marriage certificate
By adding this special signature tune from the soul princess Alicia Keys your marriage celebration ceremony will have the wow-factory. Moreover, you'll massively boost the mood and release any tense emotions. So, let reflect the ambiance of a special gathering.
27. Bleeding Love – Leonie Lewis
Recessional song
Have you spent a lot of time hunting for the most meaningful song for your special day? It's an icebreaker to evoke a good feeling. And this joyous recessional song for stomping feet, clapping hands and getting guests singing along.
28. Love x Love – George Benson
Exchanging of personal vows
Fancy a tissue issue song? The ideal show-stopper before or after you speak your vows. What's more, this will capture every one's attention. A storybook love song guarantees a happy tears moment and happy ending. 
The Best Wedding love songs VI
29.  I belong to you – Brian Mcknight

Exchanging of personal vows
This is the ultimate soul song for the man of your life. In fact, it is a personal track for your wedding ceremony. More importantly, a great time will be had by all. Are you having a church wedding? Arrange  the right church wedding songs with a "social music" feel.
30. Sweet love – Anita Baker

Bridal recessional 
This is a beautiful bridal party song. Have it performed before you enter the church or venue. It will put all your guests at ease and the kids, too. It makes everyone feel part of your day.
31. My Cherie amour  – Stevie Wonder

Exchanging of personal vows
This enchanting song can be sung by a choir, vocalist or even played on a harp. It makes your ceremony more special than ever before. So, calm your emotions and add a touch of sophistication to your wedding day.
32. Ave Maria – Beyoncé

Wedding ritual moment
This memorable piece of music leaves a lasting impression on everyone. This is a great soulful rendition of a classic, true heartwarming wonder hit. Add this to your wedding day soundtrack for the wow-factor.
33. Higher and Higher  – Jackie Wilson
First dance
Even more exciting, who wouldn't like to hear this classic R an B song at their wedding? A choir can sing it as you walk into your hb2's arms. Otherwise, get the a small vocal group to accompany you both during the first dance. This is the perfect song to echo the start of your big day.
34. Get Here – Oletta Adams

Exchanging of personal vows
Amazed by your entrance family and friends are present and ready to celebrate with you. Even more special, it's the moment to hold your darlings' hand and beam with pride. Basically, create fond memories for you and your guests.
35. Oh Happy Day – Edwin Hawkins Singers

Recessional song
And what about this classic black gospel song "Oh Happy Day" it helps lift you gracefully over the final hurdle. This is the moment you and your partner as newlyweds, cross the threshold into married life.
36. Midnight Train to Georgia – Gladys Night & The Pips

Bridal entrance
Midnight Train to Georgia is a soulful classic and the perfect wedding love song for your walk up the aisle to your husband-to-be. "(Leaving on a midnight train to Georgia, woo woo) I'd rather live in his world. Than live without him in mine (That world is his, his and hers alone). Source: genius.com
37. Gonna Be A Lovely Day – Kirk Franklin

Before reading of wedding vows
And don't forget this modern rendition of Bill Withers song, (Gonna Be A) Lovely Day. Kirk Franklin has given it a new lease of life. It's uplifting gospel and a great music to play before your wedding vows. "Just one look at you, then I know it's going to be, a lovely day."
38. Aint No Mountain High Enough – Marvin Gaye & Tammy Terrell

Recessional song
And don't worry if you burst into tears of joy when you hear "Aint No Mountain High Enough, to keep me from getting to you babe". Just ensure your guests have some tissues to cry along with you too!
39. The Greatest Love of All – Whitney Housten

Recessional song
Finally, did you know the song "The Greatest Love of All was written and recorded to be the main theme of the 1977 film The Greatest, a biopic of the boxer Muhammad Ali. In fact, it was performed during the opening credits.
40. Rescue Me – Fontella Bass
 Wedding aisle

Rescue Me by Fontella Bass is a rhythm and blues song. Why not consider it for your  wedding aisle opening number. It adds an extra 'wow' factor. Classic Gospel, Soul & Motown wedding love songs  can be sung by ABC Gospel Choir.

41. You're the best thing that ever happened – Gladys Knight.

Opening dance
So, how do you save time looking for a first dance number? You could consider 'You're the best thing that ever happened' by Gladys Knight the signature wedding tune to demonstrate your love for one another.
42. When Love Comes to the Rescue – Oletta Adams
Signing of marriage certificate
Finally, Oletta Adams song: When Love Comes to the Rescue is a fitting soul song for during the signing of the declaration of marriage. ' Come let me kiss those tears away, Discover a reason to celebrate with you, That's what we should do
When love comes to the rescue.
BEST WEDDING LOVE SONGS IMPORTANT NOTE:
Are you religious or non-religious? Whatever your faith remember to check with the officiating priest and get his/her approval. Find out if the above non-traditional church wedding songs are suitable for your spiritual marriage ceremony. And, if the officiant says, "YES" add a bonus track such as number 41 – see above.
The Best Wedding Love Songs
Video courtesy (as seen on Youtube.com) of Karen Gibson and The Kingdom Choir sing 'Stand by Be' from the West End of the Chapel.
https://royal.uk/royalwedding
Now it's your turn….
Please leave your  suggestion in the comment box below. And like and share this page on Facebook or Instagram. Big thanks!