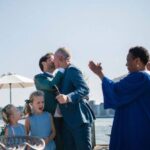 Do you want to marry in Amsterdam by the water? The historic city built on water has an abundance of waterfront wedding venues to get married in. The key shoreside locations are the perfect tranquil setting. Hosting a celebration of love party amongst a breathtaking backdrop of gorgeous scenery is romantic. Beautiful wedding shoots await you. So, where do you start to plan your waterside wedding or riverside city wedding?
How do you celebrate your marriage proposal or wedding in comfort? Searching for a waterside wedding venue, shipboard or a shoreside wedding location is challenging, there's so much choice. Where can you savour the best views of the city, gabled houses and watch people cycling by on a bike meant for two. What's the prettiest place to hold your officiated ceremony? Imagine continuing your marriage celebrations without getting stressed, it's a watershed moment while surrounded by calming water sounds.
Do you like the sound of a riverside city wedding? If you are dreaming of Amsterdam waterfront wedding venues for a marriage proposal, ceremony or reception. The below picks can make all your waterside dreams come true. And the good news is, from minimalist, urban to traditional venues these top places are boasting spectacular views of the historical city centre. So, allow yourself to soak up the beautiful sights and feel free to linger just a little longer. I've done the hard work for you, you don't have to search anymore. Check out these waterside spaces.

Papa's Beach House pavilion is one of the most prestigious Amsterdam waterfront wedding venues a stone through away from the city. It has hosted countless engaged and wedding couples parties on the beach. It's where love stories begin, the idyllic waterside wedding venue in the middle of the forest to swap your vows. In addition, you and your guests can enjoy good and tasty food throughout the day.
Get married in Amsterdam at Hotel De L' Europe. It is one of the best waterfront wedding venues for a riverside city wedding. It is nestled on the sensational Amstel. It's a short walk away from the listed Unesco's World Heritage Jordaan area. Imagine hosting your waterside wedding ceremony, wedding breakfast and reception here. You are guaranteed an unforgettable big day. And be warned, once you experience this opulent and romantic hotel, you'll find it difficult to leave.
The Pulitzer hotel is the best kept secret and place to tickle your fancy. Spanning over two canals you can swoon over the Prinsengracht and Keizergracht. Known for offering a sublime setting for Amsterdam events, weddings and parties. Enjoy the legacy and keep the Dutch Golden Ages tradition alive at one of its historical waterfront wedding venues. Why not stay for your honeymoon, too. www.pulitzeramsterdam.com
Waterfront wedding venues offer plenty of scope for your special day. Amstelkerk situated on a beautiful square opposite the reguliersgracht is a beautiful waterside spot to celebrate love. This wooden church on the Amstelveld is one of  the most quirkiest places it dates back to 17th century and is perfect for a special celebration. Furthermore, the Amstelkerk is an attractive place to join your two unique families "in marriage". It's a popular choice for couples seeking a splendid riverside city wedding surrounded by water.
And there's no place like the modern Dylan Hotel for a stunning waterside wedding or riverside city wedding. Nestled in the heart of the rich city "9-streets" area it's an elegant and sophisticated venue to elope to or officiate your ceremony. Together with your bridal party celebrate and enjoy the prestigious "Keizersgracht" residence. Above all, a bespoke service package and top class restaurant caters for your dream waterside event." www.dylanamsterdam.com
Waterfront wedding venues are for true historical lovers, so Museum van Loon fits the bill. It's beautiful serene location was originally the home of the founder of the Dutch East-India Company. Converted into a museum – wedding venue, it provides the bride and groom the perfect backdrop for speaking promises of love. If you want to be married in the Golden age, then Museum van Loon is the right tranquil setting. The gardens border a residential area. www.museumvanloon.nl
Many couples dream about waterfront wedding venues in Amsterdam with their immediate family. Imagine hosting your wonderful waterside wedding at Hotel Estheréa. It is a truly authentic venue. The building located along one of the oldest canals – The Singel –  dates back to the seventeenth-century. It has a beautiful ambiance and a stunning waterfront. So, plan an unforgettable reception at a historical city spot where the Dutch couples hang out too. www.estherea.nl
In addition, located on the river "langs de ij-oevers" is Room Mate Aitana. A fantastic boutique hotel with a luxury lounge bar and modern marina. Suited to couples with a jet-set lifestyle, it's the ideal waterside wedding venue. Create something uniquely your own, a tailor-made marriage celebration." Source: room-matehotels.com
Immerse yourself in one of the many undiscovered waterfront wedding venues, the Huis van Brienen. It's located in the fashionable heart of Amsterdam. Experience a special ceremony in the historical painted room, toast to love with guests in the front room. And enjoy a fantastic dinner in the beautiful dining room. A pearl of an event location where everything comes together! www.toptrouwlocaties.nl
Are you ready to say, "YES" in this dreamy historic waterside wedding venue? Well, the museum House Bartolotti is the place to host it. Get married in Amsterdam and have your ceremony officiated in the courtyard garden. Afterwards, you and your family can dine in the dining room surrounded by a marble fountain. Complete the day and dance the night away amidst the beautiful decor. Find out more: www.museumhuizen.nl
The Waldorf Astoria renowned for their sheer elegance, distinguished restaurants and lounges is the place to host an Amsterdam shoreside wedding. It's located in the golden bend "gouden bocht". And the wedding venue set of gabled houses is the perfect place for a stunning bridal party. And leaves your wedding guests with an impression to remember, it's a great hotel with jetty.
Imagine being the captain of your own "bridge keeper's house"? Well, this is one of the most special waterfront wedding venues where you can stay the night. Sweet Hotels have inspiring locations and are one-of-a-kind on the water hotels. Dotted across Amsterdam you have a choice of 28 different bridge keeper's houses. "Each bridge / lock house has been designed into a tiny 1-bedroom hotel suite. It's perfect for an elopement wedding for two" sweetshotel.amsterdam.
The Hangar Amsterdam is a unique and lavish waterside wedding venue for your perfect day. In fact, the beautiful terrace overlooks the Amsterdam IJ. It's a romantic city garden, and is the intimate heart of your city marriage celebrations. What's more, this riverside location with a beach offers you a personalized wonderful wedding service you and your guests cannot resist. It takes great pride in offering you a truly personalised feel.
Amsterdam goes hand in hand with wonderful water-view weddings. The historical Het Grachtenhuis – Museum located on the "Gentleman's Canal" is a superb wedding venue for the artistic couple. In the front living room with views overlooking the Herengracht you can say, I DO. Or what about tying the knot in the back living room with views of the magnificent garden. It sounds truly idyllic, right?
Amsterdam's best ceremony venue, Sir A'DAM has got your waterside wedding covered with sensational bright views of the city. The observation 'sky' deck offers you a loveseat swing and an abundance of natural light. Make your authentic wedding experience unique and unforgettable at ADAM. Designed for those seeking a special spot at the top of the world, this boutique hotel on "de ij-oevers" is perfect. www.sirhotels.com
Your wonderful wedding hosted at a location rich in history, full of local buzz and oozing with artistic flair means you are at The Hoxton Hotel. This top place in Amsterdam has it all! Located on Herengracht canal, a few steps away from the "9e straatjes & royal streets". It's a charming venue inspired by diversity, originality and you. Source: thehoxton.com
The Grand is one of the most elegant and sophisticated Amsterdam wedding waterfront venues to hold a marriage celebration. Positioned on the Oudezijds Voorburgwal, in the heart of Amsterdam it offers all the trimmings for exclusive waterside weddings. So, moor up, alight and enter into this luxurious 5-star hotel, spanning over two canals. A stunning waterfront wedding venue with canal house suites. Everything you want all under one roof in regal style! www.sofitel-legend-thegrand.com
Leave your ideas, questions or comments below.