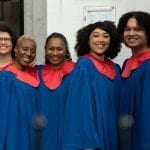 Looking for a gospel trio, quartet, large group of black gospel singers for your wedding, party or music festival in BE, Germany, Holland or UK? Powerful black gospel singers, groups and bands in NL play loud & proud and happily engage with your family, friends or special guests. Incorporating a gospel choir is a great way to have a unique event, with a whole spectrum of songs from American black gospel music, traditional, fusion, R & B and modern soul sounds. But which group suits your needs and leaves a lasting impression?
Before I answer that, a question that pops up often for me is, "am I a gospel choir talent booking agency? And can you hire a gospel trio, gospel band/musicians/singer via cloverjean.com." Even though, I am the founder of ABC Gospel Choir (they can be booked via me). I cannot book other Dutch Black Gospel Choirs for you. So, why did I write this article? Well, I'm a lover of gospel & soul music and have a great fondness for my peers. In fact, I'm truly inspired by them.
Let's get back to your question…who are the best gospel trio, gospel choir and band to thrill, astonish and touch the hearts of your wedding event and party guests in Holland? One thing is, amazing gospel acts and shows are worth their weight in gold. Basically, all of these awesome choirs would sound good at your event. So, stop with shopping around, let me introduce to you the most established Dutch black gospel choirs, singers and bands in NL. All you have to do is pick one that ticks the boxes of your music entertainment needs.
ABC Gospel Choir Amsterdam EST. 2017 is a small choir of 8 singers performing old and new Black American gospel music, as well as classic soul and Motown. Familiar songs such as Oh Happy Day, Aint No Mountain High Enough and Higher & Higher are perfect for your event. Not only that, but ABC customise the songs to suit your wedding, party, care home and funeral ceremony service playlist needs.
Additionally, Clifton Grep is Black Gospel Experience (BGE) music director, band leader and composer. Passionate about putting uplifting black American gospel music distinctly on the Dutch map. So, if you're a churchgoer, non-believer, practicing Christian, you can experience the wondrous sounds of authentic gospel music, hymns, contemporary worship and praise songs at your celebration.
Alternatively, Michelle David  & The True Tone's first album "The Gospel Sessions and A Soulful Gospel Christmas" thrill, excite and move an audience. With many years of experience in the music industry, this is an accomplished group. It comprises of a top American gospel singer and the crème de la crème of professional Dutch musicians. So, give your celebratory event the wow-factor with this world class gospel & soul band.
Edith Casteleyn's Rainbow Gospel Singers consists of a selection of 15 to 25 singers, soloists and dedicated singers from the Dutch Combined Mass choir. Over the years, The Rainbow Gospel Singers have performed in churches, but also at special events such as gospel festivals, jazz festivals, multicultural festivals and corporate events for national and international companies, radio and television.
Elvis E [Elvis Ediagbonya] is a powerful gospel artist, talented pianist, renowned composer, musical director and conducts a mass choir. He is actively involved in the gospel scene. Working closely with various celebrated Dutch gospel artists, he can be seen on the new Dutch music television series and gospel show Amazing Grace. Get ready for some jaw-dropping moments!
Next is the legendary G-Roots, Estd. 2002, a group of 15 first-rate black gospel vocalists. Jennefer Zichem is the leader and dedicated soloist. Treat the guests at your event to a real spiritual touch! G-roots = Gospel-roots a professional choir singing religious, worship, African, urban music, modern and traditional black American gospels.  Captivating audiences with their beautiful voices and choreographed dance moves G-Roots have got you covered.
Let's not forget Gospel Boulevard. They're an extraordinary gospel choir under the inspiring leadership of conductor André Bijleveld. Their melodious voices are well known nationwide. I'll just add that André Bijleveld is a popular jury member of the Dutch choir show "Korenslag". In addition, Gospel Boulevard performs at festivals, churches and theaters.
And there's more gospel singers for you… Far Out, one of Hollands leading Black Gospel Choirs, have been performing since 1995. The collective group of five phenomenal vocalists love weddings, parties and company events. Far Out has performed with Mariah Carey, Celine Dion and Denise Jannah. Just imagine them at your event, and the excitement it would create.
Meanwhile, the New Gospel Sensation singers are a high impact, energetic and dynamic black gospel choir. Make no mistake, from Lovely Day, This Little Light of Mine and Aint No Stopping Us Now these professional singers are setting the tone for many Dutch gospel choirs. Basically, the [5 to 6 singers] are a household name and guarantee your celebrations will be a talked about success.
For couples who adore the film Love Actually you can book a Gospel Choir with a soulful male soloist to perform the famous church wedding balcony scene. Imagine you've tied the knot at your wedding ceremony. And as a newly married couple you begin to walk back down the aisle. You look up onto the balcony, as the gospel singer and choir starts to sing The Beatles classic All You Need Is Love. Doesn't that sound cool?
Let the More Gospel Singers band delight and transport you to the true roots of gospel Harlem, New York. Joany Muskiet is the front-woman who heads this collective of excellent Dutch musicians. Enjoy authentic and groovy gospel music. And dance along to the best soulful sounds the Netherlands has to offer. Planning a luxury party, celebration or gala event? The More Gospel Singers are perfect!
Inspirational, engaging and playful, esteemed black gospel performers and musicians entertain us throughout Europe and globally. For more than 20 years Gospel Choir Deliverance, an multi-ethnic choir perform American Black Gospel. The medium-sized choir sings three-part, soulful and swinging songs. "Singing with feeling and from the heart is an activity that makes the choir feel happy. Singing connects us."
Lastly, ZO! Gospel Choir is an upbeat black gospel choir and consists of the best singing talent from Amsterdam Bijlmermeer. Led by Shirma Rouse and the Dutch Queen of Soul, R&B and Gospel" Berget Lewis the choir has a unique style, young dynamic stage performance and an international sound, look and feel. With a soulful groove of contemporary music, acapella renditions and pop songs your guests will have the time of their lives.
Finally, powerful black gospel singers, close harmony groups and the established Kingdom Choir UK have injected fun and energy into many celebrations. Gospel music represents uplifting music, freedom songs and protest spirituals which has attracted a wider audience to Black Gospel Choirs.
Please leave your thoughts in the comment box below.