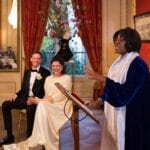 With Amsterdam tourists marrying locals for a day, visitors are now longing for the perfect Dutch wedding in the heart of the city. Dutch weddings with all the trimmings of a ceremonial marriage service can be a logistical nightmare, drawn out and a long ordeal.
On top of that, whether you are religious, non-religious or an atheist how do you become a "couple bubble" without putting a strain on the relationship? Perhaps you want to avoid the brink of planning despair and family feuds could be a major concern too.
Look, seeing eye to eye about who gets an invitation to your wedding is what every couple face. And whatever your personal faith, moral belief or common values are, the ceremony should be personified to the max. And if it is small or large, heartfelt and meaningful don't feel overwhelmed, I've done the hard grunt for you. Read on…
Dutch Weddings in Amsterdam
Photo credit dionnekrausphotography.com
1• Dutch wedding language experts

Firstly, if your international guests don't speak Dutch, what is the primary language at your wedding ceremony? Is your family and friends secondary language Italian, English, Spanish, French or German? Perhaps you desire a bilingual marriage service? Well, don't worry the Dutch are multilingual and can lead multilingual wedding ceremonies.
2. Dutch Calvinist wedding
The Calvinist nature of the Dutch makes it a great place to work, love and get wed. For instance, it's been ranked as one of the best places to live in the world. So, what's the average cost of a smaller wedding [20 – 50 guests]? Roughly, the costs are between 15.000 and 50.000 euros. Large marriage celebrations can be up to 80.000 euros and above.
3• Same-sex Dutch wedding celebrant

And there's more, Holland is one of the most liberal and prosperous irreligious countries in the world. What does irreligious mean? Well, it means "neglectful of religion" but that doesn't imply religion is a swear word. Likewise, atheism is highly fashionable. So, what better place than Amsterdam to plan a same-sex celebrant led wedding without the trappings of religion.
4• New Dutch wedding rules
Another thing, should you postpone or cancel your Dutch wedding in Amsterdam? Since the outbreak of the Coronavirus you might prefer a small private marriage ceremony for two  (or with guests). But, if you've never been to Amsterdam before (or you have) or you are (Dutchie) foreign national a bilingual celebrant-led wedding service is an option.
5• Visiting, moving or relocating

Secondly, get to grips with the planning process before you begin your married life in Amsterdam. Have you relocated permanently to Holland? Is your fiancé (e) a Dutch national (citizen)? Well, an official Dutch marriage service, requires that you apply for citizenship. it must be issued and granted with a residence permit.
6• Sort out bilingual Dutch wedding
So, did you know you can sort out the legal side of things in the country where you reside before hiring a celebrant? And it's mandatory to acquire a civil marriage certificate if you want a bilingual church marriage service. Perhaps you've bought the rings and the party venue.
Photo credit: Merlijn Hoek
7• Standard, classic or bespoke ceremony
What do you need to do next? Here comes the fun stuff, purchase a gown, tailor-made outfits and start planning your wedding. Entering into wedlock is a life changing event. So, decide on a basic, extended or complete wedding service that is authentically you and perfect. Who do you want to preside over your wedding in NL?
8• Dutch civil marriage license

Additionally, how do you tackle the church venue? An international wedding at the English Reform church in Amsterdam requires a Dutch civil marriage license. Therefore, attend a designated register office at your local town hall (applies to Dutch citizens only)
9• Give notice of your wedding

Together with the above, what's the first important thing to do? You must give notice of your wedding,. and this is done 6 weeks beforehand. So, get off to the town hall. Thereafter a registrar shall complete all the necessary forms and can conduct the official ceremony. Just sign the paperwork and pick up the legal document.
10• Personalised wedding ceremony
Another thing, do you have a reasonable budget?  An inexpensive personalised wedding ceremony  is easy to arrange. It resembles your cultural backgrounds and personalities. So, before you enter into a life-long commitment as partners embrace your identities.
11• Multicultural Dutch wedding
Tell me, why do you want to get married in Amsterdam? Do you have close ties, relatives or wonderful memories of a special time spent here? Whatever it is, create a wedding in the culture that's meaningful to both of you. Involve everyone you love – if you choose to invite them. And include your acquaintances to the multicultural Dutch wedding.
12. Authenticated documents

Do you want your wedding ceremony lost in translation? Is this your second of third marriage? Well, you will need to have foreign documents legalised and the translation authenticated.  Official documents are, for example, birth certificates, unmarried status declarations, marriage certificates, diplomas, and divorced papers.  Find out more at the civil partnership/marriage registrar's office.
13• Elite Dutch weddings

But be honest with me, are you worried about blending the two families together? Starting a new blended family is a whole new ball game. And weaving everyone onboard for the marriage celebrations, might cause you stress. Thankfully, a commitment ceremony /secular (non-religious) wedding gives you the freedom to invite everyone – within reason.
14• Dutch nationals

In truth, Dutch nationals are opting for a non-religious celebrant-led wedding ceremony [ceremonieel huwelijk]. Why? Because of costs, practicality and sometimes logistical reasons. It's very popular, and easier. Like you, the couples have a solid bond and savvy wedding budget. However, the more complex your bubble wedding for two is, the more energy you need.
15• Dutch wedding vibe

And did you know? "When gaining Dutch citizenship internationals often have to give up their original citizenship(s) (afstand doen) because in many cases the Netherlands does not permit dual nationality. There are however, a number of exceptions to this rule, where dual citizenship is possible. Source: www.iamexpat.nl
16• Urban wedding blessing

Make life easier and sort out the relevant legal paperwork. Register your intention to get married, and have it recorded at the municipality in the country of residence where you reside. How does that sound? Read more about an urban wedding blessing ceremony.
17• Dutch citizenship
Lastly, to gain Dutch citizenship you must renounce your nationality. You can apply and register a declaration of renunciation with the municipal authorities. At Holland Expat Center, find out how to get a head start with planning your two-language wedding (if required).
18• Dutch weddings 2021

To conclude: How useful has this been for you? What sort of vibe do you want at your urban city wedding? Well, clarify your legal status in Holland, then have a multicultural, mixed, interfaith or traditional marriage ceremony. Find out how to survive the new Covid-19 secure wedding venue options now.
Dutch Marriage Legal Paperwork 
What to do before the wedding blessing service

Firstly, the ONLY LEGALLY recognised marriage in the Netherlands are Civil Ceremonies. And for a small fee it is mandatory to give notice of your intention to marry or form a civil partnership. Find out more at your local authority near you.
Secondly, appoint an authorised person to marry you. Schedule a no-frills wedding in true Dutch style with a simple ceremony. Or you apply for a FREE REGISTRATION of your certified marriage license.
Another option is a 10 minute abridged version of civil marriage or a basic registered partnership ceremony (minimum fee €166 – Amsterdam 2020).
In addition, submit a request. Let them know you wish to (only applicable in Holland) appoint me as you're civil union – wedding registrar for the day. An official from the authority will also attend the marriage proceedings. This ensures legality of your nuptials.
Otherwise, undertake the marriage registration formalities (in Holland or abroad) and have your nuptials legally recognised.
When you've obtained your official marriage license during a civil ceremony combine it with a secular Dutch wedding [celebrant led ceremony] at a later date.
image: tomvandendool
 While you're here…
Please leave your thoughts in the comment box below. And like and share my Facebook page!