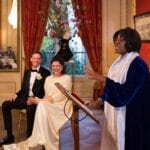 In preparation of your marriage here's a complete Dutch wedding guide for UK, EU, US nationals, expats, love-pats, immigrants, internationals, and Dutch citizens. Make this planner your go to resource. You want to formalise your relationship in NL and get married, do you have to notify a UK or NL government official?
What is an officially recognised marriage in NL without residency and legal wedadmin?  Plus, do you have major concerns about travel arrangements, family customs, traditions and feuds. And it's corona time, is it legal to marry in Holland?
Furthermore, you're worried about coronavirus wedding rules and need guidance. Look, seeing eye to eye about matrimonial law is what every couple face. So, don't feel overwhelmed, take things in your stride. I've done the legwork for you. So that arranging your wedding is a piece of cake. Follow the below steps!
Dutch Wedding Guide
The requirements for marriage in Holland
What does a Dutch wedding cost?
On average, a wedding in Holland costs anywhere from € 15,000 to € 80.000 (excluding honeymoon). However, it is entirely up to you, how much you spend. Basically, it's as expensive as you want to make it. Let your marriage celebration be the happy event you imagine it should be—by planning a Dutch wedding you can comfortably afford.
Step 1• Civil marriage registrations ONLY
So, let's start, as foreigners, immigrants or love-pats you've got your own set of rules, moral beliefs and strong values. What does it mean to be formally married? Well, in Holland only civil marriage registrations are permitted. But, you can enjoy a celebrant-led partnership of wedding ceremony without a long drawn-out ordeal.
Step 2• Wedding couples (dual) nationality
Imagine you're engaged, a British expat wanting to marry a Dutch citizen. Perhaps you are Dutch and are dotting about your foreign partner. Are you American love-expats dreaming of a secular wedding in NL?  Another scenario is, you just desire to tie the knot in Holland. Face the challenge and move onto step 2.
Step 3• Dutch wedding destination

Who do you invite? And who gets an invitation to your Dutch wedding? Whatever your preference, belief or nationality, select which part of the Netherlands you want to get wed, first. From the Jordaan – Amsterdam, De Maas, Rotterdam, Maastricht or in Utrecht it's your choice. Perhaps a beach location at Bloemendaal near Haarlem suits you better. Plan it your way.
Step 4• Visiting, moving or relocating

Have you relocated permanently to Holland? Is your fiancé (e) a Dutch national (citizen)? Well, an official Dutch marriage service, requires that you apply for citizenship. It must be issued and granted with a residence permit. So, avoid the brink of travel planning despair before you set off to the Netherlands.
Dutch Central Government (Rijksoverheid)
What about your wedding day schedule, itinerary and timelines? Well, before you put timings in place for the big event. The Rijksoverheid requires that Dutch citizens wishing to marry a foreigner give notice of their intended marriage. This must be done directly with the city or townhall where you reside. Here at Rijksoverheid you can obtain all the relevant documentation required.
Immigration and Naturalisation Service (IND)
Whether your an expatriate, immigrant or international you must be registered at the IND in order to get married. Dutch citizens marrying a foreigner are required to also register partners arrival, a permanent address and the tax partner. This is imperative, if you wish to legally marry in Holland.
Marriage of convenience
"Sometimes couples make a great deal of money through sham marriages. Couples gain unlawful access to the Netherlands through a sham relationship". That's not you, right? Anyway, the IND do stricter checks of potential marriages of convinence. You may have to sign a declaration of good behaviour. Find out more at IND. nl
Dutch Wedding Guide – II
Step 5• Give notice of your wedding

Whether you plan a religious or secular wedding, you must give notice of your wedding.  This should be done 6 weeks beforehand. So, get off to the town hall. Thereafter a registrar shall complete all the necessary forms and conducts a civil marriage ceremony. You sign the paperwork and pick up the civil union document.
Step 6• Registrar marriage certificate
So, you don't want a partnership ceremony but a real wedding. Fulfill certain requirements, sort out the legal side of things and obtain a registrar marriage certificate. This is mandatory and it must be done in the country where you reside if you want a Dutch church marriage service.
Step 7. Passport & authenticated documents

In preparation of your marriage, make sure your foreign documents are legalised and the translation is authenticated. Birth certificates, unmarried status declarations and registrar marriage certificates are required. Bring diplomas, passports and divorced papers too. Find out more at amsterdam.nl.
Step 8. Save Dutch wedding date

Save your Dutch wedding date. The Calvinist nature of the Dutch makes it a great place to work, love and get wed. Partnership ceremonies and celebrant-led weddings are popular. So, what's the best date to get married? Have you thought about a long weekend or a midweek wedding? It's up to you.
Dutch Wedding Guide – III
Step 9• Compile wedding guest list

Have you thought about the primary language at your wedding ceremony or partnership ceremony? Do your guests speak Dutch, Italian, English, Spanish, French or German? Plan a bilingual marriage service, with A-list, B-list, C-list or D-list guests now.
Step 10. Dutch wedding celebrant

And there's more, are you a Buddhist, atheist or churchgoer? Secularism scores high in Holland. It's one of the most liberal and prosperous irreligious countries in the world. Go Dutch hire a wedding officiant or a marriage celebrant to facilitate and guide you through the marriage proceedings in Holland.
Step 11• Define Dutch wedding budget
Another thing, define your wedding or partnership ceremony budget. Whether you've postponed or pushed it forward to 2022/2023 , we don't know what the Coronavirus is going to do. So, get to grips with a budget to make your Dutch euros stretch further.
Dutch Wedding Guide – IV
Step 12• Wedding suppliers & vendors
To get your Dutch wedding started, you need the best wedding planners, suppliers, vendors and entertainment. So, decide on a basic, extended or complete wedding package service that's authentically you and perfect.
Step 13• Dutch wedding boat venue

Additionally, how do you tackle a boat wedding boat venue or a waterside event? An international Dutch wedding sounds absolutely wonderful but make sure you know about the hidden costs. Get more information at getting-married-aboard-boat.
Step 14• Dutch garden wedding

So, you may like a garden wedding in the heart of Amsterdam. What about Vondelpark.  Vondelpark weddings are for couples who want a marriage celebration surrounded by loved ones and nature. Here's an insiders view that every couple needs to know, if you desire to get officially married in Vondelpark.
Dutch Wedding Guide – V
Step 15• Wedding attire for him & her
Another thing, do you have a reasonable budget for your wedding outfits?  An inexpensive bridal dress and suit can be arranged. The clothes can resembles your cultural backgrounds and personalities.
Step 16• Multicultural Dutch wedding
Whether you are a Buddhist, atheist or churchgoer you can marry in Holland. Do you have close ties, relatives or wonderful memories of a special time spent in Holland? Create a moment in time at your wedding, in the culture that's meaningful to both of you. And include your acquaintances to the multicultural Dutch wedding.
Dual nationality marriage 
In addition to your own nationality (British, American, French) you might have one or more other nationalities. Perhaps you are Dutch with a dual nationality. How does this effect your marriage? Well, as you know each country of origin has their own set of rules. Find out at your country of birth.
Dutch Wedding Guide – VI
Step 17• Dutch wedding venues

Let's face it, you want to blend two families together and need an impressive location to do that. Decide if you want a museum, castle,  exclusive hotel, or stately home wedding. Thereafter invite everyone – within reason.
step 18• Dutch wedding photographers

In truth, wedding photographers are at the top of their game. Helping you to capture the most beautiful day of your life in pictures. But you can also hire a fearless wedding  videographers to transform your moment into a movie. 
Step 19• Blooming wedding

And when in Holland for a partnership ceremony or you decide to tie the knot you must have flowers. From your bridal bouquet, flower arrangements, corsages to car decorations. Dutch florists make it happen.  www.katyahutter – floral design.com
Dutch Wedding Guide – VII
Step 20• Wedding hair & makeup

Don't make it hard, make life easier and sort out a combined wedding hair stylist and makeup artist. And the best news is, use the same professional for your engagement love shoot day. How does that sound?
Step 21• Divorce certificates & more
Lastly, preparing for a Dutch wedding abroad in the Netherlands with a Dutch citizen, can be easy. Just remember to bring all the relevant information such as birth certificates, passport and divorce papers – copy of decree absolute (if this is your 2nd/3rd marriage). Source: Holland Expat Center.
Step 22• Covid-19 wedding rules

To conclude: how useful has this been for you? What sort of vibe do you want at your wedding or partnership ceremony? How do you survive the new Covid-19 secure wedding rules? Read below more about the steps you need to take to have a legal marriage in Holland.
Dutch Marriage Legal Paperwork 
What to do before the wedding blessing service

Firstly, the ONLY LEGALLY recognised marriage in the Netherlands are Civil Partnership Ceremonies. And for a small fee it is mandatory to give notice of your intention to marry or form a civil partnership. Find out more at your local authority near you.
Secondly, appoint an authorised person to marry you. Schedule a no-frills wedding in true Dutch style with a simple ceremony. Or you apply for a FREE REGISTRATION of your certified marriage license – on Tuesday mornings only.
There is a shorter version of a civil marriage ceremony or a basic registered partnership ceremony. The "City Office Registrations costs are minimum fee €168.80 – Amsterdam 2021).
In addition, submit a request. Let them know you wish to (only applicable in Holland) appoint a celebrant – officiant you're civil union – wedding registrar for the day. An official from the authority will also attend the marriage proceedings, to ensure legality of your nuptials.
Otherwise, undertake the marriage registration formalities (in Holland or abroad) and have your nuptials legally recognised.
Or obtain your official marriage license for FREE (at a later date) and proceed with a secular Dutch wedding [celebrant led ceremony]. 
 While you're here…
Please leave your thoughts in the comment box below. And like and share my Facebook page!