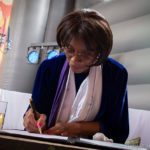 So, you like the idea of having a Dutch wedding in Amsterdam. Or you're a Dutchie and prefer to have a civil partnership celebration. Even though you are foreigner and you're not a permanent resident or citizen of the city, it is not unrealistic to have a cross-cultural marriage service.
Even better, you can find an officiant trained in the area of linguistics to conduct your wedding. And you'll ease any language barriers between your family and the in-laws. After all, its your big day and the ceremony has to resemble your personality.
I'm native English who speaks fluent Dutch, and a marriage officiant, family celebrant and master of ceremonies living in Amsterdam. So, I know how significant it is for you to soften the culture shock between your family, in-laws and international guests. On top of that, the importance of bridging the linguistic divides. Here are 12 planning tips for your Dutch wedding in Amsterdam.
1• Moving or relocating to Amsterdam
Firstly, before you begin your married life in Amsterdam start with the planning process. Have you relocated permanently to Holland? Maybe your fiancé (e) is a Dutch national (citizen). And your groom has his own set of rules, conventions and strong values. Well, if you wish to have an intercultural wedding, you must apply, be issued and granted with a residence permit.
2• Sort out the legal side of your Dutch wedding
Second of all, you can enter into marriage and plan your wedding. Do you desire to reflect your life, beliefs and shared values on your affirmation of love wedding day? Then, you need to sort out the legal side of things in the country where you reside.
3• Give notice of your church wedding in Amsterdam 
Thirdly, a wedding at the English Reform church in Amsterdam requires a Dutch civil marriage licence. Attend a designated register office at your local town hall (Holland) and pick up the document. Beforehand you must give notice of your wedding.   Thereafter a registrar shall complete all the necessary forms and can conduct the official ceremony.
4• Embrace your language and your lovers beliefs
Another thing, before entering into a civil partnership or marriage embrace your identities in the language that's meaningful to both of you. This gives you the opportunity to involve all your relatives. And you can include your close acquaintances to the Dutch wedding, too.
5. Plan your wedding for under 15.000 euros 
As a rule, you must plan your marriage in the Netherlands in advance. However, the more complex your wedding is, the more time and money it will cost you. So, get all the relevant legal paperwork. Give notice of your marriage, and have it recorded at the registry office before the nuptials. Find out more in your country of residence.
6• Create the perfect Dutch wedding and merge your families
Essentially, you are starting a new and blended family. And, to have a secular (non-religious) wedding in Holland with your own celebrant is perfect. It's very popular, extremely affordable and easier. Plus, more Dutch nationals are opting for this kind of ceremony because of practical reasons. Like you, they have an interfaith relationship and want a multicultural marriage whereby they merge their family trees.
7•  Cruise or destination wedding
Maybe you like the idea of a cruise wedding. In Amsterdam you can tie the knot on-board a boat, ship or at the museum ship yard Kromhout. To invite all your friends to the marriage service, you'll need the right officiant. It could be that you've already found the one. Otherwise, ask a family member to lead the proceedings.
8• Include all the guests at your bi-lingual Dutch Wedding
Let me tell you, it's not difficult as an ethnically diverse couple to arrange a bi-lingual Dutch wedding. You can express your love, and keep with your romantic marriage customs and wedding traditions. And if, you've planned the date. Here are 10 ways to include close family, in-laws, friends and other guests at your Dutch wedding party.
9• True Dutch style expat wedding ceremony experience 
Additionally you could have a real Dutch style wedding ceremony experience and big celebration at a monumental wedding venue. This might be more economical for your multicultural wedding. It is the most touching, important and pivotal part of the day. Check out these tips on how to plan a Dutch wedding that everyone will love.
10•  Family and friends need to understand your Dutch wedding
The truth of the matter is you want everyone to understand your vows at the ceremony. Family and friends will feel welcome and it allows international wedding guests to share in your experience. Here are 21 fantastic tips and ideas for a multicultural wedding ceremony  and party that everyone can enjoy.
11•  Stadsherstel.nl
With the above in mind, you can find a beautiful Dutch monument in Amsterdam to hold your marriage service in English. Wedding couples all over the world have questions about entertaining their international guests. Basically, you'll get tips about creating a touching scene at your wedding ceremony. At least, enjoy a discreet and intimate party with your own celebrant, direct family members and close friends.
12• Find good advice from Holland Expat Center.com
Finally, once you clarify your legal status in Holland, you can have a multicultural, mixed, interfaith or traditional marriage.  At Holland Expat Center,  you'll find the right information. This will help you plan a Dutch wedding and a two language ceremony. Once you've decided on a wedding date, you need save the date and send out wedding invitations.
Over to you…
Please leave your thoughts in the comment box below. And I would really appreciate it if you could like and share https://www.facebook.com/Englishcelebrant.