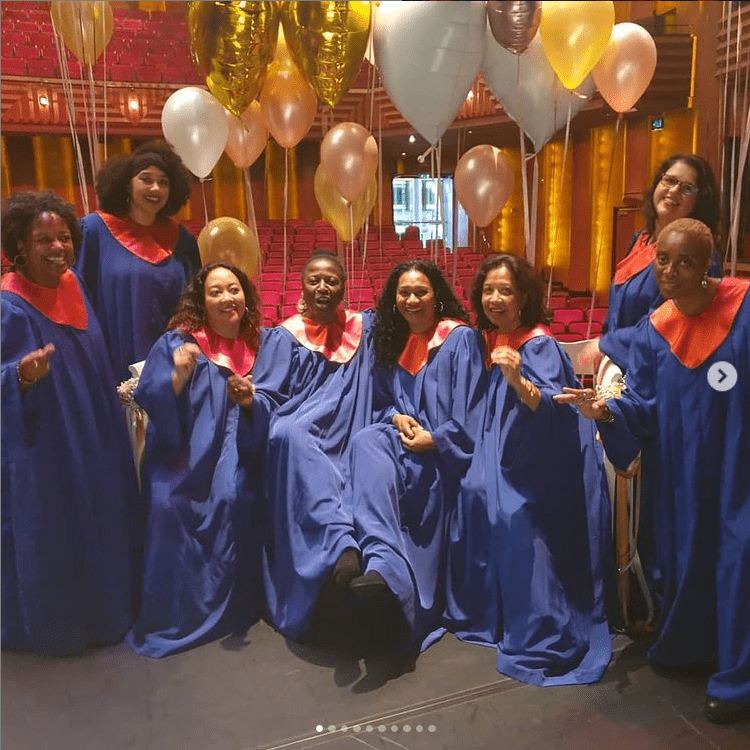 Founded by Clover Jean Weddings & Entertainment ABC Gospel Choir Amsterdam sing authentic Black American gospel songs such as 'Oh Happy Day, Amazing Grace and This Little Light of Mine' to soulful classics like 'Higher & Higher and Lean on Me.' ABC brings  the fun wow-factor to weddings, parties and funerals.
Your favorite oldies, soul originals, and modern gospel hits. From joyful sounds, sweet ballads to uplifting songs, this small singing choir has the music playlist for your event covered! ABC is a lively group of 8 singers, performing 3-part harmonies of the greatest gospel and soul music ever. The choir can scale down to 4, 5, 6 or  7 singers to fit your happening.
ABC Gospel Choir Amsterdam have had the honour to perform with Berget Lewis, Brandon Delagraentiss, Guus Meeuwis, Leela James, Michelle David, Shirma Rouse, Solomon Burke, the 3 J's and Tania Kross. The choir are simply amazing and their music is something you just can't resist.
Mingle & jingle, dance and sing along to the sounds of ABC's music entertainment. From recognisable negro spirituals, familiar Motown, classic renditions and uplifting Black American gospel and soul songs, ABC is the ideal ice-breaker at any social gathering. The choir is supported by professional backing tracks, a gospel pianist or live band. So, you can choose what best suits your event.
– www.musicdistillery.nl 'Rousing Motown, soul classics and joyous gospel, that's what ABC Gospel Choir stand for. When ABC start to sing, it's impossible to remain seated. ABC's energy, joyful voices and sense of rhythm makes you feel like your in another world'.
– flair.be 'Such an amazing choir, they warmed the coldest hearts and disarmed our rigid uncles and aunties. Our relatives couldn't stop dancing.'
– Maarten Nauw 'I loved the performance of the ABC Gospel Choir – for me it was the highlight of the day. And judging from what I heard from the others, I wasn't the only one who thought so.'
ABC Gospel Choir, is a small choir that make a big impact at your grand event. Setting the right celebratory mood gives the x-factor of surprise and you host a successful event. Do you want hear modern soul and Motown hits – the songs you've always dreamed about? Below you'll find a ABC's gospel and soul playlist. Book ABC Gospel Choir Amsterdam – gospel & soul music entertainment!
As – George Micheal & Mary J Bilge
Ain't No Mountain – Marvin Gaye & Tammy Terrell
Celebration – Cool & the Gang
Hallelujah – Alexandra Burke
I Heard it Through The Grapevine – Gladys Night & the Pips
Let's Stay Together – Al Green
Lean on Me – Bill Withers
Love the One Your With – Luther Vandross
Say a Little Prayer – Aretha Franklin
Signed Sealed Delivered – Stevie Wonder
Stand By Me – Ben. E King
Think – Aretha Franklin
This Will Be an Everlasting Love – Natalie Cole
You're all I Need to Get By – Aretha Franklin
Your Love is Lifting Me Higher – Percy Sledge
Amazing Grace – Aretha Franklin
Amen
Ave Maria
Blessed and Highly Favored – The Clark Sisters
Bridge Over Troubled Water – Aretha Franklin
Down By The Riverside
God is – Sunday Service Choir (Kanye West)
Hallelujah – Alexandra Burke
How I Got Over – Aretha Franklin
I Will Follow Him – Sister Act
Joyful Joyful – Sister Act
Lord is my Sheperd – Whitney Houston
Lovely Day – Kirk Franklin
Oh Happy Day – Edwin Hawkins Singers
Oh When The Saints
Revelation – Sunday Service Choir (Kanye West)
This Little Light of Mine
Total Praise – Richard Smallwood