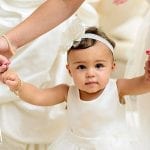 Are you curious about non-religious christening ceremonies? The naming ceremony is a symbolic baptism service perfect for new parents. Officiated by celebrants or officiants the non-legal ceremony celebrates the birth of your child. So, how do you plan it?
Well, celebrating your child's birthday is a blessing in disguise. It is an extra special pledge of love. Whether it's your first-born, adopted child or stepchild, you may feel overwhelmed as non-Christian parents. Perhaps a non-baptismal ceremony that outstrips the traditional christening does not suit you.
Whereas a christening has religious readings from the bible, a non-religious baby naming ceremony blessing has no Godly wording. So, if you are curious about a symbolic blessing. Well, I've got your back. Read the order of events for non-religioius christening ceremonies. Then decide if you want it. 
 Non-Religious Christening Ceremony
Christening without religious wording

image credit www.flickr.com – kriskesiak
1• Home non-religioius christening ceremonies

Firstly, the welcome service can be performed by a god or guide parent, celebrant or humanist. It's about officially naming your child during a welcome party. And where does it take place, I hear you ask? Well, to save costs  you arrange it in the comfort of your humble home. Or splash out and choose for the safety of an exclusive location.
2• Age-old christening ceremonies

Do you know about this incredible thing? The age-old tradition of naming ceremonies, birthday celebrations or christenings, marks an important life event that's worth celebrating. Naming ceremonies are important to honor the unique name of a loved one. It's a fitting occasion to show a young child or adult how much you appreciate them.
3• Non-baptismal ceremony

Secondly, did you know there are fewer parents having their children baptised? More family celebrants are officiating non-religious naming ceremonies. And this means, more happy broods of children are celebrating their unique names with a secular ceremony. Furthermore, guide and support parents are taken on the responsibility of the godparents' role.
4•  Name celebration without christening

Are you fostering the idea of a naming ceremony? Well, let me tell you there's something unique about our names and traditions that we all cling dearly to. And whether you are a parent or siblings of a new born baby, an adopted child or step children, you can celebrate the meaning of their birth name [birthday]. Moreover, recognize a unique name, bless them and celebrate a significant life changing event.
5•  Embracing stepchildren

In addition, are you married for the second time? Do you have older stepchildren who mean the world to you, too? Love them and make them feel special. Make the ceremony about them as well. How? Have a secret chat with their best friends, bonus parents or grandparents. Odds are, they'll know the best venues and times to celebrate. And with that information arrange an amazing surprise party for them.
6. Non-legally binding christening

What about this then? As parents you want to provide your child with emotional and practical guidance bound together with love and respect, right? So, a close family member, guide parent could lead the naming ceremony. And since baby naming ceremonies are not legally binding, non-celebrants can officiate the proceedings. Encourage them to use powerful words or a speech to express your feelings.
7 • Non-religious christening ceremonies – family celebrant

But where do you begin? Family celebrants are experts at creating meaningful, personalised, family-focused naming ceremonies for new parents. These professionals abide by a strong code of ethic. And they are trained to compose and deliver a personal and tailor-made naming service. With their help you create a special and one-of-a-kind ceremony that has a long lasting effect on everyone.
Baby Naming Ceremony | The Guide Summary
Lastly, how do you feel? Does this type of naming ceremony excite you? Who do you want to officiate the naming ceremony? As parents you want to wrap your child in cotton wool, shelter them from the storms of life and keep them from harm.
Provide your child with emotional and practical guidance bound together with love, friendship and respect. Coupled with that complete the naming ceremony by inviting all your loved ones to the celebrations. So, here is a summary of a non-religious naming ceremony. It has seven key essential steps:
Introduction and welcome
Reading
Naming of the (adopted) child | children
Parents', siblings and adopted children's promises
Promises by supporting adults | mentors | guardians
Closing words
Celebratory drink
You can choose to add any of the following additional sections:
Reasons for the names
Hopes for the (adopted) child's future
Parents' vows to each other
Grandparents' promises
Absent guests
Further readings and special music
Presentation of a gift to the child.
Ceremonial service script
Finally, what's next? With a celebrant or officiant, you create everlasting precious memories. In fact, your child needs you and other role models to help them shape their lives. And that's why a non-religious belief naming ceremony is ideal to celebrate this special milestone in your life.
ONE LAST THING: Fancy another tip? Don't try to plan the party alone. Get help from a family member or trained celebrant to write the script and deliver the naming ceremony speech. Actually, you shouldn't reveal or relay all your child's personal secrets. Most importantly, talk, listen and be thoughtful to yours, your partners and child's needs.
Non-religious christening ceremonies related articles
Over to you…
Is there anything else I can help you with? Create your own baby naming ceremony! Leave your ideas, questions or comments below.