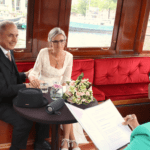 Whatever your motivation for renewing your wedding vows abroad. A beautiful vow renewal ceremony celebrates your many years together. It's your anniversary and you can marry again by reaffirming your trust, loyalty, and love for one another. Whether you want to celebrate 1, 5, 10, 15 or 20 years of marriage or reunite after a separation. Marking the beginning of a new chapter, by saying "I do" a second time is wonderful. But what if you desire to do it privately in Holland, just the two of you?
Well, you don't have to officially tie the knot again because renewed commitment ceremonies are not legally binding.  It's hosted anywhere, anytime and at any place you like. Some married, civil partners or long-term couples after a period of difficulty are motivated to publicly declare their love in front of family and friends. Are you keen to renew your vows after year of wedded bliss?  Or you want to strengthen your bond, swear an oath to confirm your vows in a place which has a significant meaning for you both. Renewing your vows abroad brings a fresh start.
If this is a powerful motivator for you to get married again and mark a milestone. Arranging something during a totally private vowel renewal ceremony with the two of you without religious content is possible. So, whether you want to get new wedding rings, wear your original wedding dress or share a bicycle ride made for two in Amsterdam. You can plan a meaningful and intimate ceremony. Be inspired to tie the knot again. Read Birgit and Charly's private renewed commitment for inspiration.
Birgit and Charly are a lovely Austrian couple who are devoted to one another. They were motivated to renew their vows in Amsterdam. Let me explain… Birgit and Charly are an inseparable team and live in perfect harmony in Austria. Their relationship has evolved with age and time over more than 25 years. Birgit & Charly vowed to plan a long holiday in Holland. The couple were determined to put a special stamp on their relationship in the heart of buzzing Amsterdam on a tandem bike and boat. This loving couple wanted a wedding renewal of vows ceremony. They had never been to  Amsterdam before yet desired a meaningful and romantic vow renewal ceremony that reflected their histories, beliefs, respect and faith in one another.
Happy couple: Birgit and Charly
Venue: Odine Boat Amsterdam, The Netherlands
Date: 14th June 2022
Charly and Birgit are the parents of two beautiful teenagers, they are Austrian and their hometown is in Neuhofen im Innkreis. They had a compelling desire to renew their vows to confirm how happy and stable their marriage of 25 years has made them. "It is important to us to be together and ride a tandem make for two".
Venue
The Saloon boat Ondine was the venue for Birgit and Charly's renewal of vows ceremony. It's an authentic Dutch saloon boat and provides the perfect ambience for a causal and quick celebration.  The Ondine is definitely one of the most exceptional and versatile boats due to its unique headroom. Perfect for Charly who is taller than Birgit.
The email read: 
"Dear Clover ! My husband and I married on 14 June 1997. On our wedding day we will be in Amsterdam. We would like to marry again. How can we do this ? Are you a wedding planner? Can you help with finding a florist, hair and makeup designer, boat, photographer  and tandem bike? Hear from you soon, Birgit"
Planning of the renewal of vows ceremony

Knowing their wishes, preferences and expectations for renewing the vows. I was able to organise all of the above and more.  The crafting of the script was left to me, as Birgit's and Charly's English was not their first language (thank god, for Google translate!) We worked together to create a beautiful speech based on their love, couples personality and shared history.
Wedding vows abroad ceremony
The renewal of vows ceremony was personalised. It included their promises, music and rededicated wedding rings. Suitable songs were played to reaffirm their love. Birgit and Charly said; "We downloaded a special playlist to celebrate our vow renewals," the couple said excitedly. The beautiful and heartfelt melodies added an extra special touch.
Schedule of events – renewal of vows | Birgit und Charly
Locations:

Hotel Estherea Singel 303-309, 1012 WJ Amsterdam
Ondine Boat
Bridge – Clover
Tandem for two

Ceremony theme & dress code: casual & relaxed

Time: 13.30pm until 14.00pm

Activity
Time
Who
Remarks

 
 
 
 
Breakfast – Hotel Estherea
9.00 – 09.30
Birgit und Charly
Hair & Makeup
10.00
Jitty
Bridal Bouquet arrives
10.00
Bloemenweelde
Celebrant & photographer arrives
11.15

Tandem bike for two – Black Bike.com

Bridge – photo shoot

11.30

Tandem bike for two – return
12.45
Clover Jean

Birgit and Charly

Evie – Photographer

 
Depart for the boat located at Double Tree Hotel by CS Amsterdam/Sea Palace
13.00
 

Arrival at boat

Pick-up point – Double Tree Hotel nr. Sea Palace.

13.30
 

Requirements:  ·        JBL with Bluetooth von Birgit und Charly  ·        Table for the signing of certificate.

Renewal of vow ceremony
 
 Clover Jean

Birgit und Charly

1ST sonG: weilst a herz hast wie a bergwerk by reinhard fendrich

Evie – Photographer

Personal vows & Official vows

 

13.35
Clover Jean

Exchanging of the rings

 

13.40
Clover Jean

2ND SONG ONE BY JOHNNY CASH
Signing of symbolic marriage certificate:
13.45
Clover Jean
signing of certificate 3rd song – THE ROSE – BETTE MIDLER
The kiss
13.50
 
Closing Remarks

 
Clover Jean

 
End Ceremony

Announcement is made.

Clover & Photographer leave the boat

Happy couple continue boat trip.

Drop-off location Double Tree Hotel by CS

13.55
Clover Jean

exit music – 4 th song TELL ME DOES SHE LOVE YOU – MELISSA AVERIDGE

 

Dinner

Humphrey's Restaurant Amsterdam

17.30

 

 
Charly and Birgit wrote their own vows to celebrate a renewed commitment to one another. Amidst joyful tears the couple expressed and proclaimed their love and made promises to support one another forever. Simultaneously they said, "We do." It was the perfect picture of happiness. The couple exchanged new rings and promises of love. I had the privilege to witness and capture their pure love for one another.
The ceremony was at an end. And to honour their relationship, they sealed their everlasting love for one another by signing a symbolic long-term partnership certificate. I united them by saying; "You may now kiss each other." I presented the newlyweds (2nd time around) with a commemorative certificate. And they stood embraced under the skinny bridge kissing. It was a momentous ending to a causual quick and sweet renewal of vows ceremony for two, under my watchful eyes.
Venue – Ondine boat, Amsterdam
Restaurant –Humphreys Restaurant
Ceremony photographer – Circle K by Evelina Kvartunaite
Couples Review
Hi Clover,
Thanks for the great day, it was beyond our wildest dreams, just perfect – we loved it!
Please leave your thoughts in the box below.