Wedding ceremony readings are a lovely way to add a special and personal touch to your gay, lesbian, pansexual or queer marriage service. Let's face it, a LGBTQ celebration of marriage is different to a heterosexual one. But, where can you find unique and original vows?
Even though mapping out your same-sex nuptials follow a common structure, dutiful strategy and adheres to legal formalities. The actual wedding ceremony readings (blessings) are far more powerful, enriching and meaningful. And the momentous and exciting occasion is less stressful.
With the new conventions of same-sex marriage, Pink Wedding Days, says it has revolutionised and diversified the lucrative wedding industry. And it is a historic and defining moment for the world. And what's more, the catalyst for change within the wedding business makes it the fastest growing market in the world. In particularly, revered wedding consultancies have a broader section of couples to manage, help and serve.
Wedding Ceremony Readings For Gay & Lesbian Couples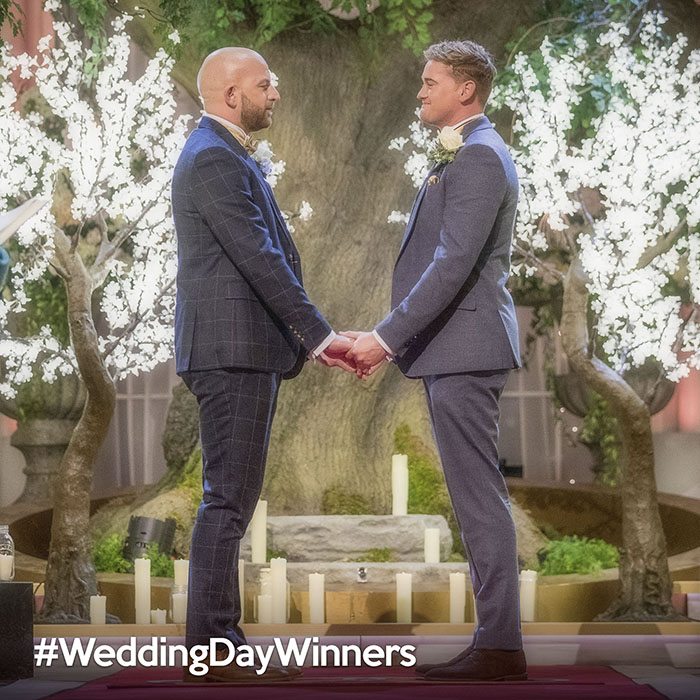 main image: http://www.kristaphoto.com/ | above image #weddingdaywinners
In addition, settling for a non-restricted proceeding ensures the wedding is fun. And the best news is… you don't have to conform to "traditional straight-sex standards for marriage". So, to help you as a gay, lesbian or pansexual couple map out the right wedding ceremony readings, here are some great resources for you.
Firstly, the legal status confirms the world's widening acceptance of gay weddings. Most importantly, it acknowledges that same-sex loving partnerships are a celebration of love & diversity. Also, you can now enjoy the rites for celebrating marriage. Men's Vows is a digital lifestyle magazine supporting men who marry. Discover real gay wedding stories and advice, gay engagement ideas & much more.
So, the entrenched age-old institution of wedlock now gives equal rights and benefits to heterosexual, gay and lesbian couples. Granted to same-sex couples within several countries around the world, many welcome the change. Both the legal and practical side of marriage is now possible. Lesbian wedding vows site gives you ideas and inspiration for finding the right ceremony readings and writing your special vows.
Did you know a growing number of governments around the world are thinking about granting legal recognition to same-sex marriages? There are several countries allowing gays, lesbians and pansexual couples to marry, mostly in Europe and the Americas. And that means an increase in the amount of wedding vows available for mixed oriented couples.
PANSEXUAL & MIXED ORIENTATION  MARRIAGE
But, do you know what pansexuality is? Well, according to www.cosmopolitan.com pansexuality means an attraction to people regardless of their gender. In addition, mixed orientation, alternative and queer wedding readings provide you the opportunity to write special wedding vows. For a collection of word whimsies: quizzical quotes and romantic sayings check out www.thegayweddingguide.co.uk.
Finally, tap on the link above and watch Steven Fry talking about pink, gay and queer humanist weddings. Stephen Fry narrated this inspiring video for the British Humanist Association explaining different humanist ceremonies. Humanists in England and Wales call for legal humanist weddings as Scottish Parliament officially recognises humanist ceremonies for marriage provision in law. Source: humanism.org.uk/
RELATED ARTICLES
www.cosmopolitan.com/pansexual-vs-bisexual-differences/
www.cosmopolitan.com/pansexual-celebrities/
Over to you….
Please leave your thoughts in the comment box below. And like and share my Facebook page!