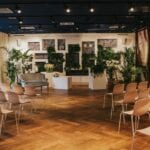 Weekday Weddings are the new Saturday weddings. Which would you rather do in the current economic climate? 1) Host a wedding in the middle of winter or 2) plan it in the height of summer? Which one is your preference? Whatever it is weddings are memorable, exciting yet expensive. So, can you tweak things without sacrificing the sexy Kleinfeld dress and Jimmy Choo bridal shoes?
Look don't let personal wedding shopping dilemmas make you tighten your purse strings or partner's belt. Overspending sensibly and shelling out smartly means you can stick to a budget wise wedding. Are you strapped for cash? Why not, keep hundreds (thousands) of euros in your pocket. Spring, summer, autumn and winter midweek weddings may feel strange. But, wouldn't you like to create a special day on a shoestring without taking out second mortgage?
Well, I know many of my clients would. So, don't worry, there's no need to subscribe for the Platinum Card from American Express (that will do nicely!). Are you feeling convinced to skip a Saturday wedding? Do you want to reap the benefits and enjoy a midweek even for half the price? I've rounded up a list of other exciting reasons to convince you to lay on a weekday wedding affair. Here's to a happily ever after. Keep reading…
Turn Blue Monday into a cheerful weekday wedding. Namely, pick a day that falls on a workday, religious day or a bank holiday. It's doesn't have to be a trade-off, unfashionable or a boring workweek wedding date. Secure it as your special day. Alternatively, pick your lucky number. It will be the best money saving decision you'll ever make.
Avoid the big spend! Get price wise, and keep track of your spring, summer, autumn or winter wedding venue budget. Weekday weddings help you reinvent your big day by making a bold statement. Snap up some amazing deals at reduced prices, it can work out about a 3rd cheaper. There are plenty of no corkage price options and bargains, to host midweek weddings. Stunning locations, your spoilt for choice.
Midweek is overlooked and underrated. So, take advantage of weekday weddings, they've surged in popularity. Select a date with a special meaning. Don't struggle, get the calendar, look up possible Mondays and settle on a date. Thereafter check everyone's work commitments and agenda via Facebook before sending out a save the date message. Search out and benefit from affordable options.
Convincing your partner to get married during the week might seem crazy. Why? Because most of us are working on Monday or it's a school day. But, your wedding gives guests a great excuse to take a couple of days off. Talk about convenience, right? In fact, there's no big countdown or waiting until the Saturday. Weekday weddings means commuters have it easy. Another thing, if you hire an affordable classic hotel wedding venue, then guests can stay overnight.
Why not, get hitched on a Shrove Tuesday otherwise known as Pancake Day [UK]. It is a traditional feast day but not a public holiday. Imagine the many perks and endless offbeat wedding venue benefits, There is a vast selection of discounts, that will put a smile on your face. What's more, you don't have to stretch the budget. Find a venue in your price range.
Here's something that might interest you. There are plenty of vacant vetted venue spaces and dry hire option wedding venues. Why not, negotiate! Weekday weddings are negotiable, attainable, available and unarguably not fully booked. So, ask for a fee reduction, upgrade or discount. And the best news is….the standard marriage rates for a celebrant, catering and live music entertainment are fair, too. Remember to haggle the price, get it within your reach!
Affordability is game when it comes to midweek weddings. So, Although planning smartly is the key. Celebrate your special milestone ins style ensure you stand out from the rest of the bride's-to-be.
Albeit your wedding savings account is balanced, be aware your guests will be busy with their jobs. Take into account a wedding on Tuesday. It could evoke feelings of exclusivity and intimacy. This is one of the major benefits of booking a midweek wedding ceremony package. And, the unique experience of a deluxe marriage celebration on Tuesday could sway your family and friend's minds. Tuesday weddings with family and friends during the week is the perfect start to married life! It's a lovely surprise and treat for everyone.
Let's face it, Ash Wednesday and Boxing Day falls on a weekday. However, planning a wedding that falls outside of the weekend gives you more control. It could transform your wedding ceremony celebrations. Do you have high end items on your checklist? Or a packed schedule? Have you thought about reductions on the essential stuff for your big day? One thing is certain, it cost a pretty penny to unite you and your partner in wedded bliss. Estimate your funds for a memorable weekday of your dreams.
The fact of the matter is you'll go through your wedding day at a rate of knots. So, how do you turbocharge your midweek wedding and celebrate plus save valuable time? It's a safe bet that you can spare yourself the agony of finding a unique wedding venue. Get out your wedding budget calculator. Put on your thinking cap and use research tools for vendors and suppliers offering great discounts. Be aware you might have to pay a supplement for a peak season. Decide on a fair fee for the services that suit you.
An intimate weekday marriage ceremony could be the time to celebrate your love, commitment and faith in one another. Perhaps avoiding a Saturday white wedding or Sunday wedding church service is making you feel anxious. Although, Wednesday can be considered an auspicious day to get married. In fact, less is more. So, make it a day to remember and create a stylish marriage celebration on a shoestring.
Wednesday midweek weddings has a whole new meaning and could be your life saver. There is more time to compare prices and plan a multi-day wedding celebration. But don't let anyone burst your couple bubble. Wednesdays usually coincides with a cup final match, such as a premier league football tournament, rugby championship or other sporting event. Make concessions, compromise and create a soccer wedding theme [within reason].
Who should you be inviting to your Thursday wedding? Well, Thursday is a off-peak wedding day. So, if your current number of wedding guests exceed your budget capacity. This weekday choice gives you the opportunity to enjoy a long-weekend wedding celebration and save money. Venues offer reduced rates for spring, summer, autumn and winter weddings during the week. This gives you plenty of scope to plan an extra special day [within reason].
With your wedding savings account you can celebrate a long weekend at a luxury wedding venue for less. So, be conscious of your wedding budget. Imagine if your wedding date falls on the anniversary of the day you first met. Is it during the week? And is money no object? Well, exclusive hotels are at your finger tips, right now. And marriage celebrants are standing by to kick-start a wedding with a ceremony that is uniquely yours. So, what are you waiting for.
So, you've got a wedding savings account. Hosting a Thursday weekday wedding creates an affordable casual weeknight event. And together with guests it's a great excuse to stay overnight somewhere nice. Commuting is stressful, causes a headache and is a logistical trap. So, book a long-weekend [Thursday to Sunday] at a pedestrian friendly venue. Then guests can commute easy and don't need to worry about driving anywhere.
Finally, whether you want a spring, summer, autumn or winter wedding be mindful of your budget and centre your wedding around you. Start the marriage celebrations on Thursday and party through to Monday, it's easily organised. So, strip back your guest list. Focus on your love, share your special day and spend quality time with your closet loved ones. I'm sure no-one cares which day of the week you celebrate your nuptials, as long as your together.
Please leave your thoughts in the comment box below.