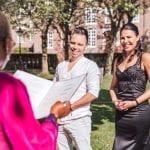 Love is an exciting adventure, full of intimacy. So, whether you want a planned or spontaneous wedding, eloping wedding ideas get you inspired. The beginning stages of planning an escape to NL is thrilling. But, where do you celebrate your journey together and make the elopement extra special?
Holland is a magical place overflowing with history, tulips, bridges and bicycles for two. So, if you secretly desire an intimate and secluded spot to say, "I Do", it's right for you.  Nevertheless, the fuss of telling everyone about your plans is worrying. Plus, there is a lot to consider before you shut your front door, pack your bags and jet off.
In fact, are you beaming about a spring, summer or autumn elopement? Are you adventurous and bold enough to say, "Oh sweetheart, let's elope"? Get ready for some kissing, caressing, and intimacy. Escape to a secret wedding rendezvous in Holland. I've done all the guesswork for you including venues, links and tips. I hope they help you solidify your gut instinct and forge a deeper love.
Eloping Wedding Ideas
QUICK RUNAWAY MARRIAGES
www.hoevekindergoed.nl

First and foremost, remaining tight-lipped about your forbidden romance or runaway marriage is exciting. The origins of impulsive elopement wedding ceremonies for eloping couples stem from Las Vegas wedding chapels & Gretna Green  – Scotland. But, you can travel to Roode Koper in Ermelo – NL, an iconic place for "quick runaway marriages".
LEGAL WEDDING STUFF | DE KEUKENHOF

kasteelkeukenhof.nl
Weddings can be the biggest source of relationship stress. You could be worried about taking off on the spur-of-the-moment for an elopement wedding. Perhaps you need to consider the practicalities and legalities of it all. Well, if you want a legal wedding to be valid abroad, get all the relevant paperwork at the register office.
CEREMONIAL WEDDING | DEN HELDER

 zeevantijd.com
Secondly, are elopement weddings legal? Well, that's up to you guys. You can have a picture perfect non-binding ceremonial wedding or opt for a legal marriage service. The legal paperwork can be obtained from your local town hall – marriage council official. With a ceremonial wedding [without legalities] you create the ceremony of your dreams.
ELOPING WEDDING IDEAS II
ELOPEMENT CELEBRANT | ROTTERDAM
www.theboathousekralingen.nl
Creating an elopement wedding for two needs a celebrant or officiant to make it feel extra special. So, find a Dutch marriage official at the Rotterdam town hall. Or contact a native English speaking celebrant to come to the place where you are staying. The wedding professionals help you create your dream day. This way you cherish the moment for the rest of your life.
WEDDING VENUE | STADSHERSTEL AMSTERDAM

So, what's next for a couple who want to elope adventurously? Be completely wowed by the beauty and splendour of  The Love Accommodation Suites in Amsterdam. From the De Duif, Posthoornkerk, De Amstelkerk or the Schuilkerk De Hoop a remote church off-the-beaten-track. You are spoilt for choice by the Stadsherstel, Amsterdam. Celebrate your love in Dutch style in complete privacy and seclusion.
BOAT WEDDING | WEESP

wesopa.nl

Another thing, imagine a sensual scene celebrating your wedding at an idyllic waterside location. In Weesp, now part of Amsterdam you can create a beautiful boat wedding theme. Book a bridge keeper's house on the Amsterdam Grachten Canal, and sail to a real super secret chapel wedding. Utter your vows at wesopa.nl theater venue and make your eloping dream become reality.
ELOPEMENT BUDGET | MAASTRICHT
www.kasteeldehoogenweerth.nl
Save big money by choosing to elope to Holland and about a wedding budget. Skip the venue and book Airbnb instead. This is inexpensive option because there are no ceremony venue costs. However, you'll need bridal outfit, rings or another token of love. Oh yes, don't forget the celebrant [300 and 500 euros]. So, find a budget checker now.
ELOPEMENT PHOTOGRAPHER | UTRECHT

Your elopement wedding pictures don't require you to wear Dutch clogs, pick a few tulips or go cheese tasting. But you could set off to a Dutch park and have a full day shoot. Or what about taking a boat cruise the backdrop is magnificent. Otherwise, pop off to a local historical location near your accommodation. Enjoy a day of loving one another up, in-front of the camera.

ELOPING WEDDING IDEAS III
WEDDING WEATHER | SCHEVENINGEN-DEN HAAG

Additionally, the perfect elopements require perfect weather, if you plan to host it outdoors. However Dutch weather is like UK, USA and European one. So, safe guard your privacy. Make sure to have a plan B, you want a nice space without rain pouring down. Find an exclusive venue with a garden, book a canal boat or check into a local Airbnb of your dreams. Plan with ease the perfect romantic getaway for 2.
SUPER SECRET WEDDING DATE | FRIESLAND

So, fantasizing about exchanging your promises of love in a sweet garden or by a serene lake or in a lake view room. Imagine this picturesque location, in the Summer, Spring, Autumn or Winter time. Plan it in surprising Friesland [within covid-19 travel restrictions]. Perhaps an off-peak wedding date or month suits you. Namely, all wedding seasons are perfect for an elopement.
WEDDING VENDORS | GRONINGEN

Equally important, if your a busy bride and groom with a big work and social schedule, and don't have time for elopement wedding planning contact a professional. Reach out to Dutch vendors: celebrant-officiants, photographer, hair & makeup artist, and a florist. Let them do all the legwork. And find out the suppliers covid-19 policy. Don't incur a fine.
ELOPING WEDDING IDEAS IV
ELOPING WEDDING IDEAS STRESS-FREE  | DRENTHE

Although, a quick stress-free elopement sounds romantic. Do you avoid disappointing family & friends? Are you worried about hurting peoples feelings? Are they happy for you? Or are they unhappy with your choice of partner? Do your friends criticize and judge your life choices? Well, stop feeling anxious, plan an elopement wedding. You don't have to invite anyone.
ELOPEMENT WEDDING COSTS | DEN BOSCH
What do elopement wedding costs in Holland? Perhaps you want an exclusive venue. Imagine saying, "YES" at the Castle Maurick on the river of the Dommel near Vught within distance of Den Bosch. No problem, just ask your celebrant of master of ceremonies to coordinate your magical escape to Den Bosch. It will not break the bank!
WEDDING RESTAURANTS | WADDENEILANDEN

Lastly, during your elopement wedding use the "Little Black Book", full of great ideas of where you can dine in, dine out or take-away. Although, you plan to marry in secret without entertaining guests, it doesn't mean you shouldn't indulge somewhat. Basically, don't let worry consume your surprise wedding plans. Enjoy your meal [Eat Smakelijk!]
ELOPEMENT WEDDING IDEAS V
ELOPING WEDDING IDEAS – PLANNING BASICS

To elope means to plan a super-secret getaway to not come back to the point of origin.  More colloquially, elopement is often used to refer to a teeny tiny marriage conducted in sudden and secretive fashion, usually involving a hurried flight away from one's place of residence together with one's beloved with the intention of getting married. In fact, it's a stripped-back wedding for two. Source: en.wikipedia.org/wiki/Elopement
Over to you…
Please leave your thoughts in the comment box below. And like and share my Facebook page!