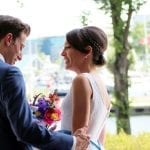 Whether you are a foreign national, expat, Dutch citizen or resident you can plan a waterside wedding in Amsterdam on the canal belt. Providing you with the most beautiful romantic scenery and ambience, waterfront venues are truly a dream. But, where do you start with the planning? 
Well, to get married in the Netherlands, you need to meet four criteria.
1. You have to be 18 years or older.
2. You don't hold a marriage license. Or have a registered partnership with someone else.

3. And you may not be directly related to each other. Brothers and sisters cannot marry or (grand)parent/(grand)child.
4. Lastly, one of you must be Dutch or officially living in the Netherlands.
Source: www.amsterdam.nl/en/civil-affairs/getting-married
But, don't let any of the above put you off. Get yourself to your local town hall and obtain your legal paperwork before hosting your celebrations. And no need to worry about the planning of your waterside wedding. I've done all the hard work for you! So, see below links to canal side hotel venues. Bon voyage…
Waterside wedding | venues on – near Amsterdam's canal belt
image Antonia 
Hotel Prinsengracht Amsterdam
"Firstly, this is an absolute top wedding location in Amsterdam: The canal district has been on Unesco's World Heritage List since August 2010. Internationally recognised as part of the historic inner city's special character, Hotel Prinsengracht is right in the middle and ready to help you plan a special wedding!" Source:www.prinsengrachthotel.nl
Pulitzer Amsterdam | Prinsengracht

"So, ever since the Dutch Golden Ages, the canal houses of Amsterdam have been the setting for events, weddings and parties. Moreover, Pulitzer hotel spans over two canals, the Prinsengracht and Keizergracht and keeps this tradition alive by providing the perfect location for your celebrations. In addition you can take a private tour on their classic salon boat dating back to 1909."  www.pulitzeramsterdam.com
image Jim G
The Dylan | Keizersgracht

"Another hotel located in the heart of the "9-streets" area is the Dylan. In fact, it is situated on the prestigious "Keizersgracht" canal, this waterside wedding location takes great pride in offering genuine, truly personalised. Above all, the tailored service. More importantly, we offer individual solutions for your unique event." Source: www.dylanamsterdam.com
Photo by Rene Asmussen from Pexels
Hotel Estheréa| Singel Gracht

And there's more…imagine hosting your waterside wedding at a truly authentic Amsterdam location. Well, the hotel Estheréa is the place to be. Actually, the seventeenth-century building along Amsterdam's oldest canal: the Singel has a beautiful ambiance. So,  plan an unforgettable event at a historic spot. Source: www.estherea.nl
Waldorf Astoria | Herengracht
image Marie Thérèse Hébert & Jean Robert Thibault
Room Mate Aitana | The River IJ

"Second to last, at Room Mate Aitana we put ourselves in your shoes. And with our marina at hand we understand the importance of customizing your event. Basically, each one is completely different, and we are so ready to start organizing!" Source: room-matehotels.com
Sir Adam Hotel | The River IJ

"Finally, Sir Adam are for the sublime. With views of Amsterdam and abundant natural light, you can celebrate your waterside wedding in pure Dutch style. Sir Hotels is a boutique hotel collection that was designed for those seeking authentic wedding experience in a unique location." Source: www.sirhotels.com
Over to you…..
Please leave your thoughts in the comment box below. And like and share my Facebook page!