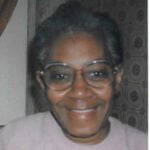 Are you grieving the loss of someone you love? And do you want to celebrate their life by writing a celebration of life eulogy? In the wake of my mother's passing this guide will help you write a meaningful, genuine and personal tribute. Before we continue, let me express my sincere condolences for your loss.
Many years ago, I lost my mother, Josephine Jean. She got her angel wings when her abundant life was drastically shortened by the debilitating effects of vascular dementia.
If you are like me, you're battling with turbulent waves of soul crushing emotions: you feel numb, you can't stop crying, heartache, disbelief, regret, sadness and possible anger. Furthermore, the thought of never embracing her or physically speaking to her again, leaves me feeling devastated. To a greater extent, it feels like I've lost my way because she was my best friend.
Josephine Jean:  dealing with loss
What's more, questions arise at this inconsolable time. How do we respectively move on from such a painful time? And is it possible to have happy thoughts and not forget the one we love?
Nonetheless, I found help in dealing with the loss of my mother. Additionally, I discovered information about funerals and memorial ceremonies. And how to plan a befitting service. There was lot's to choose from, and my family and I chose to have gospel songs and hymns played during the semi-religious celebration of life ceremony (cremation). As a family celebrant I lead the service, along with my auntie and brother. Let's face it, planning to officiate at your loved one's funeral can be confronting.
"Life is what you celebrate. All of it. Even its end." –Joanne Harris
Write a personal testimony
On top of that, writing a last testimony to commemorate their remarkable life can be difficult. However, it could support and guide you through this unpleasant time.
Here are a few useful links
Feel free to use the above tools to help cope with bereavement, and stress while planning a funeral. Lastly, use my eulogy example it is my personal tribute to my wonderful mother Josephine Jean. Create your own unique celebration of life eulogy, in your own voice.
In the meantime, all the best and take care.
Over to you…
Please leave your thoughts in the comment box below. And like and share my Facebook page!