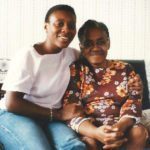 Are you grieving the loss of someone you love? Do you want to write a celebration of life eulogy but don't know where to start? Celebrants can help you compose a meaningful tribute. Before we continue, let me express my deepest condolences for your loss. I lost my mother, Josephine Jean.
My mother's life was drastically shortened by the debilitating effects of vascular dementia. Maybe, like me, you're battling with turbulent waves of overwhelming emotion: heartache, disbelief, regret, sadness and possible anger. The thought of never being able to embrace or speak to her again, leaves me feeling devastated. She was my best friend.
Questions come into play at this sad time. How do we respectively move on from such a painful time? Is it possible to have happy thoughts and not forget the one we love?
I've been looking for help in dealing with the sorrow and loss of a loved one. And for information on how to plan a funeral. There was lot's to choose from, and we eventually chose a semi-religious celebration of life ceremony (cremation). As a celebrant I officiated at the service, along with other family members.
Writing a personal eulogy is a beautiful way to say goodbye. But, did you know, using a eulogy example is a proven way to create a great speech?
It's a last testimony to commemorate your loved ones remarkable life. In fact, it could help you get through this unpleasant time.
I found a collection of reassuring resources from celebrants. There are other useful tools to help you with writing eulogies.  Most importantly, help you cope with bereavement, and stress while planning a funeral.
Do you want to use my personal tribute to my mum and create your own unique eulogy,?  Feel free to adjust it, so that it sounds like your own voice.
All the best and take care.
 Celebration of Life Eulogy
Firstly, the uncontrollable emotional roller coaster of losing a loved one is intense, uncomfortable, and distressful. The pain you feel is deep. Does the thought of never being able to hold your loved one again, leave you feeling sick?
I understand, I had an immensely tight bond with my mum. It was close, special and a unique relationship, because I was her only daughter among three sons. She was everything to me.
But, it's not about me right now, it's about you….
SET A GOAL
So, are you arranging a non-traditional funeral service? Or would you prefer a service with no religious context. Well, you need to set your goal before designing a special eulogy. It could be that you think you don't have much to say. But it's not true, write down your emotional heartache and how you really feel. This way you can deliver a sincere message.
TAKE YOUR TIME
Do you feel that you are not a writer? Have you ever written a tribute before? It's a fact that, crafting an eulogy comes easier to some people than others. But don't let it put you off. You want to give the person who has died a good send-off. With your moving words the celebration of life becomes an extra special moment.
 Celebration of Life Eulogy – Writing Tips To Help
So, tell me are you a morning person? Do you like getting up at the crack of dawn? Well, after a good night's sleep you'll have a clear head to jot a few key phrases down. Choose the words that express your feelings. A celebration of life eulogy reflects your loved one's life. In fact, your heartwarming speech will be in honor of the person who has passed away.
When will your loved one be cremated at the crematorium or buried at the burial chapel? You can start right now with writing a beautiful eulogy. Eulogies for secular funerals can take a while to compose. So, write daily and don't feel intimidated by the act of writing. Use all the strength within to put together a fond farewell to treasure for always.
Another thing, for a one-of-a-kind eulogy you need to do some research. As I mentioned earlier, use my tribute to my mother. Or get inspired by other eulogies online. These resources will help. You don't need writing expertise to express your feelings. Highlight your loved one's life in a distinct way and create a memorable day.
Additionally, you can always carry a notebook and pen. Otherwise, use your trusted smartphone. Inspiration, anecdotes and special memories of your loved one can hit you anytime. And with that in mind, your thoughts reflect the personality of the departed person. Even better, they'll focus on their beliefs. It will be an unforgettable eulogy and funeral service.
Ultimately, if you find it difficult to concentrate your writing skills. Then, get a picture of the person who has passed away. And, stimulate your imagination to put them at the heart of the officiated remembrance ceremony. Most importantly, writing appropriate eulogies gives us the opportunity to say a final goodbye. This is carried out in a way befitting of their memory and is personal to you as well.
Celebration of Life Eulogy – Writing tips to help II
Are you worried that your eulogy will not be perfect? Of course, it won't be, it will be amazing. With your heartfelt words, you'll transform a bereavement into a special farewell. Similarly, a written eulogy allows you to grieve in a natural way. It helps others as well n their time of need, too. Writing celebration of life eulogies,  are a great way to support one another.
In addition, keep your  composed and truly personalised eulogy to a reasonable length. This ensures the funeral is exclusive and individual. Let your tribute mirror the individual's principles, beliefs and morals. Moreover, represent you and your family in a way that feels manageable to everyone. Your eulogy is an important contribution at a memorial service, too.
Perhaps you are anxious about delivering your eulogy? Or you don't like to speak in public? Well, practice reading it aloud in front of a mirror. Take your time, take deep breaths and if the tears flow take a moment. You don't have to be a key-speaker to deliver a meaningful speech. When the time comes to say goodbye your words will flow with ease.
In addition, if you find it difficult to write an eulogy, use remembrance poems. In fact, tell happy stories, start with the lighter stuff and keep it inspiring (if you can). Writing something short and sweet for the memorial service enables you to say a personal last goodbye. Actually, make it relevant to you and deliver the ceremony that you want.
And there's more, writing, drafting and delivering an eulogy doesn't have to be difficult. In truth, it's a beautiful short story about your deceased loved one. And the golden rule is, to keep the audience in mind when composing your tribute. Also, family and friends can support you with writing an eulogy during your time of mourning.
Here's another way to write a unique eulogy. By setting the right scene with appropriate music, prayers and readings you'll make writing easier. Essentially, you'll have the best eulogy and design an intimate farewell at the burial place.
Celebration of Life Eulogy – Writing tips to help III
If you are lost for words, can't think or feel like you are confused. Download this to your home computer, IPhone or IPad it will help you find the right emotions, tone and feelings to express in your speech. Plus you will have constant access to a handy and helpful set of words. www.yourdictionary.com
This beautiful celebration of life script; told by a devoted husband is extremely inspiring, heartfelt and moving. I was so impressed and comforted; I had to use the poem for my mum's funeral ceremony too. Got to carolmike25.blogspot.nl
Remember, it's not what you say, how you say it but the words you choose. These elegant titles for a memorial, funeral ceremony or celebration of life eulogy, are extremely useful. However you would have to spend a little bit of money to receive well written title for your order of service program.
If you having a really difficult time feel lonely or unheard, find out why. There are many emotional stages of loss and grief. Please seek help for some consoling and understanding of what you are going through. www.family.custhelp.com, is a helpful place to guide you to move forward after the death of your loved one. In confidence, of course.
Lastly, do you feel at your wits end writing an eulogy? Do you find yourself unable to cope? Do you disconnected, lost and overwhelmed? Look, you've  experienced a life-changing event and may need a space just for you. You may like to speak with a qualified Humanistic-Integrative Counsellor about what is worrying you. Talking therapy helps!
Celebration of Life Eulogy – Writing Tips