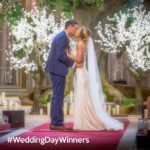 With more than a million viewers a year watching wedding reality TV shows and movies, the powerfully inspiring televised dramas are a big hit. The marriage celebrations on television ooze authenticity. In truth, it's an information-rich bride's and groom's world.
Filled with an atmosphere of pure emotion, "Celebrity Wedding Planner" is a British reality TV series that revolves around brides-to-be handing their wedding over to a celebrity. Would you do that? In fact, who do you want to officiate your wedding? And do you trust a celebrity to coordinate the biggest day of your life?
Well, sit down comfortably, settle in to your chair, be inspired to create something intrinsically linked to you. Create your own "Married at First Sight"show with some surprising creative tips you simply cannot miss. Buckle up tight, here we go…
WEDDING REALITY TV SHOWS & MOVIES

image courtesy #weddingdaywinners – UK
Best wedding TV shows to stream online
1. First things first, "Four weddings"  is a British reality television series. It has inspired the creations of versions in other countries.  And just like, "Say Yes To The Dress" is one of my favorite shows. It is so insightful, entertaining and has nail-biting wedding episodes.
2. Secondly, be exposed to eye-opening UK wedding guides. Like "Don't Tell The Bride" it is full of revelations of who not to invite. It mirrors true logistical challenges combined with drama and red flag wedding planning. And "Bridezillas", is the American equivalent wedding reality TV show zooming into the lives of unreasonable women engaged to be married.

3. And why not unravel the truth about wedding reality TV shows. Get the advice you need, it's at your fingertips. But, tell me how many hours do you spend online streaming? Well, you might like "90 Day Fiancé" aired on TLC. With just 90 days to wed on a fiancé visa, all hell breaks loose in the lead up to the wedding.
4. Another thing, Hannah Chambers and Mehera Bonner swear by "the ultimate guide to the Best Wedding Reality TV Shows". In fact, the ladies say, "I want a wedding, and then a streaming queue filled with juicy bridal programs." Two great shows to bust your moods are 'Big Fat Gypsy Weddings' and 'Cheapest Weddings.'
5. If your searching for something different, you cant miss a classic Cinderella wedding in Disneyland. Yes, you heard me right. Mickey and Minny have got into the act of reality wedding shows. It's serious business creating a memorable fun fairy-tale wedding day.
More of the best wedding reality TV shows
6. "UK Wedding TV now offers exciting episodes of this show. It is available for watching online just in case you missed one. This program is aired via SKY and 24 million viewers." Source: golm.org.uk. Look, I'm not being biased but the best shows are "Wedding House" and a very "British Wedding".
7. Do you spend more time watching reality programs and wedding movies instead of paying attention to your partner? Well, cinematic-styled wedding films are trending. So, ensure you document  the beautiful and timeless "Story Of Your Wedding Day". Then you can watch it together time and time again.
8. And if you are sourcing information about pop stars, royalty, and A – Z celebs weddings. What the heck, it provides you with affordable luxury wedding ideas, right? Of course, just like you I fantasize about how A-list weddings pan out. And I'd love to score an invites to a celebrity weddings.
Real-life Hollywood Drama
9. So, have you every wondered who the Real-life celeb couples are who fell in love on set? Well, I found 40 celebrities that had cupid shoot an arrow straight through their heart while acting together. 16. In addition, just like the nouveau rich you and I don't want to miss out on the latest celebrity gossip, right?
10."Hollywood has proven that some of the best real-life love stories between celebrity couples can blossom while on set". Even People Magazine are in on the act. Giving us a birds eye view into influential celebrities pre-married life is their forte.  And guess who was "happily single," until things took a dramatic turn? 
11. Does the drama and juicy titbits surrounding the making of a reality show feel tantalising? Notably, the jaw-dropping memorable moments lead to some real-life celeb couples falling in love on set. Wedding reality TV shows bridal dresses And there's more, do you fancy mega brands like Chanel, Gucci, Prada, Versace and Dolce and Gabbana (D&G)?
Wedding reality TV shows —for Better or for Worse
12. And let us not forget the same-sex wedding couple community. Just like you and I the LHBTIQ'ers are turned on by shows about luxury bridal dresses and star-studded marriages. So, fancy a sneak peak too? Well, here are the 12 Best Gay and Lesbian TV weddings that stand out from the rest.
13. In addition, enjoy watching the good, bad and ugly side of the 20 best wedding movies of all time. Filled with star-studded celebrities saying, I DO. I'm sure you'll fall in love. Check-out Harper's Bazaar wedding movie recommendations, I have. 
14. So, as you and I know weddings are known to be notoriously luxurious. Walk in the footsteps of George Clooney and Amal, John Lennon and Yoko Ono and Beyoncé and Jay Z and plan a wedding of a lifetime?  Namely, make world news, create something uniquely yours, despite Covid-19.
Wedding reality TV shows & Movies
15. Fancy a celebrity wedding in 2021/2022? Do you want to plan a real showstopper of a big day filled with real tears, laughter and love but without the tantrums? Whether you hire a well-known wedding consultant or reputable one, you are guaranteed a special one.
16. So, do you want to know which wedding reality TV shows are the best and the worst? From hiring the venue, buying the rings, trying on the dress and finding the grooms suit, there are lots of series to choose from. Check out the best wedding television has to offer.
17. My crazy rich Asian wedding documentary 41. And what about "Asian weddings"? It gives us the heads up on luxury wedding planning, pre-marriage questions and big day drama. For instance, the level of wealth depicted in films and documentaries is beyond anyone's dream day. With triple-figure guests list, a long train, Swarovski crystals in the gown, multi-tiered cake, fake flowers, a tuxedo for the grooms dog, the sky is the limit.
Wedding movies on Netflix
18. Million dollar wedding reality TV Shows come in every shape, size, and price range. Ms. Lelian Chew  the star of BBC's new documentary 'Million Dollar Wedding Planner' from Singapore has unbelievable budgets to prove it. But what about you? Why not create your own show from start to finish with the help of one of UK's top videographers.
19. Talk about the uber elite, how do you create an exuberant wedding like Meghan Markle and ex-Prince Harry? We all know that planning a wedding sends us on a roller-coaster ride of emotions. But you could go all out and binge on these 17 new wedding movies to inspire your own dream royal wedding. From holiday themed to classic, Netflix has it all.
video credit: www.luxeweddingfilms.co.uk.
20. Let me share something with you, we've all been told that falling in love is easy, right? Well, these celebrities found love in a hopeless place. And if there anything like you and I fake their feelings, when it comes to love. Source: Reality couples who are still together!
21. #Weddingdaywinners reality TV show is no longer on TV but it was also one of my guilty pleasures. Yes, I'm an addict and bing on reality shows. In fact, I'm inspired by good old drama, cat fights, dog battles and parental tribe wars. It is a show from the past but well-worth watching for the juicy titbits. Enjoy!
While you're here…
Please leave your ideas, questions or comments about wedding reality TV shows and movies below.