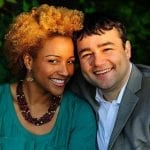 A commitment ceremony is for committed couples who don't identify with a religion or old wedlock traditions they want an alternative wedding. You want to celebrate your love with creativity. A godly marriage without the trappings of patriarchal law is perfect for you.
However, planning commitment ceremonies has its ups and downs. Be aware, it is without the formality of a church or registry office wedding. In truth, it looks like an official marriage service. Perhaps your parents might object to this form of marriage?
But no worries, as individuals and as one a ceremony of commitment can connect with you both. Basically, you've got freedom of choice to plan an officiated commitment ceremony your way. So, read at your leisure about planning it, then decide if this is what you really want.
COMMITMENT CEREMONY
WHO CAN OFFICIATE A COMMITMENT CEREMONY?
A celebrant or officiant can officiate commitment ceremonies. And a symbolic partnership certificate is issued (optional) as an equivalent marriage license. This special document adds an extra touch to the non-religious ceremony. It shows you are committed to your vows and each other.
WHERE CAN YOU HOST YOUR COMMITMENT CEREMONY?
Secondly, what similarities and differences are there between hosting a commitment ceremonies and a marriage services? For instance, there is no legal paperwork to deal with. You can book an unlicensed venue, host it abroad on a sunny beach, on a rocky mountain top. In fact, it's outstripping the classic marriage ceremony because there are no restrictions.
WHY A COMMITMENT CEREMONY INSTEAD OF MARRIAGE?
Well, do you want to commit your lives to each other? This is a really good question to ask. A lawful marriage is an institution deeply rooted in patriarchy law, social hierarchy and gender inequality. Some committed couples prefer a non-legally binding marriage ceremony. In fact, the couples share an epic love story publicly in front of close family and friends.
WHAT HAPPENS AT A COMMITMENT CEREMONY?
And there's more. Whether you are straight, gay or lesbian and eager to say "I do," the commitment way. Planning your ceremony of commitment can be difficult. But, with the help of an experienced ceremonial celebrant or symbolic marriage officiant they've got you covered. Otherwise, Pinterest has lots of advice about ceremony planning checklists.
COMMITMENT CEREMONY ORDER OF SERVICE
Duration of officiated commitment (secular) ceremonies – 30 < 60 minutes
HOUSEKEEPING ANNOUNCEMENTS (optional)

Firstly, give instructions prior to the ceremony starting. From requests to turn mobile phones off, to no taking pictures and a social media blackout. This announcement puts guests at ease, makes them feel seen and gets them in the mood for the celebrations. Your celebrant does this discreetly, so that you don't offend anyone.
PROCESSIONAL (with or without music)

At your commitment ceremony venue  a processional of guests awaits you, to guide you up the aisle. And the celebrant stands at the altar with your life-partnership speech. It follows the same schedule of events as a marriage service and contains non-religious wording. The alternative procession line-up reflects your cultural backgrounds and lifestyle.
GIVING AWAY
However, love is universal and we all want it, right? So, you don't have to slavishly follow typical marriage traditions from the past. Even more exciting, your dad and mum, brother and sister or best friends can give you away. Choosing for a different escort gives extra substance to the secular commitment ceremony.
WELCOMING
Commitment ceremonies are a non-conventional secular wedding. And a celebrant presides over the lawless marriage ceremony to welcome your guests. Non-religious wording is used and no paperwork is involved. Namely it is a irreligious wedding that mirrors your strong moral values, and shines a bright light on your ethical beliefs.
COUPLES STORY
A celebrant brings back humanness to the meaning of celebrating a life partnership. Especially if the sound of marriage stings you. The introduction is an important part of the secular ceremonies. This is the time when the celebrant speaks about your commitment, love and faith in one another. And expresses what you mean to each other.
READINGS – GUEST SPEAKERS (optional)
In addition a commitment ceremony is an alternative to a civil union or church wedding. Your invitees have a strong sense of belonging, inclusion and participation. Namely, you have plenty of scope to create something uniquely yours with readings, poems and guest speakers.
MUSICAL INTERLUDE
Two soul companions, such as you and your partner wish to make your long-term relationship official. So, resonate your love with a musical interlude. Play the soundtrack of your hearts. Don't settle for less if this type of alternative commitment wedding speaks more to you both. It's a beautiful way to add a dose of your personalities into a love celebration.
COUPLES – ANECDOTES (optional)

With similar beliefs about commitment you could ask your close friends or family members to share their thoughts about your life partnership. From anecdotes, funny stories to something sentimental. Perhaps, these creative ideas speaks more to your hearts and minds. Whatever you prefer do what is right, it's your celebration of love party.
AFFIRMATION OF LIFE PARTNERSHIP

So, are you an atheist, religious or spiritualist? Having a dogmatic belief to hold a commitment ceremony is simply your relationship confirmation without registering a civil partnership. The celebrant can talk about your first meeting and take your guests down a sweet memory lane. This affirms your willingness to commit to your life partnership.
image: Krista Guenin
YES, "I DO"

Secular ceremonies of love wouldn't be complete without you both saying "yes, I do". It gives a deeper meaning to your commitment celebration. So, pucker up and get ready for your big shining and soppy moment. And don't forget to hand out the tissues to the weeping guests at your ceremony.
COMMITTED COUPLES PROMISE

This mandatory part highlights your personal vows. The secular ceremony coincides with a major event in your life. And a promise of commitment ritual symbolises your unity. Held to mark two individuals in love it's a reminder of your loyalty and faith in one another. And you're dislike to the concept or the term of marriage.
RING CEREMONY
Breaking free from traditional legacy of weddings means exchanging unique eternity rings,  swapping another gift or symbol of love. Plan something authentic such as an engraved bracelet or necklace. It ensures your love celebrations stand out from the rest. Most couples give rings to each other however, some couples might give gifts or some other
MUSICAL INTERLUDE

Life-partnership love songs are the beating heart of your non-religious commitment ceremonies. It's like clinking champagne glasses to solidify your love and friendship. Completing your soundtrack, the lyrics of your favorite songs express your truest feelings for one another. You make the rules, so play what you want.
Image Glauber Torquato
COUPLES CONFIRMATION OF LOVE
As I said, you publicly declare true love, set the tone and scene. And your chosen celebrant can represent you. Not to mention officiate the ceremony while delivering your story to showcase a committed relationship. Embrace your life partner and hand in hand confirm your desire for one another. Basically, you need to get ready for the ultimate pledge of lifelong devotion.
COMMITMENT CEREMONY – FIRST KISS
And here comes the moment you've both been waiting for, the first kiss. What's more exciting than celebrating your love the way you want? So, ask your celebrant to step aside. Take your lover in your arms, squeeze them tight and give them a passionate kiss. Be conscious of your lips on theirs, this is a great photo moment.
THE SIGNING OF THE SYMBOLIC PARTNERSHIP (optional)
Signing a long-term relationship contract seals your love forever in print. Free of official paperwork and the legalities surrounding marriage. The celebrant creates a commitment ceremony certificate that you and your assigned witnesses sign. You can include your children in the celebration. In fact, you can host it anywhere you like in the world.
COMMITMENT CEREMONY – CONGRATULATIONS
Once the celebrant has signed your partnership certificate and given you a grant of approval. The next step is to congratulate you both in a respectful way. Thereafter introduce you as a life-partnership couple.Although you have no  legal status. Commitment ceremonies are morally binding and celebrate your long-standing harmonious connection.
LIFE PARTNERSHIP WORDS OF WISDOM
Additionaly, a commitment ritual is non-binding ceremony whereby you receive the same respect, status and recognition as married couples. Therefore the celebrant will conclude your untimate ceremony with you in mind. It will echo a committed couples hopes, dreams, happiness and words of wisdom for a happily ever after.
COMMITMENT CEREMONY – CONCLUSION
Third to last, commitment ceremonied signify a new chapter in people's lives. It proves that love is the greatest gift of all. And your celebrant represents you and concludes the celebration of love. This ensures your life-partnership starts off on the right foot.
COMMITMENT CEREMONY – RECESSIONAL
So, you've said, yes. And now wear the symbol of love. It's time to leave the ceremony venue. As you walk down the aisle followed by your guests (in an orderly fashion) you can look forward to a lifetime together. The celebrants closing speech advises guests that, "drinks are now being served at the reception".
COMMITMENT CEREMONY – CLOSING SONG
Finally, echo your love with the perfect recessional songs. But what music should you share with everyone to make a grand exit? Well, it really doesn't matter as long as it's upbeat, uplifting and unique music. Moreover, confirms your solid bond and life-long partnership at the end of the personal commitment ceremony.
Commitment ceremony related articles
While you're here…
Please leave your thoughts in the box below. And like and share "Commitment Ceremony | Alternative Wedding of Loyalty & Trust" on Facebook!