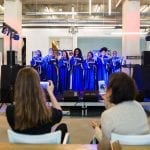 As a funeral celebrant with a choir for celebration of life ceremonies. I've experienced the power of inspiring gospel funeral music and uplifting soul songs for bereavement. Music plays an important part of a cremation, funeral or thanksgiving service, it's a great help with grief after a loss. Looking for the right soundtrack for your dearly departed loved ones life can feel daunting. So, which songs honour your mum, dad, family member or best friend and personalise the celebrant-led funeral ceremony?
How do you say farewell with graceful and moving tunes? Well, bereavement songs are uplifting songs for funerals and cremations. Music can make a sad, serious and sombre occasion a reflective one. Playing inspirational modern black gospel funeral music helps celebrate a remarkable life. Songs truly pay tribute to them in a lasting way. You say a dignified farewell. It fits into the stages of mourning, grief and the program order of service. Will it create a comforting, calming environment and is it a beneficial part of the bereavement process?
If your loved one was fun, lighthearted and colourful. Imagine playing gospel music or hearing the sound of a powerful choir singing their favourite hymn. You can share meaningful and moving songs to ease  someone bereaved. Incorporate pieces of appropriate gospel, blues and soul music for an offline or online funeral program order of service. So, I've collected some suitable song-sermons, songs of praise, gospel songs and holy blues to fulfill your need for a unique celebration of life.
Abide With Me – LC Gospel Choir
Amazing Grace – Soweto Gospel Choir
Ave Maria – Beyonce
I Wanna Be Ready – Amos Machanic
Bridge Over Troubled Water – Aretha Franklin
Caught Up – Shirley Caesar & Kirk Franklin
Don't Cry – Kirk Franklin
Rocka My Soul in the Bosom of Abraham – traditional African American spiritual
A Change is Gonna Come – Sam Cooke
Down By The Riverside – Etta James
He's Got The Whole World In His Hand – Mahalia Jackson
His Eye Is On The Sparrow – Sister Act
I Believe I Can Fly – R. Kelly
I Speak Life – Donald Lawrence
Jericho – Sister Rosetta Tharpe
Total Praise – Richard Smallwood
Jerusalem – Hubert Parry
Lean On Me – Bill Withers
More Than I Can Bear – Kirk Franklin
Revelation – Sunday Service Choir / Kanye West
Jesus Is On The Mainline – Willie Neal Johnson & The Gospel Keynotes
Old Landmark – James Brown
One Day I'll Fly Away – Randy Crawford
Something About The Name Jesus – Kirk Franklin
People Get Ready – Five Blind Boys Of Alabama
Something Inside So Strong – Labri Saffri
Steal Away – Michelle Williams & Shirley Caesar
God Is – Sunday Service Choir / Kanye West
Swing Low, Sweet Chariot – Fisk Jubilee Singers
Till We Meet Again – Kirk Franklin
The Lord Is My Shepherd – Whitney Houston
In the Sweet by and by – Joseph P Webster
To My Fathers House – Edwin Hawkin Singers
You'll Never Walk Alone – ABC Gospel Choir version
You Waited – Travis Greene
Waymaker – Sinach
You've Got To Move – Mississippi Fred McDowell
Don't Forget To Remember – Donald Lawrence ft/Lalah Hathaway
Wade in The Water – Naomi Shelton & the Gospel Queens
When The Saints Go Marching In – Louis Armstrong
Please leave your thoughts and questions in the comment box below.