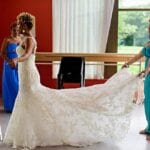 Natural afro wedding hairstyles highlight the beauty of melanin brides gorgeous hair. Are you a dark-skinned Queen looking for ideas? Do you want your crowning glory to look its ultimate best on the big day? So, how do you achieve it?
Do you have short, long, in between or shoulder length hair? Perhaps you feel your twirly hairstyle is tricky, coarse, hard, or rough. Albeit you are fed up with your Afro shrinking on you – I know I am. How do you keep your hair under control?
Well, these shear genius ideas will unravel your tangled and ultra tight curly locks. In fact, a timeless wedding hairstyle completes a melanin brides bridal look. So, let's tease, tame and treat your Afro now! Here we go…
Natural Afro Wedding Hairstyles
Melanin bridal hairstyles
1. Ombre Afro Curls
Ombre hair colouring technique shows off your delicate afro structure. If your neckline and shoulders are your biggest priority this is perfect. And with amazing Afro hair making a big come back. It's now a fashion forward statement to wear when you make your grand entrance down the aisle. And you'll feel more womanly and sexy like the Melanin Queen you are.
2. Cherry-Tinted Afro 
Presumably a cherry-tinted afro reflects your bridal dress and is a gorgeous hairstyle. On top of that every part of you will look ravishing and naturally beautiful. And you will ooze confidence and radiate with a healthier looking Afro. What's more, you'll be sensationally elegant on your wedding day.
Natural Afro wedding hairstyles
2. Teeny Weeny Afro

Having super short hair, a pixie curly cut or Afro hairstyle means you want volume. Also known as TWA (teeny weeny Afro) it looks flawless when shaped, braided, twisted and waved. Basically, its styled with simplicity. And the latest Keratin treatments [Brazilian blow out – chemical process make your TWA natural hairdo look frizz-free, smooth and lovely. Otherwise, you can fiddle, fuss and straighten it with the old fashioned hot comb.
Natural Afro wedding hairstyles
Screenshot courtesy of  Dionne smith
3. Accessorised TWA
Do you want more body in your hair? Well, you can wear your short hair as it is but with accessories. Imagine a bridal hair fascinator, swarovski crystal tiara or a royal replica diamond crown fit for a melanin queen. Accessories keep your hair at bay. In fact, your curls will look wonderfully luscious and radiant. Additionally, your unique Afro allows you, the Queen of colour with curly hair to feel super feminine.
Natural Afro wedding hairstyles
4. African-American Ombre Frohawk
How do you make your Afro hair stand out from other brides? Let's be honest, Afro hair is stubborn and unmanageable but with a little ombre, a afro comb and good hair conditioner you can create a frohawk. You can ask your hairdresser too, recreate this look for your wedding day.
5. Bold Undercut and coils
Another thing, you want to feel fit and healthy on  your big wedding day, right? And If you are a fanatical sports person or swimmer then your luscious TWA or golden curly locks needs protection. So, mix a handful of Vaseline, carrot or argan oil together in your palms. Gently rub the mixture into your hair before you jump in the pool or go to the sauna.
Natural Afro wedding hairstyles
6. Fiery and Natural Twist-Out
Did you know swimmers protect their hair? As an extra safeguard wear a swimming hat. After the workout, wash out the above moisturizing hair protector with your favorite shampoo. And apply leave-in hair conditioner. Afterwards, re-apply just the carrot and argan oil. You should notice a difference in the texture and extra sheen of your hair.
7. African-American Bantu Knots
Next, have you heard of this? Make your Afro hair look stunningly gorgeous with [Josephine Jean] my mum's home-made hair conditioning remedy. Virgin olive oil and castor oil are products you can find in any good chemist or supermarket. Lastly, mix them together until they become smooth and manageable. Apply a small amount to your Melanin locks by brushing, rubbing it in or combing through, and you're ready to go. 
8. Golden Halo Afro
And what about those scattered grey bits in your Afro? Although, this is not henna or another natural hair product, it works. I know, I just bought it from www.etos.nl. It's, L'Oreal's Magic Retouch Precision a mascara kit for hair. "Selling at a rate of three every minute, it's the current ruler of root cover-ups for Melanin B2B's.
9. Bouncy and Natural Curls

Finally, are you still going ahead with your wedding plans? In light of the coronavirus you might need some help with cutting your hair. Let me share a secret with you. I've styled, shaped and cut my own hair for years. In fact, I've got Rose Line professional grooming scissors. So, if you are like me and dare to design your own hair, check out this video.
Natural Afro wedding hairstyles related articles
While you're here……
Please leave your questions and thoughts in the comment box below. And like and share my Facebook page!