01/05/2021 15:00 – 17:00
Besloten
The Vondelkerk will host the celebrant-led wedding by the English Wedding Celebrant. Stadsherstel Vondelkerk is a gothic landmark. The church is a happy marriage of classic charm and contemporary style. It's the perfect location for a
wedding.
Vondelkerk – Wedding Venue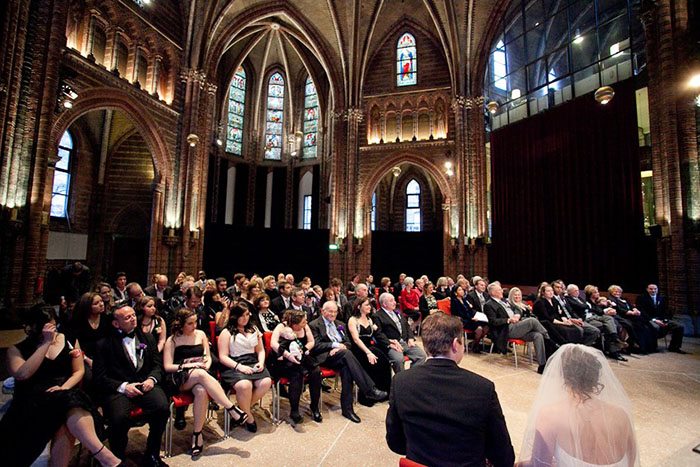 Since its founding, 60 years ago, Stadsherstel Amsterdam has been a big player in historical Amsterdam. The restoration company has re-developed lots of Dutch structures. In fact, featuring all types of monuments within an urban or rural environment it's made a mark on the city. More importantly, restoring great historic monuments is Stadsherstel key objective.
Furthermore, preserving historical buildings is their passion. Actually, the heritage group ensures the true character of the listed building remains intact. Moreover, with their efforts further development prevents damage to the existing architectural style". Vondelkerk – Stadsherstel. 
12/06/2021 18:00 – 20:30
Amsterdam Boats B.V., Amsterdam
Free
A fun canal boat wedding in charming Amsterdam is many couples dream wedding! On the magnificent canal boat Ondine, a very special event shall take place. And as the officiant I have the honour to conduct the marriage ceremony.
Actually, the incredibly beautiful and very luxurious Amsterdam saloon boat Ondine is truly authentic. Built in 1909 on the famous Amsterdam wharf Kromhout, Rent A Boat Amsterdam is perfect for your wedding celebrations.
Canal boat wedding
And with her splendid Javanese teak and classic features, the Lady Ondine provides a charming warm welcome to her guests. Equipped with all modern day facilities the Lady Ondine is a unique location for your big day. From a relaxing canal cruise to a luxurious haute cuisine dinner you and your guests will have a memorable trip of a lifetime.
21/10/2021 15:00 – 17:00
Besloten
Singing Wedding Celebrant @ Daalhemergroeve Valkenburg
Do you fancy jumping the broom in a historical cave? Well, Daelhemergroeve rich history dates back to the 18th century and it' a romantic , idyllic location for an unforgettable experience.
image This is Edinburgh
In fact, the stone-cutters carved out marlstone walls to create a network of underground corridors, in the heart of southern Limburg. What's more, decorating your wedding celebrations with candles adds a special touch to your shining moment.
Basically, the subdued lighting in this authentic and ancient cave enhances your love story. It's a marriage of old-fashioned ambiance with comfortable modern facilities. Even more spectacular, the Daelhemergroeve is an alternative unique spot in Holland to get married. Providing you space for up to 350 guests, you'll have a memorable wedding day. Source: https://www.daelhemergroeve.nl/en/wedding-venue-valkenburg/
Powered by Events Manager