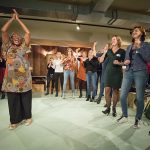 Planning a gospel singing workshop a la Sister Act with a twist will kick start your wedding celebrations. For instance, you'll learn a gospel traditional, by using playful rhythm movements and voice sounds. It will get everyone in the mood to enjoy the celebrations.
Secondly, this is the best kept secret to  having a happy time singing and bonding together with your family and friends. Another thing your wedding event will be a success. What's more, it's a simple way to engage with one another without added pressure.
Even more exciting is, if you incorporate a gospel singing workshop fun power energizer, you and your guests look forward to the evenings celebrations. The original and stress-free voice session is a condensed version of the more intensive black gospel workout. Held at any time, at any place or location it's the perfect alternative to a team building event.
Watch the video and fill in the below form for more details
Over to you…
Please leave your thoughts in the comment box below. And like and share my Facebook page!