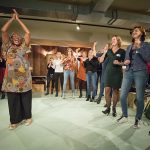 Planning a gospel singing workshop a la Sister Act with a twist for your wedding will kick start the event. For instance, you'll learn a gospel traditional, by using playful rhythm movements and voice sounds. It will get everyone in the mood to enjoy the celebrations.
Secondly, this is the best kept secret to  having a happy time singing and bonding together with your family and friends. Another thing your wedding event will be a success. What's more, it's a simple way to engage with one another without added pressure.
Even more exciting is, if you incorporate a gospel singing workshop fun power energizer, you and your guests look forward to the evenings celebrations. The original and stress-free voice session is a condensed version of the more intensive black gospel workout. Held at any time, at any place or location it's the perfect alternative to a team building event.
Gospel singing workshop coach a la Sister Act
During your gospel singing workshop a la Sister Act I will demonstrate how to vocalise the hidden power of your unique sound. As well, as using Afro – Caribbean beats we will create some easy moves. Experience your own groove. And put emphasis on the tone of your real (sometimes hidden) voice and natural sense of timing. Main photo credit: Van werkdruk naar werkgeluk – Oscar Vinck
Don't hesitate. Treat yourself and your wedding entourage to an invigorating gospel singing workshop a la Sister Act. Contact me to find out how I can facilitate a group session. Or call 06 – 14817242  to discuss your fun power gospel energizer session.
Over to you…
Please leave your thoughts in the comment box below. I'd appreciate if you could like my https://www.facebook.com/Englishcelebrant and share this article.