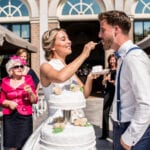 Exclusive hire wedding venues, stately homes and manors in the Benelux are wonderful historical places to get married. Find a location that fits your wedding  dress, shoes and dream partner. These gorgeous ornate country manors are for savvy nonconventional couples. So, where do you begin your search for a wonderful wedding spot?
Full of natural light, surrounded by impressive gardens and spectacular architecture you can have garden venue with a view, overlooking a pavilion. Albeit, an orangery is the ideal place for you to throw your wedding. But, the honest truth is, it cost lots of cash, takes up a lot of energy and is stressful.
However, that shouldn't put you off looking for a bright and airy top wedding venue such as stunning conservatories, right? So, let me give you a helping hand.  I've rounded up the top 6 of the most beautiful orangery wedding venues in the Netherlands to inspire you. Read on…
Exclusive Hire Wedding Venues
Dignita Hoftuin  – Amsterdam

Firstly, Dignita Hoftuin is an official wedding venue of the municipality of Amsterdam. Imagine walking down the aisle to the adjoining greenhouse, after strolling through a beautiful private courtyard. Sounds amazing, right? Family and friends will be left in awe.
Oranjerie Hydepark – Doorn
Get married in style at Oranjerie Hydepark. The stately wedding venues driveway leads you onto the orangery with its beautiful domes. Imagine, hosting your ceremony inside one of the luxurious salons. Relish with a champagne toast overlooking a magnificent view of the fountain in the park pond. Guaranteed it will be a memorable experience!
Exclusive Hire Wedding Venues – II
Orangery d'Heerstaayen

Here's more news. Enchanting orangery weddings wouldn't be complete without Domaine d'Heerstaayen & Orangery d'Heerstaayen. Planning your big day here will not be any wedding, you'll celebrate all under-one-roof conservatory. This gorgeous greenhouse in the Heart of Holland is a blank canvas to decorate and add your style plus theme.
Hortus bontanicus botantical gardens – Amsterdam

Alternatively contact a friend to lead a sequel wedding ceremony, at the Hortus Botanicus. This botanical garden is in the heart of the Plantage district, Amsterdam. It has one of the oldest orangeries in the world.  And together with your own celebrant you'll transform the pavilion into a beautiful ceremony room.
Exclusive Hire Wedding Venues – III

Castle Ruurlo – Oranjerie Kasteel Ruurlo
One of the most beautiful stately home wedding venues is Oranjerie Kasteel Ruurlo. It represents getting married under a tree of life. With bridal and wedding accessories, this location is transformed into a magnificent venue. Make your nuptials extra special at Castle Ruurlo.
Kasteel Maurick – Vught

The brilliant Kasteel Maurick Orangery is ideal for a romantic and unique wedding. Enjoy the exclusive use of the castles orangery and their on-site banqueting team. Tailor-make your perfect day. So, shop the internet for the right wedding dress, floral décor, styling and design for the conservatory.
Restaurant De Kas – Amsterdam

Restaurant De Kas has something special about it, many Dutch couples have tied the knot on their pavilion. It's an off-the-beaten-track exclusive hire wedding venue, no-one else you know will have married there first. Plan an extra special wedding at the reception.
Kolonienplaleis, Tervuren – Belgium
Last but not least, Kolonienplaleis, Tervuren – Belgium is an ornate greenhouse venue and gives your wedding the wow factor. Definitely a great summer house or winter garden to host a wedding. Well contact them today and plan the conservatory wedding of your dreams.
Over to you…
Please leave your thoughts below.