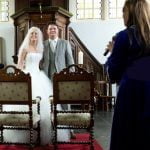 Romantic castles with chapel wedding venues are beautiful, historic buildings and fairy tale premises to host your traditional marriage service. Albeit, that a church setting in Holland can be a classic and elegant affair, it still takes a lot of hard work to create your special big day dream wedding.
And if you are keen to celebrate your nuptials in the heart of the Netherlands, Amsterdam you are guaranteed that the entire proceedings will be personal and exclusive. Not only that, you don't have to worry about the order of service wording or any communication roadblocks.
Why? Well, many Dutch pastors & priests are bilingual. Speaking both Dutch [native] and English [fluent] these officials are happy to conduct your ceremony in the language that represents you both.
So, tell me are you spellbound at the thought of getting married in a small church in Amsterdam? Or would you like to know more about the charming venues with chapels dotted around the outskirts? Yes! Keep reading….
Chapel Wedding Venues Amsterdam | Outskirts
Firstly…before you go ahead and book your chapel wedding venues location, here's something you need to know. In order to have a church marriage service, you will have to sort out the formalities of arranging your official paperwork. And you need to complete it in your country of residence. Afterwards, you can fully enjoy the fun parts of planning for your special occasion at…
De Haar Castle – Kasteel de Haar
image Florian van Hunnik
If you've ever dreamt of getting married in a castle, the Kasteel de Haar chapel is perfect. At this fairy tale location you can host your official marriage service before or after your civil ceremony. Moreover with the adjoining venue and function room koesthuis de Haar you can host your evening celebrations. Kasteel de Haar is happy to roll out the red carpet for international and English speaking couples, too.
Stichting Behoud Petruskerk, West Amsterdam
Petruskerk built around the 15th century, is a Protestant church and a prominent foundation. Situated on the banks of the spaarndammerdijk, steps away from Westerpark, this magnificent spot is perfect for your wedding. Housed in the "village" Oud-Sloterdijk the clips of your significant moments will look great. Furthermore, it's the historical site were the grandparents of Vincent van Gogh were married. www.oudsloterdijk.nl.
Amstelkerk, Ouderkerk aan de Amstel 
The luxury of old- fashioned ambiance combined with an historical touch makes your wedding experience special. Situated near Amsterdam The Amstelkerk is a small idyllic church. Set between the finest garden and breathtaking lakeside, this rich architecture and décor is ideal for modern wedding celebrations. What's more, the historic building is an exclusive place for you to celebrate your marriage in the presence of the lord. Amstelkerk
St. Martin's Cathedral – Dom Church, Utrecht
Dedicated to Saint Martin of Tours, this Gothic church called the Domkerk, provides an idyllic space for a sumptuous marriage service. Another point of interest is, this cathedral opens it's doors to your unique event. In the heart of Utrecht city, it's the perfect wedding setting for your beautiful bright colourful confetti welcome. www.domkerk.nl.
Montfoort Castle and wedding chapel, Utrecht
In addition chapel wedding venues are exciting and Montfoort Castle with an adjacent chapel is ideal. Situated in a quaint Dutch village surrounded by a luscious park and gardens, it oozes sophistication. It's one of the loveliest castles in Holland and a grand place to have a fairy tale wedding. Long-established as a delightful, authentic ambiance it boasts a modern interior. The enchanting chapel, the Commanderije of Sint-Jan, is a dream location  for your big day. www.kasteel-montfoort.nl/weddings.
De koepelkerk, Greater Amsterdam
Additionally, situated opposite the Renaissance Amsterdam hotel you'll find the towering Koepelkerk.  And nominated as the best wedding location in the Netherlands, it truly deserves this recognition. It is a striking piece of architecture. The 17th century domed church with silver stars of constellations is captivating. What's more, the alluring style of this 5-star monument fits your chic ceremony. With a remarkable Koepelroom, Bätz organ, chandelier and ornamented arched ceiling, there is no grandiose place for your wedding. Find out more at the Koepelkerk.
The Metaal Kathedraal, Utrecht
Finally, the Metaal Kathedraal (Cathedral) is a redundant church. They ensure you marry in style by setting your wedding scene in splendor. And this modern industrial looking site turns into a romantic fairy-like location. The ambient neo gothic cathedral steeped in history is based in the heart of South Holland. There are several function areas available indoors as well as outdoors, for organizing your wedding photo shoot, ceremony, dinner and party. You'll have an unforgettable heavenly wedding. Contact Metaal Kathedraal (Cathedral) to prepare your big day event.
Over to you…
Please leave your thoughts in the comment box below. And like and share my Facebook page!