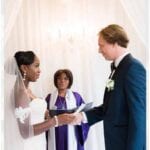 Many couples rave about Clover Jean Weddings bespoke marriage celebrant ceremonies in Holland. Find out why – read the happy couples' wedding reviews here. Planning the perfect day is fun and exciting but who will officiate your non-religious ceremonial wedding?
Well, by reading these testimonials from Clover Jean weddings you decide if I'm the right celebrant for your ceremony. Find here a collection of reviews from couples just like you. Make finding someone to perform your marriage service easier. And share this feedback about Clover Jean weddings with your bridal entourage to help in your decision. So, read on…
Wedding Reviews

" What a lovely day it was yesterday! Everything fit together perfectly, and we had the most wonderful wedding celebrant ever! Thank you so much Clover Jean Weddings for listening to us, you understood our wishes. And you were sensitive to our  cultural needs. We appreciate that you embraced our personalities. And we found a way to make it work nicely. We are so happy, the feeling of the day was perfect. A dose of emotions, humor, spiciness and the sense of a formal event. We loved every bit of it." Kind regards, Mr. and Mrs. S
Amsterdam wedding services sends Mr. and Mrs. Robin & Jena Janse many blessings and best wishes for their first year of marriage. May they continue to live a full and joyous life together for many more years yet to come. Happy Anniversary!
Wow! Ceremonial wedding planning and ceremony music tips. Your site is a great resource for any couple organising their big day. I enjoyed reading your blogs. Thank you profusely for your help