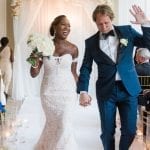 Forget the catwalk and the bridal runway, the wedding processional is your shining moment and grand entrance to the venue. It's one of the most intense feelings you'll ever experience. And if that wasn't enough, you'll also face the same emotions during the recessional.
But, how important is a wedding processional? And what does its counterpart recessional have to do with anything? Well, processional means walking in and recessional means walking out. For centuries it's been all about you the bride and the structured wedding dress gliding down the aisle. And as newlyweds you walk hand-in-hand up the path of love.
So, whether you opt for a church, traditional feel, classic romance or contemporary wedding theme, you can conjure up memorable memories. Furthermore, with the right steps you'll have an amazing wedding processional. Keep reading and discover more…
 The Wedding Processional & Recessional

Eternal Source of Light Divine
Firstly, you can hire a classical ensemble to play elegant and stylish bridal march songs to help you create a spell-binding wedding processional. Creating an amazing entrance followed by a grand exit eases your mind and impresses everyone on the day. Here are some ideas:
Ave Maria Schubert
Pachelbel's Canon
Wagner's Here Comes the Bride
Mendelssohn's Wedding March
George Frederic Handel's "Eternal Source of Light Divine
The Queen of Sheba
Jesu, Joy of Man's Desiring by Bach
Stand by Me – Karen Gibson and the Kingdom Choir
Cement your good fortune with a wedding aisle runner
Another thing, regardless of what you think, your wedding processional walk should ooze confidence, glamour, romance and excitement. Everyone is really excited and wishes you good luck. So, opt for a personalised or monnogrammed runway.   Furthermore, your performance will make an unforgettable connection between everyone. And a personalised runway adds the finishing touch to the proceedings.
Make the wedding processional look as pretty as you are
In addition, make your celebratory wedding grand exit, toss of the bouquet of flowers stick in every ones mind. Use catchy live music to accompany the special occasion. This upbeat moment for the grand finale of your ceremony, is what your guests are waiting for. Remember to glide down the aisle like a beautiful queen and glamorous king.
image courtesy | https://www.bloomwedding.nl
Decorate your aisle for maximum affect
Lastly, start married life under a shower of natural confetti or bubbles. This is fabulous good luck and great fun. What's more, it acts as a focal point. Decorate your aisle and create an astonishing entrance, stunning exit and grand finale of your ceremony. Moreover, transform your procession with unique items. Pimp up your wedding aisle strut and runway with imaginative recommendations from Pinterest. So, here is what to use:
Bunting (banner of flags)
Bridal flowers (cascade bouquets)
Streamers, or balloons.
Bubbles
Organic confetti
Colourful decorations
Biodegradable balloons
Compostable ribbons
Over to you…
Please leave your thoughts in the comment box below. And like and share my Facebook page!