The wedding website newsletter is one to watch this season. With all the excitement of your plans you might forget about the guests. Keeping the invitees up to speed with your plans is a must. So, what should your big day information pack contain?
A newsletter personalised for your website is a new way to announce the special celebrations. You can send it directly into your invitees' inbox via a link. What's more, the breaking news report is more intimate with a less formal tone of voice.
Basically, one of the toughest things about planning is coordinating all the details of your wedding. Thus, it's important to keep your invitees on top of things. So, I've pulled together some Pinterest inspired ideas. Check-out these digital invitations to get yours and your entourages juices flowing.
Wedding Website Newsletter
main image by mentatdgt from Pexels
Keep loved one's up to speed with your big day timeline
To start with Pinterest can help you design a memorable newsletter. Moreover, you create a buzz and have an overview of the wedding timeline. And let's face it, it's the most effective way to keep them posted. Most importantly, you get everyone excited and on board by sharing interesting facts about your intended wedding.
Save Your Pennies for Your Big Moment
Even more exciting,  your wedding newsletter content provides valuable information to family and friends attending your big day. What's more, it saves you money and paying for stamps. And can inspire your chosen celebrant and other suppliers to create a very unique celebration.
Why Will Your Wedding Website Newsletter Work?
Like I said, it's a way for you to remind everybody about the wedding date, time, location and program of events. Another thing, there's less chance of last-minute confusion, anxiety and interference. Also, your wedding website newsletter contains all the information needed for the smooth running of your day. Moreover, you'll have a complete overview for everyone.
What Should Be The Top Priority on Your Wedding Bulletin?
Essentially, your newsletter should contain all the persons who are involved in the planning of the wedding. The bulletin of your wedding timeline is helpful for everyone. So, jot down their role, phone number, and their e-mail address. Then, guests can keep in touch. Even better, if there are questions or problems that arise, everybody will know who to call (besides you, of course!) .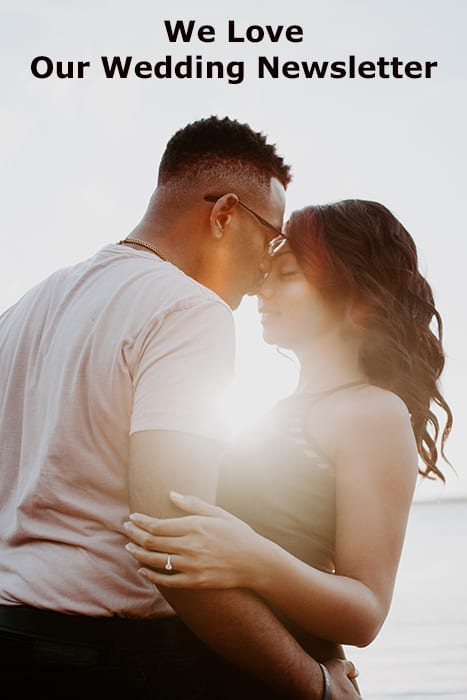 image Jasmine Wallace Carter
Why Include wedding vendors | suppliers | celebrant?
In addition, include information about your wedding vendors | suppliers | celebrant and who they are. Sending out your wedding newsletter prior to your engagement, should include a short "getting to know you" section. Get creative! And add a photo and a paragraph (3 lines should suffice) about them. This eases everyone's mind because they will know the persons relationship to you and your partner.
Who Is Interested In Your Big Day?
Well, your newsletter evokes the excitement of your looming wedding. It's an invaluable piece of information. Listed on your fact sheet is your bridal gown and suit supplier. This helps your wedding entourage choose the right matching outfits. What's more, a detailed itinerary, from the pre-wedding parties to the big day, ensures no-one feels left out. Above all, no-one is clueless about where, what, when and how you envision your special day.
When Should You Send Out Your Newsletter?
This is a good question. You can opt for three to five wedding newsletters over a period of time. For instance, if you're getting married within one or two years, five may be appropriate to keep guests interested. The first edition should be sent out as soon as you have a wedding date. Second edition, when you plan your hen | stag night, and the third issue one or two weeks before the wedding.
image Jennifer Murray
How Do You Schedule The Wedding Website Newsletter?
Actually, you could schedule monthly issues, quarterly or yearly ones. But, be aware you need to keep planning your wedding, and divide your time wisely. Other than that, scheduling a newsletter depends on what information is important to you. And what you feel your guests need to know. For example, will you know the exact times where everyone needs to be six months before the wedding? Perhaps, you'll know a week or two beforehand.
How Do You Design Your Newsletter?
Primarily, you can design, compose and draft your newsletter on the computer. Better still, use a desktop publishing program or hypermedia publishing program. And make your wedding website newsletter look like a real publication, with columns and headlines. Once you've revised and revamped it, print it off. Lastly, create a mailing list, make copies ready to send directly into everyone's inbox or use the old fashion way [by post].
Who Should Get Your Wedding Website Newsletter?
Now this is an easy one to answer. Forward your newsletter to everyone who would benefit from your wedding plans. From your party guests to your celebrant and professionals (florist, photographer, etc.), they should all be informed. Check out these exciting FREE websites for your wedding day.
Why Is Your Newsletter Important?
To sum up, you're wedding newsletter is important and serves as a fact sheet. It is the go to resource for the most relevant and up-to-date information about your nuptials. Furthermore, you keep the people who you care about the most in the loop. And the essential overview gives your vendors, suppliers and other wedding consultants an insight to your dream wedding. For more wedding newsletter ideas go to Pinterest.
Over to you…
Please leave your thoughts in the comment box below. And like and share my Facebook page!