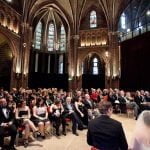 Planning a Dutch wedding church service walk-through allows you and your significant other to feel the emotions you'll experience at your nuptials. Although you've set the preferred date, what sort of ceremony do you want to plan in the land of bikes, tulips, cheese and windmills?
Basically, there are four types of nuptials in The Netherlands, Protestant, Catholic, mixed and ecumenical. Secondly, the key Dutch statutory requirements are that you carry out a civil wedding ceremony before your religious service. So, arrange this prior to the solemnization of your marriage in a church.
Thereafter, with the help of below wedding church service timeline, you can create a lasting impression on your family and friends. Use it to format and suit your own  celebratory event. Feel free to adapt, add, edit or delete to make sure the service goes with the flow. Here it is…
Wedding church service
Firstly, a pastor performs a religious blessing. Or they can oversee and coordinate a public worship service. Thus, you'll need a timeline and ceremony template. Moreover, you'll be in charge of the order of service and timings. Keep reading…
image Stadsherstel Amsterdam
OPENING MUSIC | SERVICE OF THE WORD
Word of welcome
Opening blessing | reading
Ceremony music religious or spiritual
Non-biblical reading – on request
Intermediate music
Reading of choice
Peronsalised speech about marriage
Marriage blessing
Special prayer
Blessing of the bride and groom
Exchanging of the rings
Signing of the symbolic registry (not applicable)
Wedding signature song | music
SERVICE OF THE TABLE
Preparing the table with couples signature song
Table acknowledgement
Thanksgiving music | peace wish
Lighting of the unity candle
Closing speech | congratulations and blessing
Processional music | closing song
To conclude, the above abides by your specific beliefs and morals. Actually, it takes into account your customs and traditions. So, talk to the celebrant about relationship preparation course and your preferred wedding service.As this ensures your printed program book is complete. Most importantly, contains the correct wording.
Over to you…
Please leave your thoughts in the comment box below. And like and share my Facebook page!