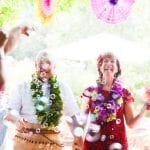 If you plan to celebrate your wedding anniversary with a festivity full of love, use these unique ideas to make it as special as your union together. It doesn't have to be lavish, drawn out or elaborate for it to be meaningful, sentimental and memorable. So, how do you plan it?
A personalized wedding anniversary celebration party can be as unique as you are. It's the ideal and most logical step to take. Your loving, healthy relationship deserves an exceptional celebration to publicly declare and express your strong love bond to family and friends.
Let me share with you the following unique ways to personalize your dream anniversary,  celebration party. Before you take a look I'd like to wish you many more wonderful years of good luck, happiness and understanding together, as you embark on a new phase of your lives. Let's get started with the planning…
Consider the celebration of your wedding anniversary as a special, meaningful stage of your incredible lives together.  This is the opportunity to reawaken your passion and embrace the harmony in your loving relationship. Don't hold back, now is the time to honor your rock-solid bond and awesome connection. It's bound to inspire and excite your guests. 
Perhaps you've been happily married for two years and today is your wedding anniversary. In that case, this is the perfect opportunity to host a party.  Just remember to keep things sweet, make sure you both agree with the planning arrangements. Let others see your love story as you celebrate and share your happiness at your stunning wedding anniversary party.
Saying, "Yes, I DO" again and reliving your wedding day with a party is very simple. There is no need for you to reapply for a marriage license or to go through the official formality again. Celebrating your anniversary is not legally binding. Therefore you can hold a party wherever, whenever you like!
If you're thinking of applying for a remarriage, civil union or reaffirmation license, inquire at your local city or town hall for the details. Otherwise, if you are already married and just want to celebrate your anniversary, go ahead and do it.
You've hit the big 5. Why not, seek out a celebrant to conduct your wedding anniversary party. Celebrants perform a non-religious ceremonies of life. Request a quotation. This should include a minimum of 2 face-to-face personal meetings. Tip: Some celebrants may offer their services for free or for a small fee. Don't be afraid to ask. They'll either say yes or no.
Consider what your celebrant or master of ceremonies should share with family and friends at the party. To help your guests feel relaxed and comfortable, make it an entertaining, fun and amusing party. They will feel part of your celebrations. Bear in mind that you don't have to reveal all your personal marriage secrets.
Get away from your partner for a day or week. That extra time will help you to focus on any secret surprise plans. Use that opportunity to discuss the event with your mum, dad or a close trusted friend. Plus you can look for a venue, too. The old saying, "Distance makes the heart grow fonder and mind wiser," and "What they don't know won't hurt them" should work for you. Your partner will love your thoughtfulness, assertiveness and unspoilt attention.
Nothing beats a good brainstorming session. Get together with friends for an inspirational wedding anniversary.  During that time, make an anniversary party checklist or an itinerary of essential items. Whatever ideas, wishes or thoughts you come up with should be considered. After all, it's your big wedding day again or love celebration. So, anything goes – within reason.
A ceremonious event with a professional master of ceremonies or lady celebrant will highlight your incredible life and love story. Infuse your personality into your anniversary party by including amusing anecdotes, heartfelt love vows and poems. Guests and family will delight in your stories, surprises and attention to detail. You'll get them fully engaged in your celebrations.
Planning a celebration party can get a bit too much. So, if confusion or doubt sets in, find a celebrant. Their job is to do most of the hard work and make your life easier so you can use your time more effectively. You will then get the most out of preparing your wedding anniversary party.
Preparation and planning takes time, energy and cost money. It can consume you and that's when the stress kicks in. The best long lasting relationships work well because of good communication, collaboration, caring and making compromises. Still, if discussions break down, red flags are flying or your heart is pounding frantically, don't try to do it alone. Seek the help of a wedding planner.
Did you know that in Holland and Denmark 12½ years of marriage signify an important milestone in a relationship – the copper wedding year? Two times twelve and a half equals forty-five. It's an extremely special time for you both. So, even more reason to have a celebrant help you mark the significant occasion.
Whether it's your 1st, 5th, 10th, 15th, 25th or 50th year together, an anniversary party to celebrate and mark your remarkable milestone is a powerful and emotional statement. Family, children and friends will witness how much you appreciate, trust, idolize and are contented with one another. So, orchestrate the festivities the way you like it!

More wedding anniversary years can be found here or leave a comment below!