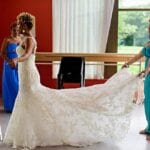 Virtual wedding ceremonies & blessings services are a live broadcast streaming of your online official marriage or commitment ceremony. Legal in some parts of the USA your  vows are beamed live to your guests all around the world. How do you share your special  day event with loved ones?
Just like you, many couples have postponed, rescheduled, or cancelled their marriage celebrations due to Covid-19. FaceTime reality weddings are a godsend. Nevertheless, hosting the ceremony anytime, anyplace, and anywhere could cause you anxiety. Perhaps to broadcast a virtual ceremony is not a viable option.
Look, if opting for a virtually officiated wedding or blessing service is not what you envisioned, don't worry. No need to decide on anything yet or be part of the new wedding generation. Here are some creative wedding blessing services, that could get you and everyone you love onboard. Read on…
Virtual Wedding Ceremonies & Blessings Services
What are virtual wedding ceremonies?
Firstly, Brides.com says, "If you were forced to postpone your wedding due to the coronavirus pandemic, certain states have made virtual wedding ceremonies legal—so you can still officially say "I do" on your original date. New York, Colorado and Ohio were the first states to lead the charge in the changing landscape of weddings" Source: Brides.com
What is a virtual wedding blessing service?
Secondly, virtual weddings are computer-based. It's a digital blessing type vow marriage celebration with or without legalities. In fact, besides using your smartphone, IPad, laptop or desktop. You can set-up your television as a computer monitor. However, you may need a special cable, depending on your PC or TV. Source: www.pcworld.com
Should you host the wedding with a streaming company?

Secondly, how do you say, "YES, I Do despite the corona regulations, tier system and lockdown rules? Well, a wedding live streaming company can make your dreams come true. You can broadcast your official marriage ceremony or ceremonial wedding event to the world. Find out more at www.brides.com or go to www.stream-works.co.uk
How long should the online wedding last?
Thirdly, how long should the online wedding blessing ceremony last?  Well, it's up to you as "couple bubble" to decide. But, as you know with guests watching via Zoom/ video chat app it's known to time-out, pause, or the connection fails. So, aim for 10 – 15 minutes. And use a schedule to keep everything on track for the virtual celebration party.
How to invite guests to your virtual wedding ceremony?
So, what is a wedding without guests? I think it's pretty boring, don't you? Look re-invite your guests with an electronic wedding invitation. Use modern technology and social media to get family and friends onboard. Your invitees should use the best device for streaming your big day.
Should you use a background as your backdrop?
Yes, live streaming weddings are captured digitally. And can be accessed anywhere in the world from your guest's computer, tablet, or smartphone. Download zoom backgrounds for wedding guests who can't attend in-person to celebrate with you. And both you and them will feel connected and totally immersed in the virtual wedding ceremony.
Virtual Wedding  Ceremonies & Blessings Services II
video courtesy of couple of london
What should your virtual wedding timeline look like?
Cementing your relationship with a secular [virtual] wedding ceremony needs a timeline that reflects you. A timeline is a table of events. From the opening, to the welcoming of guests and blessings it's important. Plus, must include the blessings, poems [optional], digital marriage service, readings, personal vows, exchanging of vows, rings and the kiss.
Can you plan weekday virtual wedding ceremonies?
Yes, host an evening midweek wedding, Sunday wedding, or an intimate brunch event. Celebrate with your favorite people. Look don't feel threatened by the global pandemic. Just get tech savvy! How? Many of us are working from home and now about video conferencing. It's paved the way for you to conduct your wedding anytime.
Which streaming wedding service should you use?
So, as I previously mentioned, Zoom can suddenly stall on you. But, you don't need that, so before you get hitched online – do a test run. Everyone should be set-up and ready to attend the virtual wedding of your dreams. TIP: Figure out Zooms configurations before scheduling your wedding ceremony.
What is the virtual wedding dress code etiquette?
Weddings are usually classic, chic and formal. Maybe you've sent out a virtual invitation, therefore your guests must be excited. However, did it state what they must wear? Well, having a wedding dress code makes life easier for you and the invitees. So, decide on the type of clothes (also to match the colour theme) for the occasion. 
Virtual Wedding Ceremonies & Blessings Services III
Who should officiate your online wedding?
Live streamed online wedding blessings are a thing of the future. So, you need to get it right first time with a  Additionally, the celebrant to perform your ceremony. can be your mum, dad or best friend. It gives both you the opportunity to express your deepest feelings, love and affection in front of everyone you care for.
When to start wedding planning admin?
Last but not least. And the best thing about online wedding blessings, they are free of wedding planning admin. So, you can forget the added logistical stress. Plan your ceremony for two with the latest digital communication technology anytime. Do it when you want, everyone you love can join the marriage service.  How does that sound?
VIRTUAL WEDDING INVITATION WORDING

"Thrust up us is Covid-19 wedding restrictions, this delayed our wedding. So, we have decided to move to a physical wedding online. You are cordially invited to join us virtually for our wedding blessing ceremony. We'll be in touch soon with full details of exactly how you can do that."
Over to you…
Please leave your thoughts in the comment box below. And like and share my Facebook page!