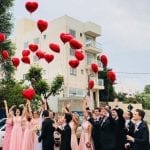 How do you quit failing your New Year's Resolutions before the wedding? The failures are usually exactly the same as the previous year, and the year before that. How long does it take to stop our annoying habits that influence our entire year? Habits that once served a purpose, are no longer working for us.
Have you kept your New Year's resolution promise over the years? It is difficult. I'm proud to say that I'm a reformed smoker. After quitting my 10 a day smoking habit, I no longer live a life of guilt, shame and indecision! The most socially acceptable habit has become non-accepted worldwide. So, a perfect reason to stop, don't you think? What about you do you smoke and still enjoy it?
Or have you like me become quite an authority, expert and master at postponing the New Year's resolution goal? Because, I'll share another little secret with you; more than 50% of us are struggling with a smoking addiction and beating ourselves up for not being able to quit.
As each New Year approaches we hope, convince, and reassure ourselves; this year it is going to be different. We remain optimistic, strong and ready to face our fear. But, who are we kidding? The hard voice of reality is, its extremely difficult to break old habits. Thankfully we have another whole year to try again!
So, let's get started….
New Year's Resolutions
Losing Weight: Before sending out the luxury wedding invitations, keep a diary of what you eat. This can be a good way to keep track of your weight. Have you heard of the 10 cup-a-day coffee diet, coleslaw, crisps & croissant diet, Meat & 2 veg diet and a see-food diet?
Wedding Resolutions: I have; as dieting has been haunting me as long as I can remember. Do you know what I mean? As yet, no diets works, but I am not giving up. My New Year's diet is; eat everything but in moderation! Find out more tips on Pinterest.
Making Time for Yourself:  Special gatherings like a wedding require extra energy. How often do you say to yourself, you are going to take some time off, for you and only you? I recently bought a 2015 diary; you know the one with a weekly and daily planner.
What not to wear at a wedding: Well this year I'm scheduling 2 days a week off, for me, to do some retail therapy on and offline. Would you like to chill and relax more? Why not, invest in you time and get a day-book too!
New Year's Resolutions – II
Donate More: Another thing, before writing out your guest list, know this. How many items of clothing or gadgets do you have? And how many of those articles still have the price tags on them?
By putting timelines in place you can clear out the stuff you really don't want! Basically, If the object hasn't been worn, used or looked at within a 1 year, it is being donated, to the Salvation Army, KICI or an independent Charity organization.
Drink and Drive Less: Thinking about five-star catering and the best champagne in town? Are you like the rest of us, prone to a little tipple? Drinking alcohol may offer some health benefits; however if you drink and drive your life expectancy is dramatically decreased.
Just imagine being intoxicated on a Dutch bike; a classic 'oma fiets' or a modern day  vanMoof? Did you know it is against the law to ride while under the influence? This year for safety reasons, I will adhere to the drink & drive law and do my utmost to be somber while on my bike in Amsterdam!
While you're here…
Leave your ideas, questions or comments below.