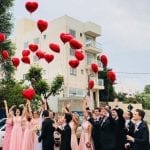 Your compiled small wedding guest list plays a significant role in the planning of your nuptials. Perhaps you don't realise how much. So, let me ask you, do you need to cut down the number of invitees, but feel guilty about a tight seating plan?
Have you noticed the nature of weddings has changed. Smaller-scale weddings have become the norm. So, how do you deal with Covid-19 rules,  restrictions, and lower attendance rates? Can you figure it out? How do you stay focused and estimate the guest list numbers?
Well, the stark reality huge weddings are a thing of the past (at the present time). However, numbers talk and you probably want an even or odd numbered wedding guest list. But, you're in a painful limbo about shortening it. So, don't get worked up but do the math. Use this guide to plan a corona "pain" free event. Here we go.
SMALL WEDDING GUEST LIST
"A-List" wedding guests who are close family, friends, and special loved ones like your great grandparents. Or you could invite the nanny that looked after you as a child.
And there's more…
Planning the happiest day of your life should be enjoyable. Inevitably, you must cut your wedding guest list in half.
Of course, you need to downsize or reevaluate it but you don't have to to spoil the fun by disappointing loved ONES. However heartbreaking as it is, you are urged to slash the list. The dreaded virus forces you to make painful concessions.
But, where do you set your sights on for your wedding? Do you know how to shorten your A-List of guests? SHORTENED or not. Delay sending out wedding invitations until you make adjustments. Decide on 15, 30 or 50 guests.
SMALL WEDDING GUEST LIST – B List

"B-list" wedding guests include your long-distance relatives and friends. Those people who you see once in a blue moon. Does your cousin live abroad? Do you think he or she can make it?
Anyway, you've got a million things to do for your intimate occasion. From booking the venue, the catering, music. And you've got to find the important dress plus buy wedding gifts [optional] for your entourage.
And let's face it, with a tough job ahead you must decide who are your bridal party. Playing the numbers game makes you feel awkward.
So, does the issue of a B-List of guests way heavy on your mind? Make your life easier and create a low-key wedding based on Covid-19 personal, practical and safety reasons. Makes sense right?
SMALL WEDDING GUEST LIST – C List

photo Fernanda Latronico from Pexels
"C-list" wedding guests could be your boss, work colleagues, and the man or woman who cleans your house. You want to make a good impression or thank them for supporting you too.
And just in case you were wondering…
How do you narrow your wedding guest list down without tears of FRUSTRATION? Notably, organising your nuptials is a logistical nightmare.
On top of that, blending two families into one and pleasing everyone has made your life miserable.
But, it's alright to have a modest wedding guest list. Albeit it's a far cry from pre-covid-19 marriage celebrations for 100 to 300 party PEOPLE. So, how do you create it? Just strip back to a micro wedding of under 50.
SMALL WEDDING GUEST LIST- D List

"D-list" are the lowest on the wedding guest list hierarchy. From your parents' long-term friends, business associates and neighbours you don't have to invite them.
As well as your ex-boyfriend, the girlfriend of the best man or friend of whoever. Unless the above-mentioned persons are forfeiting the bill for your wedding venue, it's not necessary to have them onboard.
Creating a smaller wedding or sit-down reception during the Covid-19 scare is a numbers game. So, what's your favourite lucky number? Whatever it is a downsized wedding guest list is the answer.
Look don't feel anxious about the limited guests, it's not your fault Covid-19 impacted weddings. So, remember you need to carve it up, find a realistic number for your wedding catering.
SMALL WEDDING GUEST LIST- CHILDREN

In reality, most guests enjoy an ostentatious wedding without kids. Although, your list consist of loved ones, friends and your favorite COLLEAGUES.
Sadly, for friends who have kids, children will not be in attendance at your wedding. By putting timelines in place, an adult headcount and seating arrangement can be made.
It might be a touchy subject for you – do you invite children to the wedding?
But while children add a certain charm to the day, removing them from your headcount not only helps to cut your numbers.
Writing out your guest list helps you decide on 15, 20, 30 or 50 very important people.
Another reason not to invite kids is, it gives their parents a night off to really let their hair down. Sad to say children do not add to your experience of the day.
PLUS ONE WEDDING RULE

Lastly, fancy a Covid-secure venue, that's safe plus serene? Have you heard of wedding hierarchy?
Since Covid-19 up-sizing huge weddings are OUT and downsizing is IN. Therefore, implementing a PLUS ONE RULE is making sound judgement. Well, it's a touchy issue if you decide to NOT invite a plus-one.
Well, the saying goes, invitees who were late to be added to your wedding guest list in the first place, should be the first to go.
And I'm not talking about the A and B list: parents, close relatives and special FRIENDS. But C and D list of people: colleagues, long distance relatives, acquaintances and kids. But, I'm talking about the [PLUS-ONE RULE]
Yes, it's tricky. But, don't feel bad about it if the guests aren't dating, betrothed or married, just arrange your perfect seating PLAN. Send out luxury wedding invitations and let them know they are part of a selective group of invitees. So, what's a good number of guests for your wedding?
While you're here…
Be savvy and create your own wedding trends! Leave your ideas, questions or comments below.