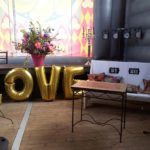 Opening your home and getting married in your back garden could be seen as a crazy and far-fetched idea. It might not be feasible. All the same your original wedding concept and laying the groundwork will take up a huge chunk of your time and energy.
Whether you have to the compulsion to tighten your belt to find extra cash or your respective parents will foot the bill. It's possible to reinforce your ideas and hold a plush and unique event at your place. By seamlessly combining your ceremony & reception party, you won't spoil the day. Most importantly, you'll save some money.
Just, imagine you can be at home in your front room or garden, surrounded by love ones and friends. Even more exciting you'll be in your element. But, before you start the enormous undertaking, you'll need to do wedding preparation homework and finalise a to-do-list.
Without question, these special big day ideas for your alfresco wedding will be a hit. So, here are some practical tips to get you started and to lighten your load.
Planning a Wedding: Home Truths

The good, the bad and the ugly truth about planning a wedding, with fun, excitement and a once-in-a-lifetime experience thrown in too.

Source: https://bijouweddingvenues.co.uk/make-it-happen/wedding-planning/planning-wedding-home-truths
1• Get your house in order and obtain a grant of approval
Let's start with a few home truths; does your house qualify as an approved wedding venue? Yes, then you'll have to obtain a special licence (grant of approval). This is necessary so that your matrimony is legally recognised. Among other things, your house will be deemed as a suitable fireproof wedding site. Get an official certificate. Then, you can hire a certified civil celebrant. Moreover, you can serve booze and food on your premises. But how much do you ration per guest? For ideas go to https://apracticalwedding.com/how-to-buy-alcohol-for-your-wedding/ And find out more details about a licence at your nearest local authority. Acquire about the legal documents, steps and precautions needed for a wedding at your chosen party venue.
2• Finance the financial side of  your home wedding
Secondly,  there is no better tonic, then getting married at home. Your home is more sympathetic to your wedding celebrations. However, it can be costly, time consuming and tiring organizing the big day. Therefore, consider the financial side of things for your indoor & outdoor location. Whether you are budget-conscious or busy estimating the funds needed for a unique approved venue; you'll need cash. So, speculate the costs and make sure to tie the knot without exceeding your wedding budget. 
3• Create a cosy lounge area as your wedding reception 
Thirdly, to avoid any wedding planning stress, take a second look at your home and garden furniture (chairs, tables, sideboards etc).  Do an inventory of what you already have. Plus, check what is needed and suitable for your big day. How many guests are you planning to invite to your soiree? Don't feel perplexed and make sure you have enough sitting, tables and cutlery available. Create a cosy lounge area that is comfortable, intimate and inviting. But, if you don't have enough stuff. Just ask your neighbours, family or friends if you can use their household items as makeshift party furniture. Or contact a quality events equipment hire company.
4• Preposition your home furniture and work out a floor plan
Although you may not have undulating views and a stunning landscape. You should still visualize the satisfactory smiles and the compliments, from your family and close relatives as they arrive at your home. So, preposition your furniture and think up a realistic layout. Work out the logistics for a  floor and garden plan. And deploy a location for every aspect of your special wedding event. Keep the theme of your wedding consistent throughout the house. For instance, remember to bring your garden to the foreground with a stunning altar to add impact. Or else you can use an annex or backyard shed.
Licence to marry

Hello there! Many of you, especially those looking to 'DIY-ify' your wedding, may be wondering whether you can be legally married in a civil ceremony in any building of your choice. Alas, here in the UK it's not as simple as that of course, as the venue or building must be approved and hold an appropriate licence.

Source: http://www.theweddingsecret.co.uk/magazine/wedding-venue-licensing-how-does-a-wedding-venue-get-licensed/
5• Craft a special wedding day and get a gazebo
Likewise, pick a section of the garden for your gazebo, wedding canopy, or hi-spec marquee or arch. Or insist on another remote outdoor spot nearer to home. Otherwise what about hiring a party field for your reception. Maybe you could ask a big-hearted family member with a summer house. There are lot's of wedding location alternatives for you to greet and welcome your guests. Plus, remember you can hold your official ceremony anywhere in garden (weather permitting). Thereafter, move indoors for the evening celebration.
6• Design festival & themed wedding stationary
Whether you plan a sustainable or ethical wedding, the costs can be extremely inflated. And what about the stationary? In a sense, you can avoid designing your own sublime home wedding cards. With the help of WedFest they'll make things easy for you. This company specialises in invitations, save the date cards and themed stationary. So, allow them to create something unique for your big event.
7•  Prepare home catering and enlist artistic friends
How do you get your invitees to RSVP to your wedding invitation? And how do you evoke great surprise and excitement? Home catering, music and entertainment are defining attributes and influence your family and friends experience. So, recruit talented relatives and friends who are performers or musicians.  And you can also cook yourself and be your own DJ (use Spotify). This is a fab incentive for family & friends and it simplifies the wedding planning costs. Alternatively you can arrange an affordable caterer or hire live music entertainment.
TOP TIP
Finally, once the celebrations are over there is the issue of tidying up and getting things in order, again.  Rather than doing all the chores yourself hire a cleaning firm. Hire professional trusted cleaners they will do a great job to take care of the chaos.  Let a cleaning company do the work; they can help, and advice you on how to get your house and garden clutter free. And the overriding factor is, your home and garden will be back in tip top gleaming shape again!
At-home weddings are intimate, and memorable, but they come with their fair share of challenges. Opening up your home (or the home of a generous friend or family member) means dealing with logistical considerations you wouldn't encounter at a traditional wedding venue (bathrooms, anyone?).

– https://www.bridalguide.com/blogs/bridal-buzz/backyard-wedding
Over to you…
Leave a comment in the box below.