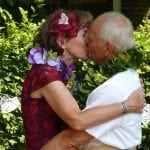 Celebrating a late life marriage 2nd time around as an older couple might seem daunting? Read the Snow van Putten wedding for inspiration. This mature couples summer love celebration is amazing. This loving pair finally tied the knot in a tropical array of fresh  flower leis!
As a wedding celebrant I've officiated many alternative marriage ceremonies for youthful generation X and Y. So, picture my excitement when I got the call to marry beautiful baby boomers.
In fact, I sung a few songs for the sweet lovebirds. And a marriage council official / registrar was in attendance. This ensured statutory laws complied with a legal marriage to declare the couple legally married.
It all started when the groom Terry surprised the bride Suus with a card which said, "On Your Wedding Day." But inside was the question, "Will you marry me?"
However, Terry did not go down on his knee, but a fully formed paper bride and groom sprang up in the middle of the card. With tears of love in her eyes at this totally unforeseen offer, Suus said, "Yes." So, keep reading one of the greatest love stories of all time.
Snow van Putten wedding
Happy couple: Terry and Suus
Venue: Cultuurboerderij Nieuwe Erven [podiumkosmik.nl] – Amersfoort, The Netherlands
Date: 25th July 2018
Once upon a time a marriage celebration took place in the heart of Amersfoort, the Netherlands. And the union of a very special couple, proved that it is never too late to fall head over heels in love. So, be inspired and keep reading Mr & Mrs Snow van Putten and van Putten Snow's real life wedding true love story.
Small intimate tropical wedding day
Terry and Suus are a mature and exotic couple. They were tying the knot for the second time. He is from New Zealand and she is Dutch. And Amsterdam is their hometown. This active team loves nature and spending quality time together. Their small intimate tropical wedding day was a fun fusion of New Zealand and Dutch traditions.
The Proposal
Four years after they met in 2014 at Amsterdam's annual spectacular New Year's Day concert in the Concertgebouw, Terry invited Suus for a special meal. It was Valentine's Day 2018. Suus thought something was in the air when she received a lovely floral corsage and the night began with champagne.
Wedding location
It was an extremely hot day at the Cultuurboerderij Nieuwe Erven, city farm. In the heart of  Amersfoort, Holland the little piece of countryside was a welcomed change to a busy bustling urban life. Set amongst a residential area it oozed tranquility and peace.
Bohemian-style venue
The happy couple made a conscious decision to choose this outdoor facility. Suus's sister and David her partner are the proud managers of the rustic bohemian-style wedding venue. It was an idyllic backdrop for their first pictures. Moreover, Terry and Suus's tropical wedding theme inspired by Dutch and Kiwi customs.
Snow van Putten initial consultation
Attached to the e-mail I received from Terry and Suus was a photo of them both. And the message read: "My name is Terry. My fiancé Suus and I are getting married this July. Could you marry us and sing for us? It would be great to meet and have you as our singing wedding celebrant."
Snow van Putten first meeting
So, we met in my local bar De Tuin (the garden). It was convenient for all of us and we discussed their plans and wishes. We got on like a house on fire.
Snow van Putten script
Writing the marriage service script was pure pleasure. We revised more than 10 drafts to get it right. Terry and Suus let me in on secrets and took me down their romantic memory lane. But they kept some things private. Nevertheless, they had an incredible story to share.
Surprise music element
They have so much in common. She enjoys reading and he loves cooking. And both of them love cycling through the Dutch countryside and travelling together. With the input they gave, we created a warm, inspiring and personal speech full of spicy stuff, sheer sentiment and joy. We added a surprise music element as well.
The Ceremony
Under the sweltering sun of the Dutch sky, they thanked family and friends for making the effort to come to the wedding. We also took a moment to remember absentees and loved ones. And this caused a few tears and sighs of sorrow.
Sizzling hot date
It was sizzling hot. Wedding fans kept the guests from overheating. Most importantly, they remained cool and comfortable. Afterwards, Suus and Terry uttered their vows and said, "I do". Next, a wedding official from the council of Amersfoort ensured registration and the signing of the legal marriage certificate.

The symbolism of union

Terry and Suus chose to seal their vows by exchanging leis instead of rings. The beautiful purple, green and white orchids for Suus and green foliage and orchids for Terry represented his link with the Pacific and his strong family connection with the island of Tonga. They are a traditional symbol of love, friendship and celebration, which Terry was adamant about sharing with Suus to unite their lives together.
Snow van Putten vows
Terry and Suus, decided not to have personal vows but opted for the English vows instead. Translated into Dutch, it read: To have and to hold from this day forward, etc. Then, the ultimate moment of the ceremony arrived, and I said, "You may now kiss each other." Family and friends began to cheer and clap, as Terry and Suus embraced in a loving kiss. It was a happy end to their tropical wedding on one of the hottest days of the year.
Snow van putten wedding Songs
Processional:  George Frideric Handel – The Arrival of the Queen of Sheba
Pre-wedding vows: The Look of Love – Diana Krall
Marriage certificate signing song: Summertime – Ella Fitzgerald
Recessional: Say a Little Prayer – Aretha Franklin
Wedding Outfits
Bride's attire:  Embroidered burgundy red dress by Hunza (London); Shoes by Chie Mihara
Groom's attire: Traditional Tongan dress, lavalava skirt and ta'ovala fine mat.
Wedding Suppliers/Vendors collaboration

Venue – www.nieuweerven.nl
Caterers – www.cateringaanhuis.nl
Wedding photographer – heuvelrugprodukties.nl
The Feedback
Dear Clover,
Thank you for conducting a wonderful ceremony for our wedding. It was such a happy day with everyone there to witness and celebrate the occasion. Suus and I are still buzzing from the whole event. So glad you stayed on to have the good food and experience the friendly conversation, happy guests and lovely atmosphere.
Suus and I are still talking about what a wonderful wedding we had and how happy we were with everything.
Once again, you were marvelous as a wedding celebrant and singer. Thank you so much.
Best, Husband and wife Terry Snow van Putten and Suus Van Putten Snow
Over to you…
Please leave your thoughts in the comment box below.