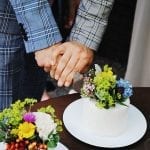 Same-sex marriages in Holland were the most prominent gay rights issue. Which other countries legally recognise gay and lesbian weddings? Where else has said, YES to LGBTQ weddings? What's the geography of love worldwide? And how easy is it to plan your nuptials abroad?
Well, whether you've been with your intended for 1 year, 5 years or a lifetime arranging a legal marriage or civil union isn't straight forward. In fact, you might be worried about finding a church wedding venue. Or you want many guests at the destination wedding because it's vital to your community.
Whatever same-sex marriage celebration you want, begin the hunt for your wedding here. I've rounded up the gay and lesbian marriage countries that legally recognised same-sex wedding couples. Of course, there could be a church or two who said, "YES" to religious same-sex marriages.
Same-sex marriages

Same-sex marriages – officiants United Kingdom

England and Wales – 2013 Firstly, England and Wales celebrants support couples of all genders to create a special wedding ceremony. Additionally, you can have an official marriage or civil union/registered partnership.
Scotland – 2014 Ultimately, Scottish wedding celebrants will be delighted to preside over your same sex nuptials on the beach, inside a cosy cottage or at a venue of your choice.
Ireland – 2015 

Same-sex marriage in the Republic of Ireland has been legal since 16 November 2015. Source: en.wikipedia.org.

Jersey – 2018  In addition, it is lawful for same-sex couples to marry in Jersey. And gay and lesbian couples, who are currently in a civil partnership, may convert their civil partnership to a marriage..
Same-sex marriages – officiants Europe
The Netherlands – 2000   The Netherlands is one of the most liberal places. And an official Dutch celebrant/officiant led the first legalised same-sex marriage ceremony. It took place at the Amsterdam city hall,  Holland.
France – 2013 Unique Ceremonies in France states that, "same sex couples have had the possibility to tie the knot in France since 2013". And more notably, the very first legal marriage ceremony took place in Montpelier.
Portugal – 2010 According to Same Vibes weddings you can plan an unforgettable wedding in Portugal."Minimum of paperwork, prompt settlement and low administration fees. And you get quick issuance of the certificate which happens after the registration" Source:  same-vibes.com
Italy – 2016 And from May 2016 you can host a celebrant-led wedding in Italy. On top of that, this

humanist symbolic wedding is performed at a venue of your choice.

Germany – 2017 In addition, you can celebrate your union in Germany. Along with registered partnerships for same-sex couples it's very popular.
Malta – 2017 And let's continue the excitement because gay marriage in Malta is an attractive, easy and accessible option. So, host your nuptials in Malta and enjoy the same-sex wedding you want.
Poland – 2020?
Hungry – 2020? Lastly,"It also plans to bring forward a legislative initiative to protect the rights of rainbow families so that their parenthood and same-sex partnership is recognised throughout the union." Source: www.euronews.com
Same-sex marriages – officiants Scandinavia
Same-sex marriages – officiants Americas
Mexico – 2015  Momentarily, not applicable in many of the Mexican jurisdictions. Mexico has not firmly established all parts of  it's country to permit same-sex weddings.
Brazil – 2013  Secondly, to get married in Brazil an application form, passport copies and original birth certificates are required. And you also need a declaration of civil status and single status form.
United States of America – 2015 Engayed weddings are an on-line wedding directory that brings loving, committed same-sex couples together with top-notch wedding vendors who are thrilled to support you.
Argentina – 2010 And there's more about destination weddings in Argentina. Basically, Argentina was the first Latin American country to legalize same-sex marriage.
Uruguay – 2013
Colombia – 2016 And have you considered celebrating your love in Colombia? Well, Colombia travel can help you plan the perfect same-sex marriage ceremony!
Ecuador – 2019 Although, Goofy weddings based in the USA primarily service Michigan residents, the Ordained Ministers will travel to officiate your same-sex wedding.
Costa Rica – 2020 Costa Rica legalized same-sex marriage. Where does the rest of Latin America stand on marriage equality? Source: www.atlanticcouncil.org
Same-sex marriages – officiants Africa
Same-sex marriages – officiants Asia
Taiwan  – 2019 Two lesbian couples have become the first to take part in a mass military wedding in Taiwan, the only place in Asia to have legalised gay marriage. Source: www.bbc.com
Same-sex marriages – officiants Australasia
New Zealand – 2013 In addition, the wedding celebrant you chose is a professional with lots of local knowledge. And the marriage official will help you plan and advise you on all aspects of your special same-sex wedding service.
Which country is next to follow in the foot steps of the Netherlands? Where else in the world is ready to say YES to GAY/ LESBIAN / LHBTIQ weddings?

image Kevin Prichard
Over to you…..
Please leave your thoughts in the comment box below. And like and share my Facebook page!