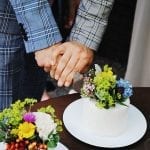 Holland was the first country in the world to say, "Yes" to same-sex marriage. And now LHBTIQ couples celebrate their right to love. In fact, whoever you legally marry planning a wedding is still stressful, costs lots of energy and money.
But, where else around the world can you celebrate same-sex marriage? And where is your wedding legally recognized? Well, getting officially wed is a huge step to take. And whether you are straight, transgender or gay it's life changing. However, rainbow weddings are still a big taboo. Whereas opposite-sex weddings are popular, they are no longer the mainstream.
In relation to hetero couples, the law has been reformed so that same-sex marriages between two men or two women can take place. LHBTIQ'ers enjoy the same access to marriage as a man and a woman. So, where do you start your wedding planning? Perhaps you'd like a celebrant-led wedding or prefer a civil partnership ceremony? Basically, there are a handful of places around the globe accepting of your same-sex wedding celebration.
Same-sex marriage
So, are you curious which countries will marry you? And are you excited to start your married life with a ceremony that means something to you? Do you feel over the moon to plan a same-sex marriage?
Where should the wedding to take place on world gay pride day? Well, don't let me burst your bubble. So, here are many countries that say, "YES" to legalised same-sex marriages and (LGBTIQ) celebrant-led weddings.  Let's give these rainbow countries a big round of applause…
Same-sex marriage – LHBTIQ weddings part I

The Netherlands – 2000  Firstly, the most liberal city in the world Amsterdam officiated the first same-sex wedding ceremony.
Belgium – 2003  
Canada – 2005 
Spain – 2005 
South Africa – 2006
Norway – 2009 In addition, Norway held the first same-sex church wedding
Sweden – 2009
Argentina – 2010
Iceland – 2010
Portugal – 2010
Same-sex marriage – LHBTIQ weddings part II
Denmark – 2012
Brazil – 2013
England and Wales – 2013  Additionally, England and Wales held the 1st church wedding in 2014. 

France – 2013
New Zealand – 2013
Uruguay – 2013
Luxembourg – 2014
Scotland – 2014  Ultimately, the first mainstream Christian church to allow same-sex marriages
Finland – 2015  Additionally, Finnish Parliament officially approved gay weddings in March 2017.  And confirms that the country is the last one of the Nordics to instate gay marriage in law. – Nordic Business Insider.com.
Ireland – 2015
Same-sex marriage – LHBTIQ weddings part III
Mexico – 2015  Momentarily, not applicable in many of the Mexican jurisdictions. Mexico has not firmly established all parts of  it's country to permit same-sex weddings.
United States of America – 2015
Greenland – 2015
Colombia – 2016
Germany – 2017
Australia – 2017
Malta – 2017
Costa Rica – 2018 | 2019?  A ban on same-sex marriages in Costa Rica was ordered to be struck down by the country's Supreme Court, which declared the law to be unconstitutional and discriminatory. The court ruling gives lawmakers 18 months to adjust the current law, Agence France-Presse reports.
Taiwan  – 2019
Northern Ireland – 2019
Poland? – 2020 Pope Francis has said, that he thinks "same-sex couples should be allowed to have civil unions" Source: www.bbc.com
Hungry? – 2020 "It also plans to bring forward a legislative initiative to protect the rights of rainbow families so that their parenthood and same-sex partnership is recognised throughout the union." Source: www.euronews.com
Which country is next to say YES to LHBTQ marriage? – 2021/2022
image Kevin Prichard
Over to you…..
Please leave your thoughts in the comment box below. And like and share my Facebook page!