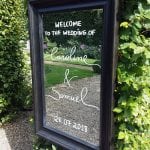 As a real wedding celebrant I am trusted with the free reign to be part of your very important life changing moment. Therefore, with immense joy and happiness, I'd like to share with you a real wedding featuring Sam and Caroline, otherwise known as Mr. and Mrs. Müller.
Firstly, Sam and Caroline's love for each other and their respect for their cultures, values and traditions are truly inspiring. This diverse and mixed couple's wedding was larger than life. He is Swiss, and she is Brazilian. The inseparable team love being creative, enjoy photography and walking their dog Mogli.
In fact, this young and attractive couple allowed me to enjoy one of the most beautiful experiences of their lives. So, feel free to steal ideas for the planning or your own unique wedding celebration. Are you ready to start? Well, read and see what Sam and Caroline arranged for their big dream day in the Netherlands.
Sam and Caroline
Another thing, Sam and Caroline travelled from their hometown in Switzerland to host their wedding celebrations in Holland. What's more, their unique wedding day was unforgettable. And the romantic theme was Dutch and English inspired.
Happy couple: Sam and Caroline
Venue: Landgoed De Hazelhof – Rijsbergen, The Netherlands
Date: 28th July 2018
The Proposal
On the 5th November 2017, magic happened. Sam and Caroline took their love to a new height at the Solothurn Mountain in Switzerland. Sam swept Caroline off her feet and proposed with a special ring of sentimental value. It was his mother's ring. And, of course, Caroline said "YES." So, they sealed the deal.
The Venue
Sam and Caroline breathtaking farmhouse venue Landgoed De Hazelhof – Rijsbergen grounds nestled on the border of Holland/Belgium is paradise in the Netherlands. And the tended gardens filled with beguiling blooms sits on acres of immaculately kept land. This residential farm owned by Ton and Huub, has luscious cultivated plants, flowers and vibrant trees. They even have a chicken pen for their cocks and hens.
Inspired by an English landscape, the setting was ideal for a beautiful bride and handsome groom. Sam's mother discovered the secluded wedding spot. It was the perfect picture location for the happy couple.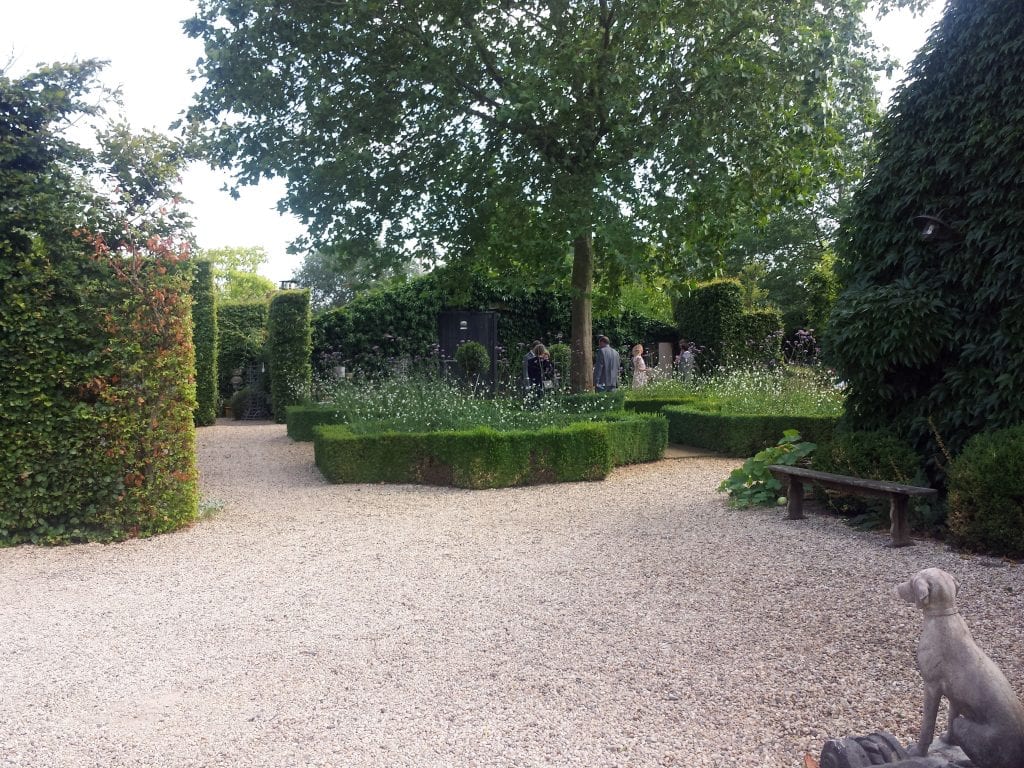 The Wedding Consultation
I received the following message from Sam: "My name is Samuel Müller. I'm from Switzerland. My wife Caroline and I have already obtained our marriage license in Solothurn. We want to celebrate our love and have a bigger (non-religious) wedding ceremony in Holland.
Why, the Netherlands? "Well, my mother's family is Dutch. And we would like you as our ceremonial speaker." So, email correspondences and several Skype calls followed. It was convenient for all of us to work this way to prepare for such a wonderful event.
The Planning
Writing the marriage service script was exciting and fun. We revised five drafts in the space of two months. Sam and Caroline filled out a wedding interview questionnaire. And we finalised everything via Skype, telephone and emails.
This young couple have much in common, like rambling through the Swiss countryside and travelling together. Their input allowed us to create a very special and personal speech. Caroline's mum could not speak English, so we included a declaration of love, a few spiritual readings and a prayer in Brazilian.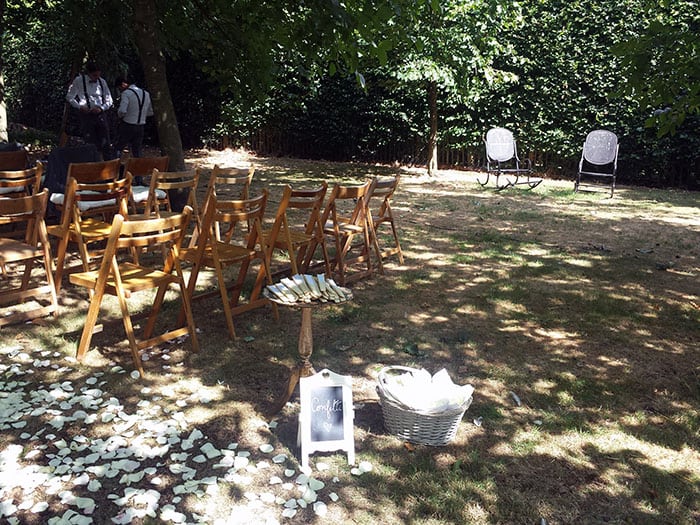 The Ceremony
The sun beamed down and the scent of fresh wedding flowers added an elegant touch to the outdoor venue. Another wow factor was the chicken pen. And the sight of the cocks and hens happily prancing around the rose petal filled aisle, enhanced the romantic ambiance. Waiting at the gate entrance of the English designed venue were the bridal party. As the lovely tranquil sound of the violinist and harp played, the groom and his entourage gradually proceeded towards the altar. Next to arrive was the bride looking absolutely stunning. However, the flower girls forgot to walk up the aisle ahead of the blushing bride.
The Symbolism
Although Sam and Caroline desired a modern wedding ceremony, they wanted to add the traditional values of love and marriage. Therefore, they chose to seal their vows by exchanging rings. And the all-important ring bearer Mogli, their dog, was accompanied by a bridesmaid to present them with their symbol of unity.
The excitement continued with an extra special element of surprise. I dropped a figurative hammer during the signing of the symbolic marriage certificate to confirm their official union. And while seated under the shade of the trees, the wedding guests witnessed Sam and Caroline declare their love. This brought the pending final act to fruition.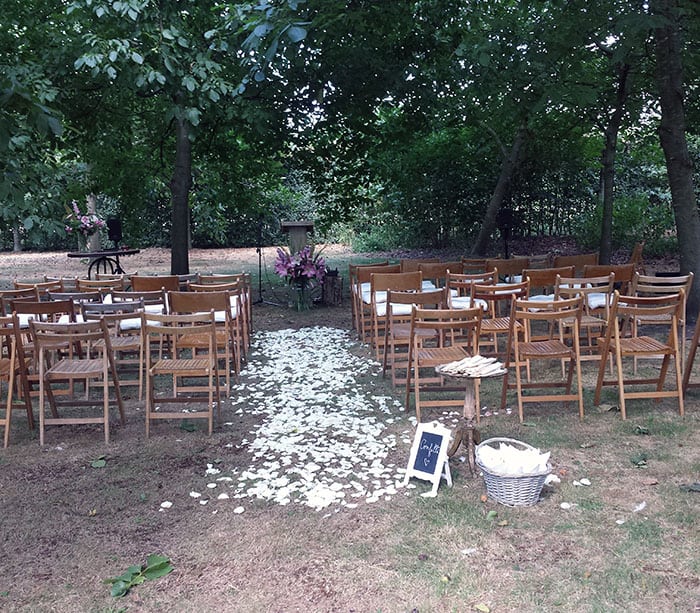 The Vows
Sam and Caroline chose not to have personal vows. However, they wanted to hear the most important contractual words of marriage. "Do you take……. to be your lawful wedded……".  Moreover, they were waiting for the biggest moment of the ceremony, the kiss. Everyone applauded and cheered. As Sam and Caroline stood embraced in a kiss, the chickens were cuddling up too. The wedding celebration was beautiful. One of the best experiences I ever had.
The Wedding Songs
Guests welcome song: Make you feel my love- Adele
Processional: Canon in D
Brides song: All of me – John Legend
Marriage certificate signing song: Can't Help Falling in Love – Elvis Presley
Recessional: The Best Day of my Life – American Authors
The wedding outfits
Bride's attire:  Traditional white dress and veil. Hair was loose and adorned with a white flower.
Groom's attire: Traditional warm grey wedding suit.
The Wedding Suppliers and Vendors
Venue – Ton & Huub | http://www.dehazelhof.nl/
Caterers – Anne Floor Bakkenist | http://www.heerlijk-hecht.nl/
Wedding photographer – Clover Jean | http://cloverjean.com/
Musicians: – Lucia Wisse |
The Feedback
Dear Clover,
Your website caught our interest and admiration. And we knew you could conduct our ceremonial speech in English. Thank you.
We wish you a great day and hopefully see you soon.
Best regards
Husband and wife, Mr & Mrs. Sam Caroline Müller
Over to you…
Please leave your thoughts in the comment box below. And like and share my Facebook page!