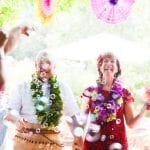 Celebrant real weddings are a great source of inspiration for your upcoming marriage ceremony celebrations. Albeit that getting married is a once in a lifetime experience, it's the best day of your life. In fact you want to get it right.
However, the wedding planning can be daunting. And together with that booking a celebrant "on the fly" comes with a heavy duty premium. Why? Well, a last minute joint decision to create your dream day takes time, costs energy and requires lots of preparation. Therefore, you must give at least 6 weeks notice before your  marriage celebration ceremony service.
But, before you plan your blissful wedding with lots of bells and whistles….let me share with you a little about me. In the summer of 2014,  it was the fourth year of running Clover Jean Entertainment I was caught of guard. An engaged couple who wished to get hitched at short notice, asked me to impersonate a wedding celebrant.
Celebrant real weddings
Annika and Marcus's wedding request read:
"We would like to celebrate our wedding on the island of Texel. And could you marry us and entertain our guests?"
So, with a background in entertainment: performer, presenter and singer I jumped at the opportunity. Although their official civil marriage paperwork had been sorted. They needed me to carry out a non-binding wedding ceremony immediately.
Unfortunately, due to unexpected circumstances my celebrant-led wedding services were no longer required. However, they did me a favour and celebrant-led real weddings was born.
But what is the moral of the story? When time is of essence and you want to plan a surprise ceremony or renew your marriage vows my short notice wedding service is willing and capable to help.
In fact be inspired by these real weddings [some on short notice] at the best secret locations in UK, Holland and Belgium. More importantly find ideas for your dream wedding day!
Celebrant Led Real weddings

LUXlife Magazine, the digital lifestyle publication, has selected Clover Jean wedding celebrant, as one to watch. And the award program has been designed to recognise  companies that go out of their way to make every wedding day perfect. Actually, those who set the highest standards by pushing creative boundaries within the wedding industry.
Celebrant real weddings related reading
Stay tuned there's more to come.
Over to you…
Be savvy and create your own wedding celebration trend! Leave your ideas, questions or comments below.