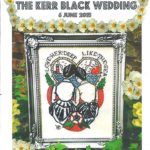 Same-sex couples wedding inspirations awakens many gay and lesbian couples to new and exciting opportunities for their big day. Although you've attended many weddings, there are some things you'd rather do differently. But, how do you envision your same-sex wedding?
Well, to give you some idea, here is a real same-sex wedding that I as the British-Caribbean Celebrant, had the privilege to conduct. The ceremony was held at Ridge Farm in Horsham, Surrey (UK).
But before I share with you my memorable wedding experience, have you heard of the latest trend within the industry, the singing celebrant? This new wedding concept allows you to symbolise your love and friendship with your signature song and a personalised commitment ceremony. Continue reading about…
Same-sex couples wedding inspirations
Happy couple: S. Kerr & C. Black
Venue: Ridge Farm – Horsham, Surrey – UK
Date: 6th June 2015
S.Kerr and C. Black are a lesbian couple from London. The fun-loving and quirky pair are passionate about reggae, each other and having a good life. With a desire to hold a whimsical and eclectic themed wedding ceremony, they felt it was important to exchange vows that were personal and from the heart. As well as actively get everyone involved. They had already signed their official wedding documents at the local town hall. So, the next step was a special celebratory party which featured live soul, pop and caylpso music.
Proposal
4 years prior to their real wedding day, S.Kerr and C. Black had met for the first time in Sutton while working together on a project. It was a memorable meeting.  C. Black blushed the whole way through and S. Kerr looked cool, calm and collected. However, the actual engagement took place outside Morley's Fried Chicken in Crystal Palace. And from that moment on they were like 2 peas in a pod. Nothing could stand in the way of their true life romance.
Location
It was an absolutely wonderful warm day at Ridge Farm – Horsham, Surrey. The sunny ornamental garden was full of excited wedding guests. And the sublime location of the altar amidst the greenery and between flowering oak trees was beautifully breathtaking. Formerly a music recording studio Ridge Farm was the perfect setting. It is a charming and characterful listed building; a picturesque venue.
Wedding consultation
The e-mail read: "Dear Clover, We've sorted out our legal formalities for our marriage. And want a personal touch to our wedding ceremony. We would like a fun surprise and one-of-a-kind love party. We were thinking about a Sister Act movie wedding theme. Are you able to carry out the ceremony and sing, too?" Yes of course! S. Kerr, C. Black and I agreed to Skype twice and met up on the day before the festivities to finalize the details.
Planning discussion
The planning of the S.Kerr and C. Black wedding script ran quite smoothly. During our 2 Skype meetings, they asked for my advice and suggestions about the ceremony set-up. S.Kerr and C. Black had a clear vision of what they wanted for their wedding day. Back and forth we exchanged ideas. Finally, they decided to include a love poem, some live music and a brief description about their special bond.
Ceremony
After I welcomed them, I spoke of their love for one another first meeting and hopes for their future. S.Kerr and C. Black's guests had no idea that I would be present as a singing wedding celebrant. So, the look of amazement on everyone's faces was priceless. And the couple looked extravagantly happy and upbeat as I suddenly sung "Good Life – Inner City". Everyone stood up and started clapping along. After my musical interlude the ceremony continued.
The happy couple uttered the words "Yes, we do" and then some confusion occurred during the kiss. In Holland, it is customary to kiss after the exchanging of the rings. So, I thought we had done it, however it all turned out alright, when the steel band – Pan Nation begun to play the closing song of the ceremony.
The Wedding Songs
Good Life – Inner City
Islands in the Stream – Dolly Parton & Kenny Rogers
We Are Family – Sister Sledge
Pan Nation Caylpso steel band – https://www.headliner.io/acts/pan-nation
The Wedding Suppliers & Vendors
Venue – Ridge Farm Horsham Surrey https://www.ridgefarm.com/
Photographer – Ridge Farm Horsham Surrey https://www.ridgefarm.com/
The Feedback
"We are so pleased to have you on board as our wedding celebrant to conduct our commitment ceremony. It was a wonderful day and you were perfect." Kind regards. Mrs. and Mrs. Kerr Black.
Over to you…
Please leave your thoughts in the comment box below. And like and share my Facebook page!