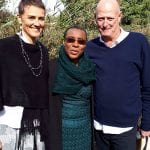 Love is the greatest gift of all and a real commitment ceremony for an inseparable team from Sydney, Australia captured the true essence of the meaning, 'when two souls become one'. Coupled with that, it signified a new chapter in their lives.
Above all, as a celebrations' celebrant | officiant, it was a secular wedding ceremony close to all our hearts because of the gorgeous location. And I was grateful to fulfill the happy couples dream. Thrilled to bits to be on board, we created a personalised affirmation of their loyalty, shared beliefs and special bond.
Poss and Bill, were committed to the idea of equality. Therefore, there was no mention of marriage in the traditional sense of the word and its patriarchal connotations didn't feel right to them. That's why, an eloquent, touching account of their togetherness during a heartfelt commitment ceremony appealed more.
In gospel truth, it echoed the strength of their joy and happiness. And a love that has blossomed over 30 years.
Real commitment ceremony
Happy couple: Poss and Bill
Venue: Westerpark – Amsterdam, the Netherlands
Date: 15th September 2018
Bill is British and Poss is Australian and their hometown is in Sydney. With the desire to show their affection to each other during a special celebration of love, they picked Amsterdam. "It is important for us to hold a private event that reflects our desire to be with each other forever." Basically, they didn't wish to denigrate marriage but the formality and artifice of it wasn't appealing.
Venue
Handpicked exclusively by me, the secluded, intimate venue was breathtakingly beautiful and romantic. The location was quiet, green and calm. "Is it far away?" asked Bill and Poss.
"No, it's a short walk," I replied. Unfortunately, the chosen area was busy with a loud party of people.
So, we went in search of a new spot. Amazingly, we stumbled upon an oasis set in a water garden paradise. It oozed tranquility, uniqueness and peace. "As soon as we saw it we fell in love."
Celebrant consultation
The email read: "Hi Clover, my partner Bill and I are planning an overseas trip. In mid-September we will visit Amsterdam. We want a short, sweet and simple commitment ceremony for two but we're not familiar with the city. So we're entirely in your hands to find an outdoor ceremonial venue and restaurant for our celebratory lunch. We are happy to Skype. Can you help us? Many thanks Poss."
Planning checklist
Knowing their wishes and preferences made crafting their real commitment ceremony speech effortless. We edited out the word marriage for practical and philosophical reasons. They opted for another type of commitment that reflected the love they shared for each other. Subsequently, the make-up of the ceremony was morally binding, informal and included personal vows.
Secular ceremony
Set in luscious greenery and sheltered by trees, the secular ceremony began. Poss and bill played music. "We downloaded lots of our favorite songs," they said excitedly. The melodies added an extra special touch.
I welcomed and greeted them with inspirational words about their relationship. With joyful tears they expressed their vows and said, "We do." It was the perfect picture of happiness.
Symbolism and vows
Next, was the second important moment of the ceremony. Poss and Bill finalized their vows by exchanging gifts. As Bill presented a beautiful red, green and white beaded necklace to Poss tears continued to trickle down her cheeks. "I'm sorry Bill, but I forgot to bring my gift for you". With promises of an I.O.U, their strong bond of friendship, deep admiration and respect for each other was the best gift I have ever seen.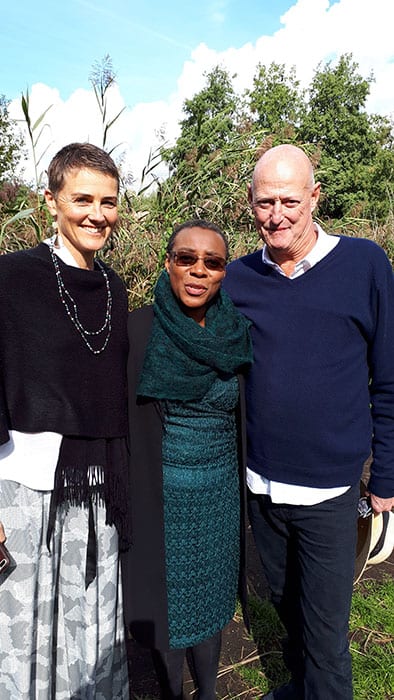 Pronouncement of commitment
The true soul companions radiated love for one another. And honoured to unite them I said, "You may now kiss each other." I then handed them a symbolic life-term partnership certificate. Thereafter, Poss and Bill stood embraced in a loving kiss in the late summer sun. It was a momentous ending to a real commitment ceremony for two, under my watchful eyes. And a wonderful start to their first steps of a new journey together. 
The ceremony music
Poss and Bills top ten love songs –
Pale Blue Eyes – Velvet Underground
Turquoise –  Donovan
Sweet Thing – Van Morrison
Come Away with Me – Nora Jones
I and Love and You – The Avett Brothers
You Make Me Real – The Doors
The First Time Ever I Saw Your Face – Roberta Flack
Heros – David Bowie
Ghosts That We Knew – Mumford and Sons
These Arms Of Mine – Otis Redding
Breathless – Nick Cave
Love You 'Till The End – The Pogues
Walk Through This World With Me – George Jones
Angel – Jack Johnson
The suppliers & vendors
Venue – Westerpark, Amsterdam
Restaurant –Piet de Gruyter |  http://pietdegruyter.com/
Ceremony photographer – Clover Jean | www.cloverjean.com
Dear Clover,
Thank you for conducting our commitment ceremony.  It was everything we imagined and truly life changing experience. The sun was shining, the location was perfect and your words made it very special. We will treasure and remember it for the rest of our lives.
Thank you again.
All the best
Poss and Bill
Over to you…
Please leave your thoughts in the comment box below. And like and share my Facebook page!