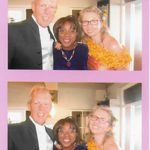 Wouldn't it be wonderful to have someone who "gets you" officiate your wedding ceremony. But, how do you fulfill your wishes and host a personalized event? Well, to start with you'll need a practical guide and a coherent script for the special occasion.
Basically, you desire thoughtful and sincere sentiments at your wedding. Assign the task of officiant to a dear friend or family member. That's an honor and a big job for them. But, on the flip side of this decision you'll have to advise them how to act at your wedding. And tell them what to do and when to conduct the ceremony.
So, ask your maid of honor, best man or parent to double act as your temporary officiate. Do you want them to aim for perfection at your ceremony?  I've shortlisted 10 practical and creative tips to help you decide what best suits you.
Tip 1. Generic weddings cost more than customised wedding ceremonies
Before all else, you need to be acutely aware that your relative or friend can officiate your wedding  and what is even more exciting for less than the registers fees. Therefore, have a modest civil wedding first and a big celebratory ceremony afterwards. But, please understand, they can only guide you through a symbolic or non-religious marriage service.
Tip 2. The next step is your big day
The next step is your big day and that probably feels quite surreal. Yet, the question is who will conduct the ceremony.  Once you've decided on your officiant. You'll need to create a dialogue within your wedding speech to explain what your relationship means to you. So, build trust and easily convey your wishes for your special day.
Tip 3. Thought provoking wedding toasts 
At the end of the day, the officiant has an indispensable and valuable role to play as emcee. By uniting your guests, everyone feels they are part of your event. In addition, they can narrate your storybook wedding and announce your arrival and exit of the venue. Pop over to Fab weddings and use their tool to create the perfect ceremony script, program and vows.
Tip 4. Officiate your wedding with a P.A system and microphone 
Secondly, the wedding guests want to hear everything. Therefore, the officiant's voice should be amplified over a P.A system. Use a cordless microphone (or headphone). And too make life even easier you can inquire about this at the wedding venue. This will ensure that your vows and speeches are audible.
Tip 5. Well-dressed and well-spoken one-time officiant
Let's face it, the  officiant's  responsibility is to connect with you and your wedding guests. Therefore, he or she should dress to impress, look and act the part. This means they need to acquire an appropriate outfit. As a matter of fact, they need to wear something that brings out their personality.
Tip 6. Personal celebration of love is a special occasion
Another thing to know is a personal celebration of love is a special celebration. And, whatever wedding you are planning, it's paramount to have the right running commentary. Inevitably, your master of ceremonies will make your big day run smoothly, be perfect and fun.
Tip 7. Your voice, your choice and your decision
In the likelihood you've found the right person. Or if you choose a dear friend to officiate your wedding you keep in with your personal wedding wishes. Most importantly it reflects the values, cultural heritage and beliefs you both hold. What's more, you create a wonderful offbeat event.
Tip 8. Be Confident, Dignified and Rehearse
Let me share something with you. As a master of ceremonies and wedding officiant I have lots of rehearsals. And record my voice in order for my public announcements or personal speech to sound smooth and not choppy. And I do my best to compose yourself.
Tip 9. Body language
Another thing, they should embrace their own body language. And improvise and feel confident during the festivity. Your MC's overall approach will echo the wedding or party event, because they represent you. Here are even more powerful body language tips for being the best master of ceremonies your friend can be.
Tip 10. Your officiant can use script, cue or note cards
To conclude, you can officiate your wedding when you want, where you want and how you want. And the number 1 tip for a professional presentation is to create a script, cue or note cards for your officiant. This will be of great use during your wedding ceremony and ensures no hitches along the way. Find out how to make and use them effectively at http://www.write-out-loud.com/cue-cards.html.
Over to you….
Please leave your thoughts in the comment box below. I'd appreciate if you could like my https://www.facebook.com/Englishcelebrant and share this article.