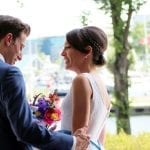 Whether you are a foreign national, expat, Dutch citizen or resident you can plan a waterside wedding in Amsterdam on the canal belt. Providing you with the most beautiful wedding photos and calming ambience, waterfront venues are truly a dream. But, where do you start with the planning? 
Well, to get married in the Netherlands, you need to meet four criteria.
1. You have to be 18 years or older.
2. You are not already married. Or have a registered partnership with someone else.

3.You may not be directly related to each other. Brothers and sisters cannot marry or (grand)parent/(grand)child.
4. One of you must be Dutch or officially living in the Netherlands.
Source: https://www.amsterdam.nl/en/civil-affairs/getting-married/
But, don't let any of the above put you off. Get yourself to your local town hall and obtain your legal paperwork before hosting your celebrations. And don't worry about the waterside wedding, I've done all the hard work for you.
Waterside wedding | venues on Amsterdam's canal belt
Ga naar de Engelse pagina en ontdek links naar grachtengordel hotels. Veel plezier!
Nu ben jij aan de beurt….
Wees welkom om hieronder een reactie achter te laten. Like en deel mijn facebook pagina!