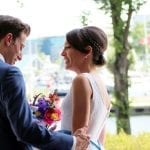 Ben je in de zevende hemel beland? Als je in het huwelijksbootje wilt stappen, val niet tussen wal en schip en zoek waterside wedding restaurants in Amsterdam op de grachtengordel. Maar waar begin je met het plannen van je grote dag?
Veel trouwlocaties kunnen trouwboten organiseren. En ze hebben speciale steigers aangelegd dat zijn opstapplaatsen waar je gasten opgehaalt en afgezet kan worden. Dat scheelt extra werk en dat levert zeeën van tijd op.
So, whether you are a foreign national, expat, Dutch citizen or resident the waterfront venues provide you with the most beautiful wedding photos and calming ambience. It's truly a dream. Hier vind je meer informatie over boat weddings.
Waterside wedding restaurants
foto met dank aan https://room-matehotels.com/en/aitana/
Maar voordat het zover is…. To get married on a boot in the Netherlands [in het huwelijksboot stappen], you need to meet four criteria.
1. You have to be 18 years or older.
2. You are not already married. Or have a registered partnership with someone else.

3.You may not be directly related to each other. Brothers and sisters cannot marry or (grand)parent/(grand)child.
4. One of you must be Dutch or officially living in the Netherlands.
Source: https://www.amsterdam.nl/en/civil-affairs/getting-married/
But, don't let any of the above put you off. Get yourself to your local town hall and obtain your legal paperwork before hosting your celebrations. And don't worry about the waterside wedding, I've done all the hard work for you.
Photo by Rene Asmussen from Pexels
Ga naar de Engelse pagina en ontdek links naar grachtengordel hotels. Veel plezier!
Nu ben jij aan de beurt….
Wees welkom om hieronder een reactie achter te laten. Like en deel mijn facebook pagina!