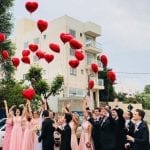 Wedding guest list hierarchy dilemma? If you're looking to shorten it due to the Covid-19 bombshell, these creative ideas might be helpful. Planning a wedding is one of the most exciting experience of any couples' life. But, what's the forecast for your nuptials in 2021?
Well, are you feeling optimistic, anxious, or furious about reorganising your agenda? Perhaps your marriage legalities, processes, and paperwork for your civil union are finalised.
However, you're in a painful limbo about shortening the wedding guest list. So, don't get worked up but work out a corona "pain" free big day with these easy tips. Here we go.
Wedding Guest List
4 types of guests you can invite to your wedding
"A-List" wedding guests are close family, friends, and special loved ones like your great grandparents. Or the nanny that looked after you as a child.
"B-list" wedding guests. Well, these are your long-distance relatives and friends who you see once in a blue moon. Perhaps they live abroad and couldn't make it anyway.
"C-list" wedding guests could be your boss, work colleagues, and the man or woman who cleans your house. You want to make a good impression or thank them for supporting you too.
"D-list" are the lowest on the wedding guest list hierarchy. From your parents' long-term friends, business associates and neighbours you don't have to invite them. As well as your ex-boyfriend, the girlfriend of the best man or friend of whoever, it's not necessary to have them onboard. Unless the above-mentioned persons are forfeiting the bill for your wedding venue.
WEDDING GUEST LIST
8 ways to get creative with your wedding plan during lockdown
1. DELAY WEDDING INVITATIONS
Planning the happiest day of your life should be enjoyable. Inevitably, you must account for you wedding guest list during Covid-19 and cut it in half.
Of course, you want to downsize or reevaluate it, but without spoiling the fun by disappointing loved ones.
However, heartbreaking it is to cut the list, the virus forces you to make painful concessions.
Regardless of where you've set your sights on for your wedding, the A-List of guests must be shortened.
So, delay sending out wedding invitations. Make it shorter now! Do you agree?
2. SAFEGUARD WEDDING GUEST LIST

You've got a million things to do. And with a tough job ahead you must decide on a lineup for your bridal party.
Playing the numbers game makes you feel awkward.
And this issue of an A-List of guests ways heavy on your mind.
So, take advantage of Covid-19, and make the wedding inventory list easier. Implement personal, practical and safety reasons.
3. STRIP BACK WEDDING GUEST LIST
Whatever calendar date you've chosen next year. How do you narrow your wedding guest list down without tears of frustration?
Notably, scheduling your your nuptials to suit family and friends is a logistical nightmare.
On top of that, blending two families into one and pleasing everyone has made your life hell.
It's a far cry from post covid-19 marriage celebration for 100 to 300 party people.
So, strip back to a micro wedding.
4. CHOOSE 10 – 30 WEDDING GUESTS
And, it's mind boggling and a heartbreaking time.
Creating a smaller wedding or sit-down reception during the Covid-19 scare is a numbers game.
So, a downsized wedding guest list is the answer.
Look don't feel anxious about the limited guests at the wedding.
It's not your fault! So, get to grips and be real about your wedding catering.
5. BOOK WEDDING GUESTS VENUE

In reality loving couples like you might like your wedding guest list to consist of loved ones, friends and your favorite colleagues.
However, with the coronavirus restrictions, your limited funds and location size it's not possible.
Just face facts by putting timelines in place, a headcount and seating arrangement your venue can be covid-secure.
photo Fernanda Latronico from Pexels
 6. WEDDING GUESTS HIERARCHY

Have you heard of wedding hierarchy?
Well, the saying goes, invitees who were late to be added to your wedding guest list in the first place, should be the first to go.
And I'm not talking about the A and B list: parents, close relatives and special friends.
But C and D list of people: colleagues, long distance relatives and acquaintances.
Writing out your guest list helps you decide who is important.
7. WEDDING GUESTS CHILD-FREE ZONE
Secondly to last, this might be a touchy subject for everyone – do you invite children to the wedding?
But while children add a certain charm to the day, removing them from your headcount not only helps to cut your numbers.
Another reason not to invite kids is, it gives their parents a night off to really let their hair down.
Sad to say children do not add to your experience of the day.'Source: www.hitched.co.uk
8. WEDDING GUESTS PLUS ONE RULE
Lastly, if your wedding guest list numbers don't tally up, then address the issue. Up-sizing a wedding is out and downsizing is in.
Therefore, inviting the plus-one you've never met is going to be easy. So, don't feel bad if the guests aren't dating, betrothed or married. It's a reasonable request, just arrange your perfect seating plan.
Send out handwritten luxury wedding invitations  to your selective wedding guests. Let them know they are part of an elite group of invitees.
While you're here…
Be savvy and create your own wedding trends! Leave your ideas, questions or comments below.