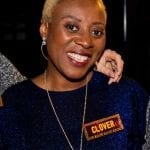 In 2014 is mijn leven bekroond met een Dutch celebrant certificaat! En vlak daarna kreeg ik mijn eerste opdracht als zingende BABS. Ik voel me gevleid dat bij een keuze uit honderden trouwambtenaren unaniem voor mij als ceremoniespreker is gekozen.
Annika en Marcus zijn een Nederlandse koppel die hun speciale dag wilde plannen op het autoluwe Vlieland, het kleinste Waddeneiland – Texel. Maar er was één probleem.
Met name ik ben geen officiële trouwambtenaar maar een improvisatie-actrice | ceremoniespreker. Dus besloot ik een opleiding te volgen bij  www.flexiblecoaching.nl. En toen werd de Engelse ceremoniële trouwambtenaar BABS – (celebrant) geboren.
Als celebrant krijg je de bruiloft vanuit een heel ander perspectief te zien. Een 'celebrant' is meer dan zomaar een trouwambtenaar – ceremoniespreker. Het is een Engelse spreker en gospelzangeres in één. Door mijn Britse afkomst kan ik de ceremonie tweetalig presenteren. Zodat jouw vrienden en familie niks hoeven te missen.
Main photo credit: jens kuu
Dutch real weddings
"Celebrants-officiants are accessing Jennifer Claire's Coaching – Celebrant  Success Accelerator course, to achieve their business goals. This empowers celebrants-officiants to perform funerals, baby naming ceremonies and weddings for people who do not want a traditional religious ceremony."
Maar waarom kies je voor een Engelse BABS – ceremoniespreker (celebrant)? Om je informele bruiloft nóg relaxter te maken en om een unieke sfeer creëren. Ik zorg voor een verrassende ceremonie voor jou en je gasten.
Trouwen doe je maar één keer in je leven. Daarom maak ik op jouw grote dag jullie liefdesverhaal en livemuziek tot één mooi geheel. Dus, als je geen standaardhuwelijksviering wilt. Of als je niet blij bent met de toegewezen trouwambtenaar van de gemeente. Dan is een celebrant perfect! Bekijk foto's van de bruiloften op de Engelse pagina.
Nu ben jij aan de beurt…
Wees welkom om hieronder een reactie achter te laten. Like en deel mijn facebook pagina!