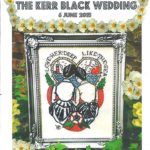 Als je opzoek bent naar Same-sex couples wedding inspirations voor je homohuwelijk dan hier vind je een lesbisch huwelijk trouwverhaal. Hierdoor zullen jullie gasten je trouwdag nooit meer vergeten. Het verhaal speelt zich af op Ridge Farm een unieke plek in het hartje van Surrey, Engeland.
 Vroeger was Ridge Farm  een muziekstudio maar het wordt nu omgetoverd tot een trouw-en feestlocatie. Wat ook leuk is, kun je overnachten met familie en vrienden.
Neem een kijkje achter de schermen tijdens mijn eerste "homohuwelijk" huwelijksvoltrekking. De real wedding van het lesbisch stel Kerr & Black vindt plaats onder de bloeiende kersenbomen in de tuin. Please step this way to eerdere evenementen…
Same-sex couples wedding inspirations
"On the edge of the beautiful Surrey Hills in the South East of England, Ridge Farm is located. The fantastic location offers every same-sex couple the opportunity to hold their wedding celebrations in style. Family and friends can enjoy the beauty of a 16th century farmhouse and its picturesque grounds." Source: https://www.hitched.co.uk/wedding-venues/ridge-farm_7751.htm
Nu ben jij aan de beurt…
Wees welkom om hieronder een reactie achter te laten. Like en deel mijn facebook pagina!