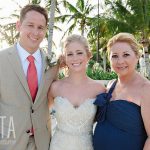 Mother of the bride duties: De belangrijke taken van de moeder van de bruid is niet altijd duidelijk. Het bemoeien met de uitnodigingen van jullie bruiloftsgasten kan tot ruzie leiden. Maar wat is haar rol tijdens de planning van je bruiloft?
Nog iets, waarschijnlijk heeft je moeder geduldig gewacht tot dit speciale moment aanbreekt. En is ze oprecht geïnteresseerd in je grote dag. Ze heeft besloten om samen met jou een mooie dag van te maken. Laten we eerlijk zijn, mede dankzij je moeder is het mogelijk dit heugelijke feit te kunnen vieren. Wil je weten wat de taken van je moeder kunnen zijn? Ga naar de Engelsepagina en ondekt wat tips.
Mother of the Bride Duties
"Taken voor moeder van de bruid. Het leven van bruidsmoeders gaat niet alleen over rozen. Oproep aan alle moeders: als jullie dochters gaan trouwen, hebben jullie een aantal officiële taken!" Bron: https://trouwen.nl/inspiratie/taken-voor-moeder-van-de-bruid

"Jullie gaan trouwen en willen wat taken uit handen geven aan jullie (schoon)moeders. Of misschien ben je moeder van de bruid of bruidegom en ben je benieuwd wat er van je wordt verwacht. Wij hebben voor je uitgezocht wat de officiële en onofficiële taken zijn van de moeders van de bruid en bruidegom." Bron: https://www.toptrouwen.nl/
Nu ben jij aan de beurt…
Wees welkom om hieronder een reactie achter te laten. Like en deel mijn facebook pagina!