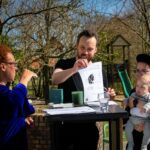 Ben je opzoek naar muziek voor kinderen? Muziek is universele taal, maar het zoeken naar de juiste muziek kan soms uitdagend zijn. Gelukkig kun je ontspannen want ik kan je helpen. Hier vind mooie Engelse liedjes die trotse ouders aan hun kinderen kunnen geven. Lees verder…
De ritmische en melodische trillingen van muziek hebben een heerlijk effect op ons. Het is onderdeel van onze identiteit en vertegenwoordigt wie we zijn als individu. Welke mooie Engelse liedjes zou je willen laten horen aan je kind? En welke sfeer wil je scheppen?
Maak tijd voor elkaar! Door middel van je persoonlijke muziekkeuze kun je optimaal van elkaar genieten! Hieronder een aantal mooie Engelse liedjes die je op YouTube.com kunt vinden. Spotify of streaming sites zijn ook dé oplossing om unieke liederen te  vinden voor jou en je kind!
Don't make me over
Now that I'd do anything for you
Don't make me over
Now that you know how I adore you
My cherie amour, lovely as a summer day
Isn't she lovely?
Knocks me off my feet
Close your eyes
Have no fear
The monster's gone
He's on the run and your daddy's here
My boy Lollipop
You made my heart go giddy-up
You are as sweet as candy
You're my sugar dandy
Morning has broken like the first morning
Blackbird has spoken like the first bird
Praise for the singing, praise for the morning
Praise for them springing fresh from the world
Clair
The moment I met you, I swear
I felt as if something, somewhere
Had happened to me
Which I couldn't see
And you can tell everybody
This is your song
It may be quite simple, but now that it's done
I hope you don't mind
I hope you don't mind
That I put down in the words
How wonderful life is while you're in the world
The first time ever I saw your face
I thought the sun rose in your eyes
And the moon and the stars were the gifts you gave
To the dark and the endless skies, my love
To the dark and the endless skies
Twinkle, twinkle, little star
How I wonder what you are
Up above the world so high
Like a diamond in the sky
Twinkle, twinkle, little star
How I wonder what you are
Teach your children well
Their father's hell did slowly go by
And feed them on your dreams
The one they pick's the one you'll know by
Summertime
And the livin' is easy
Fish are jumpin'
And the cotton is high
Oh, your daddy's rich
And your ma' is good lookin'
So hush
Little baby
Don't you cry
Mama may have, Papa may have
But God bless the child that's got his own
That's got his own
A ray of hope flickers in the sky
A tiny star lights up way up high
All across the land, dawns a brand new morn
This comes to pass when a child is born
Baby love, my baby love
I need you, oh how I need you!
But now it is time for you to go off to school
It breaks my heart and leaves me sad
Tell me, you will be happy in your heart?
Don't stay away so long BBK
Hush, little baby, don't say a word,
Papa's gonna buy you a mockingbird.
And if that mockingbird don't sing,
Papa's gonna buy you a diamond ring.
You're my life's one Miracle,
Everything I've done that's good
And you break my heart with tenderness,
And I confess it's true
I never knew a love like this till you…
A ray of hope flickers in the sky
A tiny star lights up way up high
All across the land, dawns a brand new morn
This comes to pass when a child is born
She can not speak very well, everybody knows
But to me she sure looks swell in her baby clothes
I asked her if her love is true and she only goes (yeah)
Little child, won't you dance with me?
I'm so sad and lonely
Baby, take a chance with me
"Your children are not your children.
They are sons and daughters of Life's longing for itself.
They come through you but not from you.
And though they are with you yet they belong not to you.
You may give them your love but not your thoughts,
For they have their own thoughts.
You may house their bodies but not their souls,
For their souls dwell in the house of tomorrow, which you cannot visit, not even in your dreams.
You may strive to be like them, but seek not to make them like you.
For life goes not backward nor tarries with yesterday.
You are the bows from which your children as living arrows are sent forth.
The archer sees the make upon the path of the infinite, and He bends you with His might that His arrows may go swift and far.
Let your bending in the archer's hand be for gladness.
For even as He loves the arrow that flies, so He also loves the bow that is stable."
― Kahlil Gibran
Laat een reactie achter of stel een vraag over muziek liedjes die ouders aan hun kinderen geven.