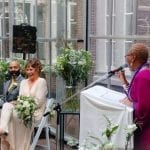 De zeer controversiële kwestie over interracial weddings [het gemengd huwelijk] van prins Harry en Meghan Markle maakte wereldnieuws. Hoewel interculturele huwelijken al eeuwen bestaan, is het nog steeds een gevoelig onderwerp.
En met dat gezegd, kunnen velen van ons met sterke normen, waarden en meningen het moeilijk vinden om over te praten.
"However, Meghan Markle's mixed-race marriage isn't unusual in the UK. Meghan Markle upcoming marriage with Prince Harry [Duke and Duchess of Sussex] has been described as "groundbreaking" and dubbed a "cultural revolution." Lees verder https://qz.com
Maar ik geef het toe, ik geloof dat multiculturele bruiloften zijn een opkomende trend. Waarom? Omdat veel van mijn cliënten hebben een andere culturele achtergrond of ze zijn paren van hetzelfde geslacht. En liefde is liefde, ongeacht wie de liefde is of wie het voelt.
Interracial weddings
"Een eigen definitie van Fusion 'het samensmelten van families, culturen en tradities' vormt de basis van elke bruiloft". Bron: Renate Badloe – Classy Affairs
Meer informatie vind je op de Engelse pagina. Ontdek nog 6 redenen waarom gemengde en multiculturele huwelijken populairder zijn dan ooit.
Nu ben jij aan de beurt…
Wees welkom om hieronder een reactie achter te laten. Like en deel mijn facebook pagina!