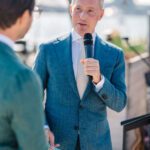 Engelse trouwgedichten en gedichten over liefde verhogen de sfeer tijdens de trouwceremonie. Hiermee kunnen jullie als verliefd stel klaar zijn om jullie liefde voor elkaar te bevestigen en jullie geluk met familie en vrienden delen. Zo laat jij een onvergetelijke indruk achter bij je gasten. Maar waar begin je je zoektocht naar de mooiste inspirerende poems?
Wist je dat de juiste Engelse huwelijksgedichten en quotes hebben een positieve en verrassingseffect op jullie en de gasten? Het zorgt er voor dat jullie, als gehuwden, de spil van de dag zullen zijn. De liefdevolle en gevoelige teksten vertellen jullie liefdesverhaal. Alle gasten die zijn uitgenodigd staan paraat  om jullie in de echt verbonden te zien worden. Romantische en betekenisvolle poems die jullie kiezen hebben vaak betrekking op jullie eerste ontmoeting en de eerste kus.
Dus, voordat je bedolven wordt onder een waterval aan emoties en de paniek toeslaat. Laat je niet op vooruit lopen hoe jullie bruiloft of hetgeen dat gaat komen. Maak gebruik van deze Engelse huwelijksgedichten (Nederlands-Engels). Ontspan en vrolijk jezelf en de bruiloftsgasten daarmee op. Kijk hieronder naar Engelse trouwgedichten, quotes en gedichten over liefde om je te helpen een spectaculaire huwelijksdag te maken . Ik wens je alvast een leven vol liefde en geluk!
Marriage – Engelse trouwgedichten en quotes
Marriage inspired by a Dutch wedding blessing
May your marriage be a sign of love, joy and happiness. May you be eternally happy from this day forward.
Ik wens jullie een spectaculaire huwelijksdag en een leven vol liefde en geluk.
Today is your wedding day inspired by JIP
Vandaag is jullie trouwdag
Geniet van vandaag van het leven en van elkaar
Blijf liefhebben en beminnen
Het liefs nog heel veel jaar
Today is your wedding day
May you always enjoy life together.
May you continue to love and cherish one another.
Here's to many more years of happiness and love to come.
Love inspired by Toon Hermans
Als je echt van iemand houdt, 
Iemand alles toevertrouwt,
Een die echt weet wie je bent,
Ook je zwakke plekken kent,
Die je bijstaat en vergeeft, 
En die 'naast' en ' in' je leeft,
Dan voel je pas wat leven is,
En dat liefde geven is.
If you really love someone
Someone you trust with your heart
Someone who really knows who you are
Knows your weaknesses too
Who supports and forgives you,
And who lives 'beside you' and 'within in' you,
Only then do you feel what life is,
Love lives by giving and forgiving.
Oscar Wilde
Houd nooit van iemand die je behandelt alsof je gewoon bent.
Never love anyone who treats you like you're ordinary.
Audrey Hepburn
Als ik trouw, dan wil ik heel erg getrouwd zijn.
If I get married, I want to be very married.
John Lennon
Als we verliefd zijn, staan we open voor alles wat het leven te bieden heeft met passie, opwinding en acceptatie.
When we are in love, we open to all that life has to offer with passion, excitement, and acceptance.
Mark Darcy, Bridget Jones's Diary
Nee, ik vind je erg leuk. Gewoon zoals je bent.
No, I like you very much. Just as you are.
Mignon McLaughlin
Een succesvol huwelijk is alleen mogelijk als je vele malen verliefd wordt, altijd op dezelfde persoon.
A successful marriage requires falling in love many times, always with the same person.
Barbara De Angelis
Het huwelijk is geen zelfstandig naamwoord; maar het is een werkwoord. Het is niet iets wat je krijgt. Maar het is iets wat je doet. Het is de manier waarop je elke dag van je partner houdt.
Marriage is not a noun; it's a verb. It isn't something you get. It's something you do. It's the way you love your partner every day.
African American | Engelse trouwgedichten en gedichten over liefde
Special Person by Anne Sexton
Love? Be it someone.
It must be a wave you want to glide in on,
give your body to it, give your laugh to it,
give, when the gravelly sand takes you,
your tears to the land. To love another is something
like prayer and can't be planned, you just fall
into its arms because your belief undoes your disbelief.
"You Came Too" By Nikki Giovanni
I came to the crowd seeking friends
Yes, I came to the crowd seeking love
I came to the crowd for understanding.
And I found you.
I came to the crowd to weep
Yes, I came to the crowd to laugh.
You dried my tears
And you shared my happiness.
I went from the crowd seeking you
And I went from the crowd seeking me
I went from the crowd forever
Multicutureel – gedichten over trouwen
"Love" by Roy Croft
I love you
Not only for what you are,
But for what I am
When I am with you.
I love you,
Not only for what
You have made of yourself,
But for what
You are making of me.
I love you
For the part of me
That you bring out;
I love you
For putting your hand
Into my heaped-up heart
And passing over
All the foolish, weak things
That you can't help
Dimly seeing there,
And for drawing out
Into the light
All the beautiful belongings
That no one else had looked
Quite far enough to find.
Yes, I'll Marry You – Pam Ayres
Yes, I'll marry you, my dear,
And here's the reason why;
So I can push you out of bed
When the baby starts to cry,
And if we hear a knocking
And it's creepy and it's late,
I hand you the torch, you see,
And you investigate.
Yes I'll marry you, my dear,
You may not apprehend it,
But when the tumble-drier goes
It's you that has to mend it,
You have to face the neighbour
Should our labrador attack him,
And if a drunkard fondles me
It's you that has to whack him.
Yes, I'll marry you,
You're virile and you're lean,
My house is like a pigsty
You can help to keep it clean.
That sexy little dinner
Which you served by candlelight,
As I do chipolatas,
You can cook it every night!
It's you who has to work the drill
and put up curtain track,
And when I've got PMT it's you who gets the flak,
I do see great advantages,
But none of them for you,
And so before you see the light,
I do, I do, I do!
Imagine finding someone you love more than anything in the world, who you would risk your life for but couldn't marry. And you couldn't have that special day the way your friends do—you know, wear the ring on your finger and have it mean the same thing as everybody else. Just put yourself in that person's shoes. It makes me feel sick to my stomach.
—Miley Cyrus
Non-religieuze huwelijksgedichten en quotes
On Your Wedding Day (Anon)
Today is a day you will always remember
The greatest in anyone's life
You'll start off the day just two people in love
And end it as Husband and Wife
It's a brand new beginning the start of a journey
With moments to cherish and treasure
And although there'll be times when you both disagree
These will surely be outweighed by pleasure
You'll have heard many words of advice in the past
When the secrets of marriage were spoken
But you know that the answers lie hidden inside
Where the bond of true love lies unbroken
So live happy forever as lovers and friends
It's the dawn of a new life for you
As you stand there together with love in your eyes
From the moment you whisper 'I do'
And with luck, all your hopes, and your dreams can be real
May success find its way to your hearts
Tomorrow can bring you the greatest of joys
But today is the day it all starts
I choose you to be my partner in life
I choose you to be my spouse, my partner in life.
And I promise you my unconditional love,
my fullest devotion, my most tender care.
Through the pressures of the present
and the uncertainties of the future,
I promise to love you, honor, respect
and cherish you all the days of our lives
Make our dreams come true by Joeri
I am proud of you and all what you do.
There is no mountain high enough to keep me from you.
There is no river wide enough to stop me loving you.
Together we can make our dreams come true.
I will follow you by Valeria
I will follow you until the end of time.
And I will follow you in rhythm and rhyme.
I will dance a slow tango with you.
To make sure that you never feel blue.
Gedichten over liefde
Liefde moet zijn als een boom – Bertrand Russell
"Liefde moet zijn als een boom, met zijn wortels diep in de aarde, maar met zijn takken uitgestrekt naar de hemel."
"Love should be a tree whose roots are deep in the earth, but whose branches extend into heaven."
Bron: Marriage and Morals (1929) (Bron Vertaling)
Please leave your thoughts in the comment box below.